Gold Fever: The Journal of J. C. Hagenbuch, Part 2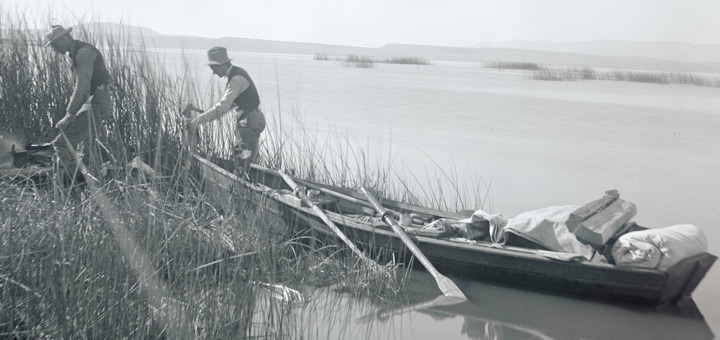 At the end of Part 1 in this series, J. C. Hagenbuch (b. 1862) and his uncle John "Jack" Hagenbuch (b. 1857) had stopped on July 16, 1905 to dry out their supplies after navigating some whitewater. Their journey continues down the Klamath River in California in Part 2. You may view previous installments here: Part 1.
---
JOURNAL OF J. C. HAGENBUCH
Part 2: July 17, 1905–July 28, 1905
---
Monday, July 17, 1905
We made a pretty good run and stopped at the mouth of Beaver Creek. Jack wants to go up that and prospect it tomorrow, so we camped a little early. I started to look for fresh water that is clear water. I saw a man, so I asked him about water and he told me where I could get some. Then, he came over and talked quite a long time. He was a Portuguese. He made about $7,000 mining then was fool enough to buy a 2 acre ranch and live in such a godforsaken place as he did. His head needs fixing.
[Beaver Creek, California: View Map]
---
Tuesday, July 18, 1905
Jack was gone all day, and I hardly looked for him back anymore this day. So after I had supper and sat around until dark, I went to bed. I was in bed over an hour when I heard the leaves and bush crack. I looked up rather expecting to see a deer, but there was Jack tired to death for he had gone about 20 mile.
But through the day while I was all alone, I would go over to the creek and look for salmon. I had made about a dozen trips but did not see any. So I said well I will make one more and this will be the last. But I saw a big one and if the gig1 had not broken, I would sure have got him. [It was] the only chance I have had since I caught one [before], and that was not so good a chance as the other.
[Beaver Creek, California: View Map]
Wednesday, July 19, 1905
We left Beaver Creek this morning. Pretty good time, but the going was rough as many Chinamen work [there] so the river was full of old wing dams and cribs and big rock piles that we had to be very careful. But with all our care we landed on top of an old crib2 and stuck fast for about 15 minutes with the water running at about 10 miles an hour and about six feet deep. We swung her around a couple times and away we went. We came to a good camping place. Although it was early, we decided to camp as there was rough water just a little bit further down stream. While we were getting supper a pack rat3 or trading rat or mountain rat (it goes by either name) came quite close and looked things over to see if there was anything he wanted. Apparently not. All [was] safe in the morning.
[Near Klamath River, California: View Map]
---
Thursday, July 20, 1905
Talk about traveling. We did some of it today. For after stopping four hours at Horse Creek to try for salmon, we made 14 miles and would not quit at that, only we got a boat full of water. As the saying goes, [that was] the last straw. Well, this was the last bad place full of rocks and big waves. We were going [to go] about 2 miles then camp, but after going over that we camped early to dry our stuff. The mountains come close to the river—in fact in the river—for very often the rocks are straight up on both sides, [with] no valley along [the edge]. The only place you see any farming is at the mouth of some of the small creeks—[but] not all of those, for some of those look as if water comes through a crack in the rocks.
[Below Kinsman Creek, California: View Map]
Friday, July 21, 1905
As we were all wet yesterday, we did not get started until late, so we decided to simply drop down until we found good water and camp. That was only about 1 mile below. Jack went over to a small stream and caught another salmon.
[Scott River, California: View Map]
---
Saturday, July 22, 1905
Today we made about 6 miles and stopped quite a long time at Hamburg. In fact, if it was not for a half-breed Indian4 helping us over [some] bad rapids, I think we would have spent the whole day [there] for it was a bad place and no mistake. But we got over and dropped down to an eddy and stopped while Jack went up town to see some parties. I did a little writing and after a while, Jack came and we [ate] lunch. Then he wrote and went up again and mailed the letters. So when he came back again, we started and did not make only 4 miles. Then we came to another bad place so we camped on the strength of seeing better in the morning.
C.C. Harris5
[O'Neil Creek, California: View Map]
Sunday, July 23, 1905
Cousin May6
Sunday and I think we could not see any better this morning than we could last night. We started in to line the boat7, and I think we got her over the worst place. [But], instead of getting in so we could guide her, Jack decided to line her below still further, and she simply loaded level full of water and then got away from me while Jack was undressing to go in and get her. Then he had to hustle, I can tell you, for just below was another bad place full of rocks. Had she gone over there full of water as she was, it would have broke her all to pieces, and we could have sat on the bank and whistled.
Well this was [a] dry day again so we dried. Then Jack took the shovel, pick, and pan and we found a few fine specks of gold. They say we found some "colors."
[Near Louie Creek, California: View Map]
---
Monday, July 24, 1905
Today we traveled along nicely and everything went our way. We stopped at a creek for drinking water, and there I caught a nice big salmon. Then we kept on going over some very bad rapids. But most of the way was quite nice. One place Jack lost his hat by being bushed with the willows, but we got it again about 1/4 mile below.
[Near Walker Creek, California: View Map]
Tuesday, July 25, 1905
We only made 3 miles today until we struck a creek. Here Jack decided to have a change of diet. So he took the gun and left, but the mountains were on fire so [he] could do nothing but catch a small mess of small trout. Talk about deer tracks. The sand bar along the river looked like some sheep pen. I suppose the fire8 chased them all out of the mountains on that side of the river. A couple of them crossed and came within 20 feet of the boat, but we were asleep so [it] did us no good. Jack [said] if that is not rubbing it in, I do not want a cent.
[Seiad Valley, California: View Map]
---
Wednesday, July 26, 1905
As we were going along, we saw an Indian or half-breed or squaw-man9 working in a tunnel, and we asked him about the river and what he told us made us be a little more careful. So after we got down the river a little ways, we stopped and went ahead to see what it was like. It was pretty rough so we decided to line part way which was done nicely, and there was this man. He came to see how we would make it. We asked him about the river on down, and he said if we made it to Thompson Creek we need [not] fear any thing lower down until we got to Salmon River. Well we ran some rough water just to show them we could do so, and after a while we found what he meant. Here the river had wore a channel in bed rock about 8 or 10 feet deep. We struck this at noon and did not get over until night with the boat.
[Fort Goff, California: View Map]
Thursday, July 27, 1905
Yesterday we spent a half day getting the boat over or through the channel. Today we spent the whole forenoon getting our stuff down to the boat, so it took us one whole day to get by that bad place. In getting the boat through, she turned up on her side. Otherwise she would have struck on some rocks, but there was an awful current and it was one thing or the other. We did not go more than 4 or 5 miles until we struck Thompson Creek.
There we camped early to write a couple letters. Then I started to catch a mess of trout, and I did get 32 nice ones and they tasted fine. I went up to mail the letters, and the mother of the house was from Ohio. She gave me quite a lot of motherly advice about being so careful. Her son had given us some apples, and she wanted us to take more. But we had all we could handle nicely.
[Thompson Creek, California: View Map]
---
Friday, July 28, 1905
Today, leaving out two bad places, was the best day on the river for we covered 20 miles. But to return to those 2 bad places, one of them we had to lead the boat quite a ways, then make a new channel in order to miss a couple [of] big rocks. The other was a holy terror for we could not lead or unload, for if we did we could not get our stuff down to the boat and the only thing left was to run it. Well we got through, but I tell you it was a small margin. If we got over two feet further to the right, it would have been all up.
But safely past those, and we had traveling [that was] something like the company dam—hardly enough current to drive the boat ahead for 3 miles or more. We could not have [gotten] out of the boat if we had wanted to ever as bad for the rocks were just straight up from the water. And there was the first place we heard the clock tick on the trip.
[Near Woods Bar, California: View Map]
---
Footnotes
A gig is a pole with a multi-pronged spear attached to it.
Cribs are wooden structures used to support large objects. Additionally, miners sometimes used box cribbing filled with gravel to create dams.
The pack rat mentioned is likely a bushy-tailed woodrat (a picture of one is shown above). These animals have a tendency to collect shiny objects, like coins, and hoard them in their nests.
Half-breed refers to a person who is half American Indian and half European/white. Today, this term is considered derogatory.
J. C.'s mention of "C.C. Harris" appears to indicate that he made a handwritten copy of his journal entry from July 22nd and mailed it to someone named Harris.
J. C. begins his entry for July 23rd with a mention of "Cousin May." This may reference his intent to send her a letter describing the day's events.
Lining the boat refers to towing it from the riverbank using a rope. Unlike portage, this did not require unloading the boat and carrying it. J. C. mentions that neither he nor Jack got in the boat to help guide it while it was being lined. This ultimately led to the boat filling with water and the line slipping out of J. C. hands. Thankfully, the two were able to retrieve the boat before it was damaged.
Just like the present, California in 1905 had wildfires.
Squaw-man refers to a man who is not an American Indian and who is married to an American Indian woman. Today, this term is considered derogatory.