Meet the "Charming" Captain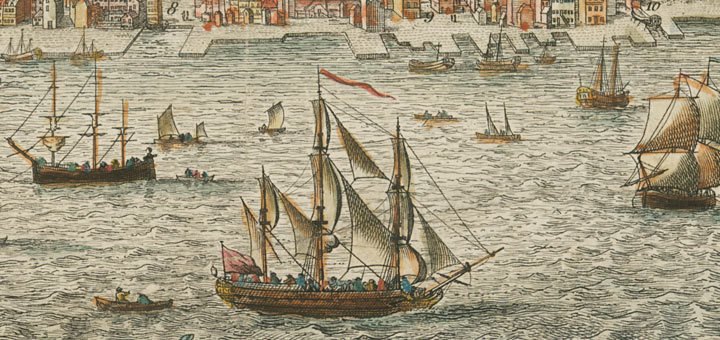 A ship at sea is its own world. To be the captain of a ship is to be the unquestioned ruler of that world and requires all of the leadership skills of a prince or minister.
–Col. Corazon Santiago
Along with the passengers of the Charming Nancy, our ancestor Andreas Hagenbuch (b. 1715) may have spoken to the captain of the ship. Although this is unlikely, Andreas certainly gazed on the man from the deck and looked up at the helm to see Captain Charles Stedman—master of his world. So, who was Charles Stedman, the man who was responsible for Andreas and his family safely reaching America?
Thanks to John Lisle, who is the webmaster of the Stedman Blog, we have some interesting information about Captain Charles Stedman. He was born in either 1712 or 1713 in Scotland and had two brothers, John and Alexander. All three were in the shipping business. John ran the business from the port of Rotterdam, Holland. Charles and Alexander were successfully engaged in importing dry goods and shipping supplies to the American colonies. In 1736, which was the year of the first voyage of the Charming Nancy, they provided passage for German immigrants to America through Rotterdam and Plymouth, England.
In addition, they partnered with "Baron" Henry Stiegel in the ownership of the Elizabeth Furnace, one of the first iron works in Lancaster County. Stiegel worked for Charles and Alexander as a bookkeeper after he arrived in Philadelphia, possibly on one of their ships, in 1750. Stiegel is known for not only Elizabeth Furnace, but also for Charming Forge which was located in Berks County. He is best known for his glassworks, and his bottles are highly collectible. Stiegel also was a founding member of the German Society of Pennsylvania and donated land on which the famous "Red Rose" Lutheran church is built on in Manheim, Pennsylvania. Finally, Henry Stiegel was associated with the Reverend Henry Muhlenberg, patriarch of Lutheranism in America. Rev. Muhlenberg and our own Andreas Hagenbuch were probably connected.
Returning to Charles Stedman: Charles and his brother Alexander were known as Jacobites, Scots who wanted the royal Stuart family to take back the British throne from their cousins, the Hanoverian Georges (King George I and King George II). In 1745, the last Jacobite uprising began when the "pretender" to the British throne, James Stuart III, sent his son, Charles (known as the Bonnie Prince) to Scotland. Hundreds of Scots rallied to the Stuart banner in rebellion against King George II which ended on April 16, 1746 at the battle of Culloden near Inverness, Scotland. Alexander and Charles Stedman are said to have been in that battle fighting for the Stuart cause with Bonnie Prince Charlie.
If you have watched the television series Outlander, you know what happened after Culloden. Hundreds of Stuart-supporting Scots were imprisoned and many escaped to Europe and colonial America. Charles and Alexander Stedman, successful shipping businessmen, did exactly that. By 1747, they were living in Philadelphia. This was ten years after Andreas Hagenbuch and his wife Magdalena sailed on the Stedman ship, Charming Nancy.
Alexander and Charles continued their business and, as mentioned, even invested successfully in the businesses of Henry Stiegel. In 1748 or 1749, Charles married Ann Graeme, the daughter of Dr. Thomas Graeme. Graeme was a well-known Pennsylvanian. He served as the Philadelphia port physician from 1727 to 1741, making sure that immigrants were not carrying diseases into the Pennsylvania colony. It is even possible he may have examined Andreas and his family! Graeme served as a Pennsylvania Supreme Court Justice and was held in high esteem by everyone. Charles Stedman certainly married into a good family.
In 1752, Charles was elected as a vestryman of Christ Church in Philadelphia and kept that position for 25 years. He and wife Ann helped to create the Philadelphia Dancing Assembly and, along with his father-in-law Thomas Graeme, founded the St. Andrew's Society. His association with this society made sense, as it was probably a hotbed for former Jacobites.
In 1765, Charles employed Robert Smith, a well known architect and builder to erect a beautiful Georgian house at 244 South 3rd Street in Philadelphia. However, in the spring of 1766 Ann (Graeme) Stedman died. Charles remarried in the fall of that year. Unfortunately, he soon began to have serious financial problems. Before he and his new wife could move into their new house, which at that time was classed as the "finest Georgian row house in the city", Charles landed in debtor's prison. The house was sold by Charles in 1769 to Samuel Powel. Powel was the last mayor of Philadelphia under British rule and continued as mayor following American independence.
Charles Stedman, former captain of the Charming Nancy, died on September 28, 1784 at the Graeme estate in Horsham, Pennsylvania. He is buried at Christ Church where he and the Graeme family were so active.
Charles Stedman certainly led a full life. Andreas may have "bumped" into him on the voyage of the Charming Nancy in 1737, but Charles was still a young man of 25 years old and had many adventures ahead of him. Captaining ships filled with goods and German immigrants, his escapades as a Jacobite, fighting at the bloody debacle of Culloden, and his successful investments with the Stiegel iron and glassworks propelled him to notoriety.
This reputation led him to marry into one of the most reputable families of Philadelphia—the Graemes. Climbing up the social ladder even farther, Charles was an important member of one of the most powerful churches in Pennsylvania, Christ Church. His social status led him to found the St. Andrew's Society and to build a prestigious edifice now called the Powel House.
Today the Powel House is a museum and Philadelphia landmark. After it was purchased from Charles Stedman by Samuel Powel in 1769, it was redecorated inside and was visited by such notables as Benjamin Franklin, John Adams, and George Washington.
It is not known if Andreas Hagenbuch ever spoke with Charles Stedman or his father-in-law Thomas Graeme, or if Andreas ever met the self-styled "Baron" Henry Stiegel or Reverend Henry Muhlenberg. But, Andreas's life brought him in contact with many who were early noteworthies in America. Understanding the background of these people, who were contemporaries of the earliest Hagenbuch in Pennsylvania, makes history come alive.
This article was updated in 2022 to remove the reference to Henry Hagenbuch traveling on the Charming Nancy with his parents. He is believed to have been born in America now.