The Lost Family Line of William Cephis Hagenbuch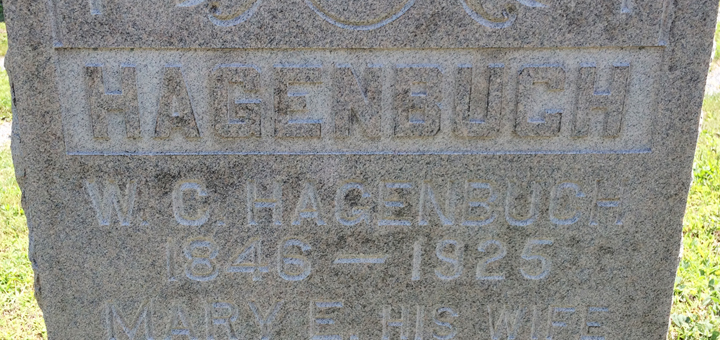 During the summer of 2018, I stumbled upon a Hagenbuch that my father didn't have in his records: William Cephis Hagenbuch. A quick search of Ancestry.com showed that William lived in Espy, Columbia County, Pennsylvania and was buried nearby in Creveling Cemetery. Of course, I wanted to place William on our family tree. Thanks to his death certificate, I quickly determined that he was born on April 8, 1846 and that he died on February 8, 1925. Unfortunately, his parents' names were recorded on the certificate as "don't know." Finding William's family line was going to be a challenge.
William Cephis Hagenbuch first appears on the 1850 United States Census for Columbia County, PA with the household of Abraham and Hannah Terwilliger. Along with the couple's children are listed three Hagenbuchs: Anna R. Hagenbuch (20 years old), Rebecca Hagenbuch (22 years old), and William Hagenbuch (4 years old). Curiously, the preceding household listed on the census is an unmarried Susanna Hagenbuch (50 years old). We'll come back to her in a moment.
The next mention of William occurs in 1863 on the muster roll of Company I in the 35th Regiment of the Pennsylvania Militia. William joined for 90 days of service, which took him from Espy to Camp Curtin in Harrisburg, PA. It should be noted that William lied about his age when enlisting, stating that he was 18 years old when he really was 17.
Later in 1864, he volunteered for one year of service in Company D in the 210th Regiment of the Pennsylvania Infantry. Again he is recorded as 18 years old, although this time correctly. While part of the 210th Regiment, William participated in a number of important Civil War battles including the Siege of Petersburg and Appomattox Court House.
Per the 1870 Census, William returned to Espy, PA after the war and lived for a time with three Hagenbuchs: Susanna (68 years old), Rebecca (41 years old), and Sarah (41 years old). He also worked as a "boatman." Research shows that Espy had several boat builders. Around 1870, these were bought by the Pennsylvania Canal Company, which used the consolidated operation to construct its boats.
In about 1875, William married Mary E. Savage (b. 1853, d. 1913), who was the daughter of John and Margaret (Styles) Savage. Together, they had one child, John Abraham, who was born on December 2, 1877 and died in 1955. It was John who signed his father's death certificate in 1925 and listed William's parents as "don't know."
With the above information in hand, I visited Creveling Cemetery to see the grave of William Cephis Hagenbuch. There, I found a large stone at the center of the plot which listed three names:
W. C. Hagenbuch 1846–1925
Mary E. Hagenbuch 1853–1913, noted as the wife of William
Sarah Hagenbuch 1827–1888, no relationship noted
Smaller stones with initials marked the location of each grave within the plot:
M. H. Mother, presumed to be Mary Hagenbuch
S. H. Mother, presumed to be Sarah Hagenbuch
W. C. Hagenbuch, Priv. Co. D. 210 Reg. P. V. I.
R. C., presumed to be Rebecca (Hagenbuch) Creveling
To the right of Rebecca Creveling's small stone was a larger monument. This noted that Rebecca died on April 5, 1886 at age 59. It also indicated that she was married to Isaac Creveling, who was born on March 29, 1820 and died on September 13, 1884.
The final stone in the group was for Susan/Susanna Hagenbuch. The weathered stone sat to the left of the others and was inscribed that she died on May 4, 1882 at the age of 82. Using these graves and some additional census information, I started to piece together the line of William Cephis Hagenbuch.
As mentioned, the smaller stones note that both Mary and Sarah were mothers. We also know that Mary was the wife of William the mother of their son, John. Who was Sarah the mother of? Well, it stands to reason that since her name is listed on the large stone with William that she must have been his mother.
Looking at that 1880 Census, we find another clue: Susanna and Sarah Hagenbuch living together in the same household. Both are noted as widows and Sarah is listed as the daughter of Susanna. While this might be short for "daughter-in-law," other such in-law relationships are spelled out on the same census form. In other words, Sarah is very likely the biological daughter of Susanna, meaning that Hagenbuch was her maiden name, not her married name.
This begs the question: Who was Sarah's husband and what happened to him? Perhaps, he died shortly after they were married, or maybe there never was a husband and William was actually born out of wedlock. We simply don't know at this time.
The other two stones in the plot (Susanna Hagenbuch and Rebecca Creveling) fit with the above family structure too. Susanna Hagenbuch was the mother of Sarah and, therefore, the grandmother of William. Rebecca Creveling is probably the Rebecca Hagenbuch listed on the 1850 and 1870 censuses, suggesting that she was also Susanna's daughter and a sister to Sarah. In fact, both Sarah and Rebecca appear to share the same birth year—perhaps twins!
If true, this explains more about what was happening in the 1850 Census. Rebecca Hagenbuch and a younger sister, Anna, were helping to care for Sarah's child, William. Where is Sarah then? She is found nearby in Berwick, PA working at the Eagle Woolen Factory which was owned by the Rogers family.
Yet, in order to connect William's line to our larger Hagenbuch family tree, we must identify Susanna Hagenbuch's husband. Before the 1850 Census, only male heads of households were recorded by name. All others (children, wives, etc.) were simply tallied into columns. As a result, Susanna's name is missing on the 1840 Census. However, because households were usually recorded in the order they were visited by the census taker, we can use the pattern of family names listed to locate her husband.
In the 1850 Census of Columbia County, we see Susanna Hagenbuch's name listed beside names like Terwilliger, Tronseu, Groh, Edgar, Shuman, and Creveling. When reviewing the 1840 Census of Columbia County, one can find a similar list of surnames near just one Hagenbuch male—Joseph Hagenbuch—who is noted as between 40-49 years old. His name also appears on the 1830 Census for the area too, and he appears to have been married with several children.
After looking at Beechroots, the only possible identity of this individual is Joseph (b. 1799). Little is known about him, except that he was the son of Jacob Hagenbuch (b. 1765) and that he grew up in what would become Allentown, Pennsylvania. If correct, this discovery solves two mysteries. First, it sheds light on the life of Joseph Hagenbuch (b. 1799), showing that he moved from Northampton County, PA to Columbia County, PA in the 1820s. Second, it reconnects William Cephis Hagenbuch back into our family tree through the following line: Andreas (b. 1715) > Henry (b. 1736) > Jacob (b. 1765) > Joseph (b. 1799) > Sarah (b. 1827, husband unknown) > William Cephis (b. 1846).
Using the above information, a group of Hagenbuchs alive today can now call themselves family. As noted earlier, William Cephis and his wife, Mary, had a son, John Abraham. Research shows that John married Mary "Mae" F. Sullivan in 1914 and worked as a typesetter in Boston, MA. The couple had twins, John Joseph Hagenbuch and Mary Frances Hagenbuch, who were born on June 18, 1916. Mary seems to have died young, as she shows up on the census in 1920 but not in 1930.
John J. Hagenbuch served in the Army in World War II, where he rose to the rank of Lieutenant Colonel. He died on December 18, 2011 in Framingham, MA. According to his obituary, he married Nell Beidler. They had a son, John J. Hagenbuch, Jr., who married Marie Guzzetti and lives in Hopkinton, MA. John and Marie have five children: John A. Hagenbuch married to Dana, Steven J. Hagenbuch, Brian W. Hagenbuch, Dina M. Alexander married to Glenn, and Jennifer M. Hagenbuch. Much of this family still lives Massachusetts.
Reconnecting a lost line of Hagenbuchs onto our family tree is a fulfilling, though often frustrating, endeavor. It is hoped that one day soon we will make contact with the descendants of William Cephis Hagenbuch and learn more about their lives.