Cousins Around the Corner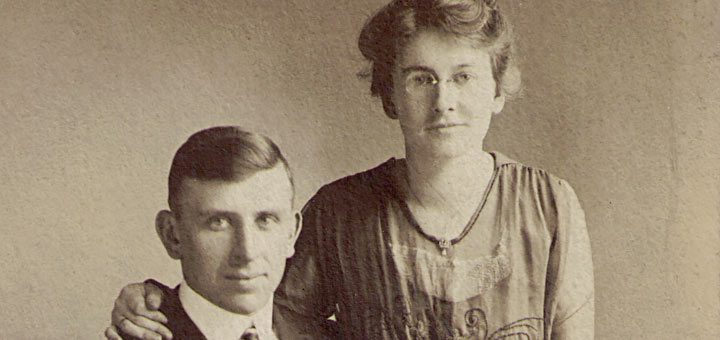 We went to my wife Linda's 50th High School reunion at Greencastle, Pennsylvania a few weeks ago. Greencastle has a different way of scheduling their school reunions. The reunions coincide with the town's Old Home Week festivities which occur every three years. So, in addition to classmates getting together, folks can also enjoy the carnival-like atmosphere at the festival. Along with the huge parade on Saturday night, the town of Greencastle also has entertainment in their town square: all sorts of eateries are set up and in the storefronts are window displays that represent the early days of the town.
Linda and I went to the Friday night picnic for her class reunion. It was a good time. She rekindled several friendships—classmates she had not seen since graduation in 1969. On Saturday morning, we went into the town to look at the window displays as we had heard that one of them was dedicated to her graduating class. As we came around the corner of one of the streets in the square, we stopped to look at a display in a beauty shop. The shop had several ladies in it getting their hair done and in the window were antique curling irons, hair dryers, advertisements for perms, and hair-dos of bygone days. Linda's mother, Ethel Irene (Brandt) Gutshall had been a hairdresser before she had married Reverend Roy Gutshall in 1946. So, we had an interest in these early hairdressing apparatuses.
Suddenly, Linda exclaimed, "Look who donated some of these items—Ethel Quigley!" We both recognized the name, as Ethel had been in Linda's parent's wedding as the flower girl. "I wonder if she lives here in Greencastle?", Linda remarked. We went into the shop and I asked a lady (who turned out to be Dodie, the owner), if she knew Ethel Quigley. "Of course, she just had her hair done the other day in here. She lives just outside town."
Linda told Dodie that Ethel had been in her parent's wedding and that she was named after her mother, Ethel Gutshall. "Oh my goodness", Dodie said. "She was talking about that the other day! She said she was named after a lady named Ethel Irene Gutshall and she was cousins with Ethel's husband." Linda and I tucked that "cousin information" away and asked if Dodie had Ethel's phone number. Fortunately, she gave it to us, and we walked out of the shop. Outside the shop, we both brought up the the fact that Ethel Quigley was actually related. If we knew that, we had forgotten it. Linda's mother had often talked about little Ethel being her flower girl, but we didn't remember that she was a cousin to Linda's father and also to Linda. Of course, I felt a bit sheepish because I'm the one who is supposed to know all the family relationships!
Linda called the number, and Ethel was thrilled to talk to "Uncle Roy's daughter." We figured out that Linda and Ethel were first cousins, albeit step cousins. It's a bit confusing, but that's what genealogy is all about! Linda's grandmother was Mary Pearl Brenneman, who was called Pearl. She first married Elmer Walter Mann in 1909 and they had two children: Walter and Mildred. Elmer died in 1912 in a train accident, and in 1918 she remarried, this time to Roy Gutshall, Sr. The couple had Roy Gutshall, Jr. in 1920 (Linda's father). But, Roy Sr. died of a ruptured appendix in 1929 leaving Mary Pearl a widow again and, having to raise three children: Walter, Mildred, and their half brother, Roy.
Mildred married Lloyd Walters and had four children. The third child was born in 1941 when Linda's father, Roy, was dating a local Mechanicsburg gal named Ethel Irene Brandt. Roy's half sister, Mildred (Mann), and her husband, Lloyd Walters, thought so much of Roy's girlfriend that they named this youngest daughter after her: Ethel Irene Walters. When Ethel Brandt and Roy Gutshall, Jr. got married in 1946, they asked 6-year-old Ethel Walters to be the flower girl. In 1960 Ethel Walters married Jack Quigley, and they had two sons: Brad and Brian. Jack died in 2009.
Linda and Ethel had a nice chat on the phone, and we were invited to visit. We traveled outside of Greencastle a few miles and met Linda's step first cousin. Ethel is delightful. She lives alone in a lovely country home surrounded by flowers and plants which she loves to care for. We had a very informative visit, as if we had known her all our lives. And, in actuality, we had in a way. Linda's mother, Ethel, had often spoken of her namesake. With further conversation, we realized we had met Ethel Quigley at Linda's mother's 90th birthday celebration in 2008, but we had not realized she was a niece to Linda's father. All this time, a wonderful first cousin had lived just around the corner from us.
We went back to see Ethel the next week as Linda and I rode in the 1969 graduating class float as part of the Old Home Week parade. One of the joys of living in Pennsylvania is seeing how thousands of people come out on a hot evening to watch tractors, fire trucks, school bands, baton twirlers, and the floats made by local organizations. You get the picture.
The second visit with Ethel was even more rewarding, as we had brought along family photos. She also showed us family photos which we had never seen before. There were photos of Linda's father which were especially sentimental. Ethel gave us several photos so we could scan them and put them in our archives. We plan on having a close relationship with this cousin who appreciates genealogy as much as we do.
As we have written many times, Andrew and I know that there are people out there who we might pass on the street, read about in the newspaper, see on Facebook, and, yes, never know they are related to us. We enjoy finding distant cousins that we can record in Beechroots and bring "back into the fold" too. Nevertheless, it's quite rare to find a unknown first cousin living close by. Certainly, genealogical research has great rewards.