The Paintings of William L. Hagenbaugh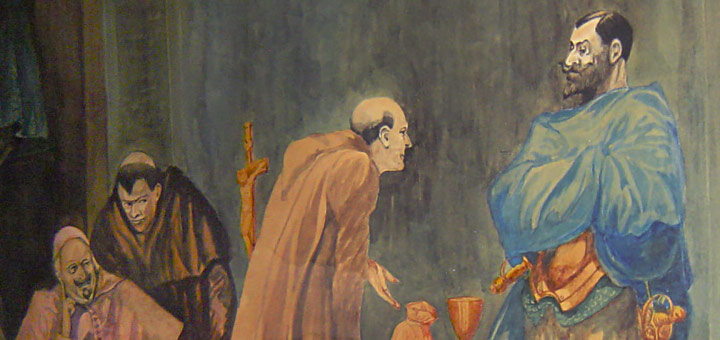 The Hagenbuch family tree is full of interesting characters—one of whom is William Louis Hagenbaugh (b. 1878, d. 1943). Several articles have been written about how William's family migrated to northern California in the 1880s and established a homestead near the town of Redding.
Eventually, the family moved to southern California, and William enlisted in the Navy, serving in the Spanish American War. After this, he joined the Los Angeles Police Department and rose to the rank of captain. However, William's life was not entirely defined by his career. Rather, he was a man of many pursuits, two of which are especially noteworthy.
The first was his interest in genealogy. As discussed previously, William began one of the earliest efforts to document our family tree. He sent letters to Hagenbuchs all over the United States, including many in Pennsylvania. Though William died before my father, Mark, was born, one of his letters was saved and presented to my father as a boy. This sparked his fascination with genealogy, which has carried forward to this day.
The second was William's love of oil painting. While we don't know when he first picked up a paint brush, one of William's earliest surviving works is dated 1912. The painting, which depicts two men and a horse in the desert, already demonstrates a high level of skill. Therefore, it is reasonable to believe that William was a practicing artist from around 1900 until his death in 1943.
A 1929 article in The Police Reporter newsletter described an exhibition of Captain William L. Hagenbaugh's work:
The outstanding features of Captain Hagenbaugh's work are perhaps his atmospheric effects, the studied lights and shades of his sky, and his general understanding of nature. These are evidenced in "Elkland," first in the list under name, depicting a huge elk calling his mate in the silence of a mountain glade; in "The Wave;" and in "Where Land and Water Meet." In "Yuccas" and in "Autumn Skies" the artist has shown his real love of nature, the desert foliage with the beautiful tall yuccas in the foreground, in the one, and the brewing storm of the other, showing not only understanding but care and skill in applying the brush.

"The Old Ranch" is a particularly pleasing scene, showing the quiet old house in the background with trees and rolling meadows of inviting greenness.
Even though he was not a professional artist, William was no amateur. His pictures capture the imagination and bring to life the scenes, often of the West, that inspired him. We estimate that William likely produced several hundred works during the years he was active as an painter.
While some of his paintings survive today in family collections, others have been sold at auctions, including on eBay, to private collectors. Below is a gallery of some known paintings of William L. Hagenbaugh.
Special thanks to Carol Pilch, Richard Rauenzahn, and others for providing the images used in this article.