Letters From Nana, Part 2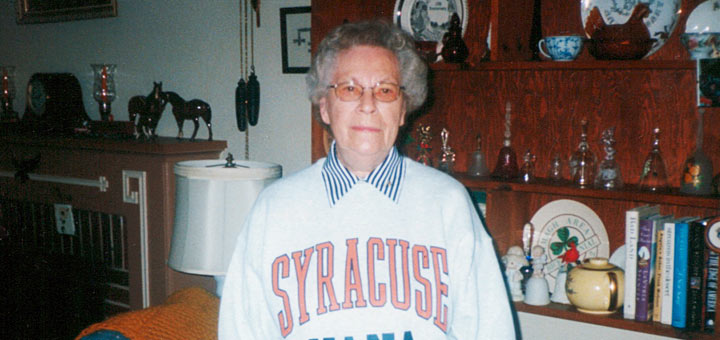 In the first part in this series, I shared letters and postcards from Nana, Irene (Faus) Hagenbuch (b. 1920, d. 2011), dating from my first semester at Ithaca College in the fall of 1999. The comments written in reply to the article were really wonderful to read. Cousins, aunts, and uncles all described how Nana wrote to them too and how much these words meant then and now.
Below are six more postcards from Nana written between the years 2000 and 2001:
Pop and I visited the museum here [the Harry S. Truman Dam and Reservoir].

1/17/2000
Dear Andrew,

Just a card to let you know we are thinking of you.

Do you have enough snow to wear boots? It was 0º this a.m. & windy. The birds look cold at the feeders.

I meant to call you before you left. Your dad called yesterday.

Hope you are doing O.K.

Love,
Pop & Nana
One thing to be learned from this card is that Nana would pickup postcards on her travels and use these later when writing to people. Though I'm not sure what year she and Pop visited the museum at the Harry S. Truman Dam in Missouri, she saved a postcard from the trip and sent it to me once back in Pennsylvania.
3/25/2000
Dear Andrew,

We hope you are O.K. Thanks for being with us for my birthday.

I received 24 cards and letters. Now we had our 61st anniversary.

Spring is slow but daffodils and crocuses are in bloom & trees in bud. We have many sticks, etc. to clean in the lawn & soon time to mow.

Pop had the mower serviced and bought 1 tire.

Love,
Pop & Nana

Are you coming for Easter?
Irene Mae Faus was born on March 15, 1920—a memorable date that is known to many as the Ides of March. She married Homer Sechler Hagenbuch (b. 1916, d. 2012) on March 22, 1939.
Twenty-four cards and letters is a large number to receive for one's birthday. Though, as my Great-Aunt Gloria (Felix) Faus says, "You have to send cards to get cards!" Nana did send a lot of cards and letters, meaning she received many in return.
8/29/2000
Dear Andrew,

Flags have been put on this bridge [the Veterans Memorial Bridge in Sunbury, PA]. Only a few weeks ago, a new bridge opened at Danville. A tunnel at the end entering Danville is unique.

We hope all is well at Ithaca.

We are thinking of you and hope you have a good year.

Our Love,
Pop & Nana

Hello to Robert.
According to this postcard, the Danville-Riverside bridge had just opened along the north branch of the Susquehanna River. Route 54 runs underground for several blocks in Danville to protect the historic downtown.
The letter also gives a shout out to my college roommate and friend, Robert Mosenfelder, who Nana had previously met.
12/7/2000
Dear Andrew,

Do you have any snow?

I see Buffalo got again. We are getting flurries. Cold 10º in a.m. 25º today. I put candles in the windows & greens. Red bows on the doors. Also baking cookies.

Our Love,
Pop & Nana
Ever the industrious one, this card details Nana's preparations for Christmas by decorating and making cookies. It's a wonderful reminder of the holiday family gatherings at Nana and Pop's house.
We sat on a bench here [the Nichols Fountain].

1/29/2001
Hello Andrew,

How is the weather? Can you use the scarf?

It was 10º here again this a.m. Still some snow around.

Hope you are O.K. We are doing pretty good. Got out for groceries and to the Restaurant at the Bridge.

Our Love,
Pop & Nana
Reading this now, I realize that Nana must have given me a scarf for Christmas that year. Though, I cannot remember what it looked like or if I ever used it.
The card is notable for two other reasons as well. First, it mentions that Nana and Pop sat on a bench near the Nichols Fountain in Kansas City, Missouri where Uncle Bob—Robert H. Hagenbuch, Sr.—and his family lived.
Also, it describes how Nana and Pop stopped at May's Drive-In Restaurant in Lewisburg, Pennsylvania, which they called "The Bridge." This is a reminder of how they enjoyed eating there.
4/24/2001
Hello Andrew,

Glad to hear you are getting some warm weather too. 80º here. Pop is digging the garden. We have spinach in.

We enjoyed your letter so much. Looking forward to seeing you soon.

Our love,
Pop & Nana

Aunt Barbara's birthday today.
The card is a great reminder of how Nana diligently remembered holidays, birthdays, and other family milestones. Here, she notes that Aunt Barb—Barbara (Hagenbuch) Huffman—is having a birthday on April 24th, the day she wrote the card. I must have written a letter to Nana and Pop around this time too.
The third and final part in this article series will feature several more letters and postcards from Nana. These will cover a period from my last years in college through my move to California in 2008.