Two Little Girls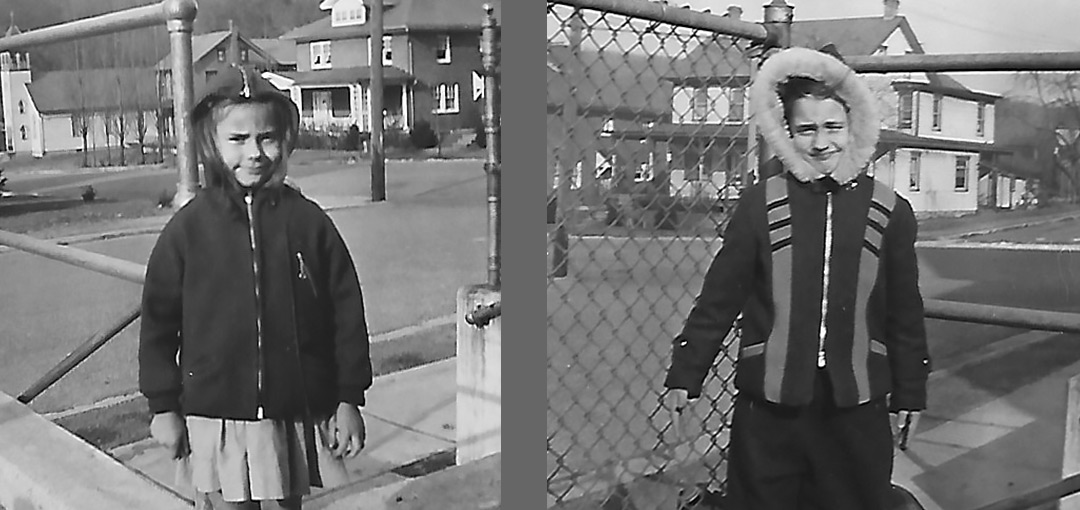 It began with two photos. Two little girls dressed in the 1940s fashion—hooded coats, snow pants, and woolen leggings. The girls, Kathleen Hagenbuch and Joan Hagenbuch, were somehow related, and the photos were probably taken on the same day at the same school playground.
A few weeks ago Andrew received a message from Karen Courie of Georgia. She wrote that her she was putting together a memory book for her mother, Kathleen (Hagenbuch) Courie, and had contacted the borough of Bowmanstown as Karen knew they had a school photo of her mother.  Along with the photo of her mother, the borough sent another photo which was marked as "Joan Hagenbuch". The relationship of Kathleen and Joan was not known.  Karen wanted to know if we could research this. She also reminded us that she had actually sent us information about her family back in March of 2019 which we had not followed up on.
It seems that Karen's mother, Kathleen, was working on the Hagenbuch genealogy in 2013 and before. She had visited the Hagenbuch homestead in Berks County and found out about me through the Berks County Graveyard Association. Unfortunately, her mother had a stroke soon after obtaining my name and address, so she had never contacted me.
Upon looking back through some emails and doing research, we pieced together what was going on with this family. Karen not only had the photo of Joan Hagenbuch. She also had one of her mother, Kathleen, when she was a young girl, which like the one of Joan, was probably taken around 1944 at a school playground in Bowmanstown, Pennsylvania. I asked Karen for copies of the photos. Along with the photos of the two girls, Kathleen and Joan, Karen sent family information and some other photos of her Hagenbuch family, enabling us to update this Hagenbuch clan's info.
Karen's family line is: Andreas (b. 1715) > Henry (b. 1736) > John (b. 1776) > Reuben (b. 1805) > James (b. 1854) > Howard (b. 1887) > Norman (b. 1908) > Kathleen (Hagenbuch) Courie (b. 1936) > Karen Courie. We found that Joan Hagenbuch was also born in 1936 and was a daughter of Wilbur (b. 1905) and Verna (Eckhart) Hagenbuch. Wilbur was a brother to Howard (b. 1887), making Joan and Kathleen first cousins once removed.
Wilbur and Howard came from a large family of Hagenbuchs. Their grandfather Reuben (b. 1805) was married to Sarah Bauman. Back in the early 1980s, when I was working diligently to list every Hagenbuch I could find, I recorded eight children for Reuben and Sarah, who was also known as Salome. Their names are: Sarah, Isabelle, Eliza, James, John, William, Thomas, and Rosanna. The names came from several sources before computerized research was available. With the latest online research, I have found John, James, Rosanna, William and a sister, not in the original list, Amanda (who died at age three). Much more research is needed to sort out these children.
Yet, a good amount of information on Reuben and Salome's son James Monroe Hagenbuch, the great great grandfather of Karen Courie, is already known. James was born in Carbon County, Pennsylvania in 1854 and died in 1940. He married Ellamina "Ellen" Scherer, who was born in 1867 and died in 1936. They are buried at Towamensing Cemetery in Carbon County, Pennsylvania. James and Ellen had ten children: Milton (b. 1885), Howard (b. 1887), Floyd (b. 1890), Salome (b. 1892), Edwin (b. 1895), Esther (b. 1897), Ursula (b. 1903), Wilbur (b. 1905), Elmer (b. 1907), and Arietta (b. 1910). Six of these ten children were married and had children of their own. Salome (b. 1892) was written about in a 2018 article too. As I have written, it was a large family!
Wilbur (b. 1905) and his wife, Verna, had two daughters: Dorothy, who married Donald Frey, and the aforementioned Joan, who married Ronald Christman.
Karen Courie's great grandfather, Howard Harrison Hagenbuch was born in 1887 in Carbon County and died in 1960. He was married to Elmira Shindler, who was born in 1887 and died in 1983 They are buried at Trinity Lutheran Church Cemetery in Bowmanstown, Pennsylvania. They had five children: Norman Andrew (b. 1908), Marion (b. 1911, m. Arthur Berger), Carrie (b. 1913, m. Edwin Rehrig), Clark (b.1916, m. Luella Yenser), and Willoughby (b. 1923, m. Ruth Boehme).
Karen's grandfather, Norman Andrew Hagenbuch, was born in 1908 and died in 1992. He was married to Esther Deppe, who was born in 1905 and died in 1973. They had two children: Karen's mother, Kathleen Lois (b. 1936, m. Wadie Courie) and Karl Lafayette (b. 1937, d. 2014). There is little information known about Karl, other than he was a U.S. Army Master Sergeant who served in Vietnam. Karl was married, and he and his wife had two children. Karl is buried at the Northern Nevada Veterans Memorial Cemetery in Fernley, Nevada.
Karen's parents, Kathleen and Wadie, were married in 1962 and Karen was born in the Washington D.C. area. Her father died in 1990. Thanks to her mother Kathleen's interest in Hagenbuch genealogy, Karen's contact with Andrew and me, and the photos of two little girls, this Hagenbuch clan has been updated, adding more information and stories to our genealogy. And, of just as much importance, we have found a new cousin. Welcome, Karen Courie!