To Market, To Market, Off To Hage's We Go!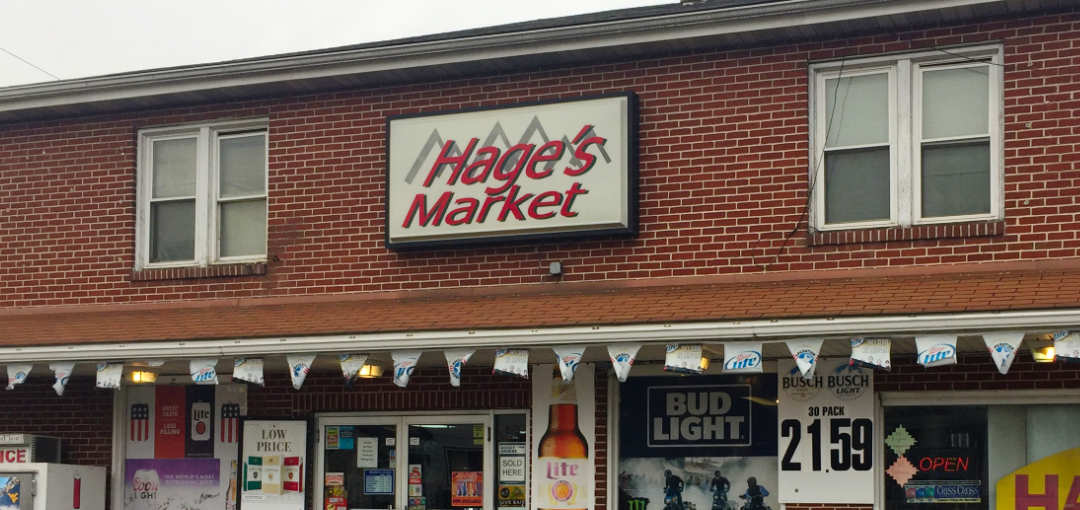 It is probably not common knowledge among most of our readers that there are Hagenbuchs who own a food market in Ridgeley, West Virginia. Hage's Market was started in 2005. It is owned and operated by brothers, David and Joe Hagenbuch. Adjoining the market is Desperado's, a place of food and beverage which the brothers also started in 2005. I have never been there! But, I hope to rectify that in the near future. As I said to Linda the other day, "We need to go visit Hage's Market and Desperado's which is only about 2 hours from here." She agreed.
David and Joe get their food and restaurant business sense honestly as their father, Fred Hagenbuch, owned and operated a restaurant in the past. The Hagenbuch Restaurant at Ridgeley was visited a few times by some of my Hagenbuch folks. I know that my parents and my Uncle Lee and Aunt Lera Hagenbuch were there back in the late 1970s.
David and Joe are descended from Andreas in the following way: Andreas (b. 1715) > Christian (b. 1747) > John (b. 1785) > Robert (b. 1808) > Benjamin (b. 1833) > Robert Del Roy I (b. 1853) > Robert Del Roy II (b. 1894) > Frederick "Fred" (b. 1927) > David and Joseph "Joe". This makes David and Joe my 6th cousins, once removed.
I first made my acquaintance with this family when I was doing a lot of genealogy in the 1970s. I had gotten word through one of my close Hagenbuch relatives that there was a Hagenbuch family living in Bedford, Pennsylvania. On a trip through Bedford in spring of 1978, I stopped and met Donald Hagenbuch and his wife Donna. Don owned an automobile repair shop in Bedford. I remember we talked, and I tracked down the connection that his Hagenbuch clan had with mine. Don led me to meet his sister Dot—Dorothy (Hagenbuch) Hillegass—who was interested in our family genealogy.
I sent Dot one of my forms to complete about her Hagenbuch clan in the summer of 1978. I still have that completed form in my "letters archives", it is nine pages long! At that time, without computers, I would type out all the information I knew about a certain clan and send it off to distant relatives to fill in the blanks. Dot sent the completed pages back to me in August with a nice letter.
I had been thinking of some sort of idea to have newfound cousins communicate so that our clans could get to know each other. I was amassing a huge amount of information, the beginning of what Andrew and I now call the "paper archives", which are the Latter Day Saints long forms completed on every married couple I had researched. I pitched an idea to Dot at that time—how about a pen pal club made up of the younger members of all our families? This was before the first publication of the newsletter, The Beech Grove, that I created in 1982.
Dot took off on the idea and she sent out many letters to young members of all the different Hagenbuch families I was researching. Later that year in 1979, we started what we called the "Autumn Years Club", an attempt to get our older family members to communicate. However, neither of these communicating groups ever really came to fruition; hence the newsletter was created instead.
After more than a year of working with Dot on these genealogical projects, we finally met in December of 1979 in Bedford, PA where she was living with her sister, Kay. Linda and I traveled to Bedford and spent the weekend with them. Others of their family came by to meet us. Unfortunately, after several years and the demise of The Beech Grove in 1992, Dot and I lost touch with each other. When Andrew and began writing articles for Hagenbuch.org in 2014, there were new generations of Hagenbuchs that I had to become familiar with, one of those being the Bedford Hagenbuchs.
That's how it came about that I found David and Joe, who were continuing their father's interest in marketing foods. Sadly, Dot died in July of 2022 and all the memories of the work she had done to promote our genealogy came flooding back. The next article in this series will focus on Dot, her family, and the restaurant business of David and Joe's father, Fred. As with our other articles, it's a great story!