Family News From Past Novembers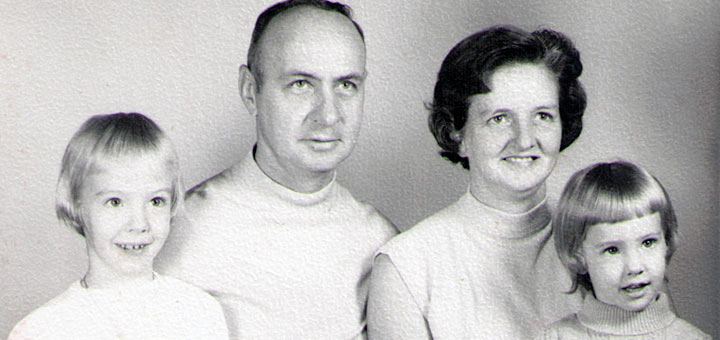 The Hagenbuch archives contain a rich collection of family names, photographs, and genealogical articles. As November approaches, let's explore some of the historic events that occurred during this month in years past.
Nov. 1, 1934 – Death of Henry Clinton Hagenbuch in Tacoma, Washington. Henry was born in Espy, Columbia County, PA and was married to Mollie Rockster. They had no children. Henry's parents were third cousins, both Hagenbuchs when married: Andrew Clinton Hagenbuch and Margaret Alice Hagenbuch. Therefore, Henry Clinton Hagenbuch has two Hagenbuch lines. (Henry b. 1870 < b. Andrew Clinton b. 1837 < Henry b. 1812 < Andrew b. 1785 < Michael b. 1746 < Andreas b. 1711 || Henry b. 1870 < Margaret Alice b. 1843 < Jeremiah b. 1814 < Jacob b. 1792 < John b. 1763 < Andreas b. 1711)
Nov. 2, 1934 – Death of George William Hagenbuch who last lived in Kansas City, MO. George was a passenger agent on the Santa Fe Railroad and was married to Laura Genung. They had two children: Alma b. 1891 and Charles b. 1895. (George b. 1864 < George b. 1833 < Jacob, Jr. b. 1797 < Jacob Sr. b. 1765 < Henry b. 1736 < Andreas b. 1711)
Nov. 4, 1916 – Birth of Homer Sechler Hagenbuch (Homer b. 1916 < Clarence b. 1889 < Hiram, Sr. b. 1847 < William b. 1808 < Henry b. 1772 < Michael b. 1746 < Andreas b. 1711). Homer was born on a farm just east of Milton, Pennsylvania and always stated when driving past, "Yep, almost got there before the doctor." He was married to Irene Mae Faus in 1939 and they had four children: Barbara, Robert, David, and Mark.
Nov. 7, 1979 – Appearing in the Reading Eagle, in a column entitled "Our Keystone Families" written by Schuyler Brossman, was an article about the Hagenbuch Pen Pal Club. It was actually two clubs, all members descended from Andreas Hagenbuch: one for teenagers called the "Pen Pal Club" and another for retired descendants called the "Autumn Years Club". The Clubs were organized by Dorothy "Hagenbuch" Hillegass of Bedford County, PA. (Dorothy b. 1936 < Robert DelRoy Hagenbuch II b. 1894 < Robert DelRoy I b. 1853 < Benjamin b. 1833 < Robert b. 1808 < John b. 1785 < Christian b. 1747 < Andreas b. 1711). Both pen pal clubs only lasted a few years long due to lack of interest.
Nov. 9, 1902 – Marriage of Alan Wolf Hagenbuch and Mae Sheets in Benton County, Indiana. Two children were born to this union: Van b. 1914 and Evelyn b. 1907. (Alan b. 1877 < Amos b. 1848 < Enoch b. 1814 < Jacob b. 1777 < Michael b. 1746 < Andreas b. 1711)
Nov. 11, 1912 – Marriage of William Lewis Hagenbaugh (b. 1878 in Champagne, IL) and Lillian Norquist. Sometime in the late 1800s William's father, William Allen Hagenbuch, changed his last name to Hagenbaugh sealing the fate of his descendants to have a different last name. William Lewis was a captain in the Los Angeles Police Department and a veteran of the Spanish American War. He died in 1943 having worked for almost 20 years in compiling the genealogy of the Hagenbuch family. Before his death, he had contacted many Hagenbuchs living in the United States asking for their family trees and he then compiled them into one composite genealogical chart. Some of these charts were still in the hands of Hagenbuchs in Pennsylvania and other states in the 1960s when the Montour County, PA Hagenbuchs began to have an interest in their ancestry beyond William Hagenbuch (b. 1808). It is thanks to William Lewis Hagenbaugh that we had the beginnings of a Hagenbuch genealogy tracing back to the immigrant Andreas Hagenbuch of Berks County, PA. Sadly William Hagenbaugh's research, according to his son Robert Louis Hagenbuch, was destroyed in a warehouse fire soon after his father's death. (William Lewis Hagenbaugh b. 1878 < William Allen Hagenbuch/baugh b. 1855 < Daniel b. 1816 < Jacob b. 1777 < Michael b. 1746 < Andreas b. 1711)
Nov. 16, 1801 – Birth of Isaac Hagenbuch. Most likely this occurred in Berks County, PA as his parents, Henry and Mary "Wolf" Hagenbuch, moved to Columbia County near Hidlay Lutheran Church in 1802. Isaac was married to Salome (last name unknown) and they are buried at the Laurel Hill Cemetery in Orangeville, PA. They had four children: Michael, Mary, Henry and William. (Isaac b. 1801 < Henry b. 1772 < Michael b. 1746 < Andreas b. 1711)
Nov. 25, 1927 – Birth of Joseph James Hagenbuch at the home of his parents. Their farm was next to the Montour County, PA Hagenbuch homestead founded by William (b. 1808) Hagenbuch in 1853. Joseph was married to Bernice Bennett and their daughters are Teresa and Lisa. (Joseph b. 1927 < Raymond b. 1896 < Joseph b. 1852 < William b. 1808 < Henry b. 1772 < Michael b. 1746< Andreas b. 1711)
Nov. 28, 1982 – Cyrus and Cleota "Marr" Hagenbuch celebrated their 50th wedding anniversary with an open house held at Oak Grove Lutheran Church, Danville, RDI (modern day Hagenbuch Loop Road). They were married in 1932 by Rev. Frost at Washingtonville Lutheran Church. They had three children: Jean Hagenbuch, Stanley Hagenbuch, and Arlene "Hagenbuch" Snyder as well as seven grandchildren. (Cyrus b. 1905 < Percy b. 1880 < Hiram, Sr. b. 1847 < William b. 1808 < Henry b. 1772 < Michael b. 1746 < Andreas b. 1711)
Nov. 30, 1870 – Marriage of Emery Dennis Hagenbuch and Ardelia Creveling in Northumberland, PA. They had three children: Reber, Bernetta, and William. Emery farmed near Lightstreet, PA and also served as a tax collector for the township. (Emery b. 1848 < William b. 1814 < Simon b. 1788 < John b. 1763 < Andreas b. 1711)
This is just a small sampling of the many important events which occurred in our family's lives over the years in the month of November. These relatives celebrated these dates through family get togethers (both sad and happy), greeting cards and letters, telephone calls, and visits. Now, most are neither recognized nor known. Yet, at the time, these November events were milestones for individuals and families.
Look back through your ancestry to find the important dates for your parents, grandparents, and beyond. The least we can do as descendants is to make note on those dates that something eventful happened to our loved ones in the past.