Two Years On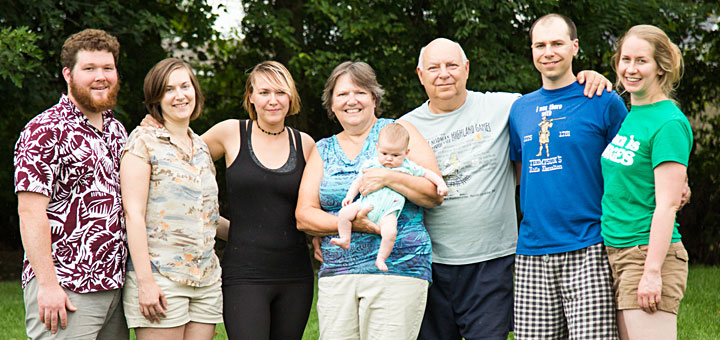 It's been two years since my father, Mark Hagenbuch, and I founded Hagenbuch.org. Since then, the site has amassed a collection of over 100 articles containing family stories, genealogy, and culture.
Around this time last year, I remember commenting to my father that we'd likely uncovered all that could ever be known about Andreas Hagenbuch (b. 1711, d. 1785) – the common ancestor shared by nearly all Hagenbuchs living in America. How wrong I was!
Late in 2015, we made an amazing discovery: the inventory of Andreas Hagenbuch's estate. Compiled just after his death, the document provided insights into exactly what Andreas wore, helping us to reconstruct an image of the man. In addition, the inventory revealed that the Hagenbuchs had developed a cottage industry of distilling brandy and working with linen textiles. Inspired by this newfound information, we featured a fictional conversation with Andreas.
The story of the early Hagenbuch family continued in 2016 with the discovery of an inventory of Michael Hagenbuch's (b. 1746, d. 1809) estate at the time of his death. This revealed the homestead was producing sizable amounts of whiskey, linen fabric, and tanned leather. The story of the homestead's owners will continue as we explore additional inventories.
The Hagenbuchs were part of Pennsylvania's Deitsch people, and several articles have explored their culture, including an historical account by Benjamin Rush. Recipes for white peppernuts, sauerkraut, and red cabbage with quince revealed elements of the Deitsch diet. Still other articles featured music, the lullaby "Sleep, My Baby, Sleep", and the tradition of setting up a Christmas putz.
Numerous branches of Hagenbuchs were explored during the last twelve months. These included the families and descendants of Peter L. Hagenbuch, Franklin Walter Hagenbuch, Albert Ira Hagenbuch, William S. Hagenbuch, and Hiram Jr. "Harry" Hagenbuch.
There were even more discoveries too. A 1785 newspaper clipping was found to mention John Hagenbuch (b. 1763, d. 1846), the youngest son of Andreas Hagenbuch. Its contents suggest that young John ran away from an apprenticeship and the cosmopolitan life of a Philadelphia dandy. Christian Hagenbuch (b. 1747, d. 1812), another son of Andreas, built a new house in 1783. The plans for this were uncovered and presented.
Timothy Hagenbuch (b. 1804, d. 1852) was featured in a number of articles. One of these looked at his life as a teacher and scrivener, while another examined a letter written by Timothy to his brother Enoch Hagenbuch (b. 1814, d. 1895). The stories of Timothy and Enoch will continue to be told in hopes of revealing what sent Hagenbuchs into the American West.
Some of the most fascinating articles on this site have been inspired by the clippings, photographs, and writings found within the Hagenbuch family archives. This past year we explored a collection of treasured children's toys, Easter cards from yesteryear, parlour games, a wedding dress used in four weddings, and whimsical photographs of Hagenbuch ladies.
Letters are typically thought of as ephemera which are written, read, and discarded. Thankfully, sometimes they are preserved by family archivists for future generations to enjoy. Such was the case with the love letters between Samuel H. Sechler (b. 1855, d. 1928) and Mary Davis (b. 1852, d. 1915). A series of articles featured their delightful writings and courtship.
And there were still more discoveries! In the spring, the birth and baptismal Fraktur of Anna Elizabeth Hagenbuch (b. 1754, d. 1825) was found on eBay and purchased for the Hagenbuch archives. In addition, new evidence was uncovered pointing to the original location of Andreas Hagenbuch's home. Future articles will continue to explore both of these topics.
The Hagenbuch family is large and still growing. We have a rich history filled with names, dates, places, people, stories, and culture. The past two years have been a wonderful experience for my father and me, as we research our family and share it with you.
A recent article took a look at the first Hagenbuch family reunion. In a sense, this website is a virtual reunion – bringing all of us together through a shared ancestry and common experiences. We look forward to continuing this reunion in the year ahead.
As always, if you would like to have your family's history and genealogy featured, please contact us using the forums on this site or via Facebook. Make sure to have images, names, and dates ready to share. Thank you again for your continued support!
-Andrew M. Hagenbuch & Mark O. Hagenbuch