Seven Years On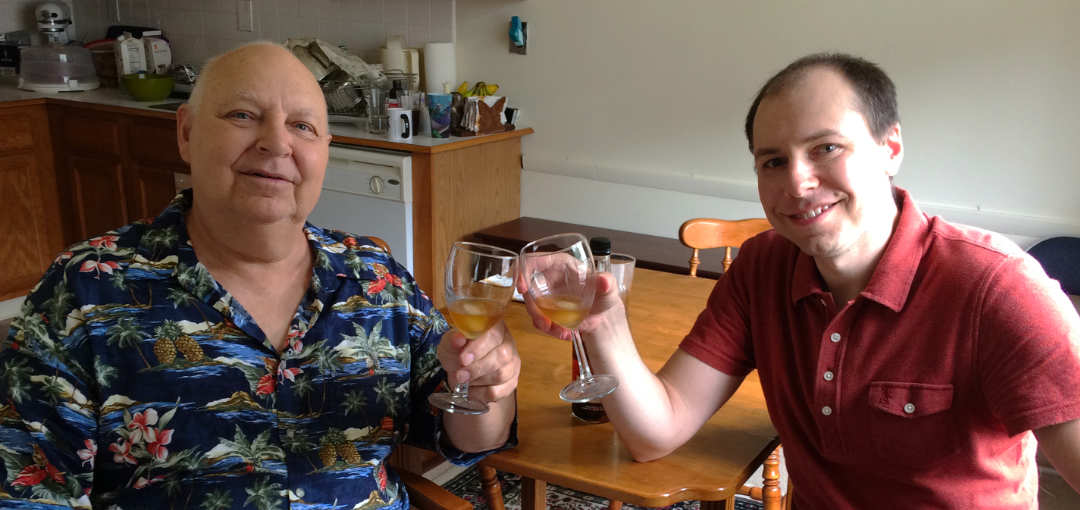 Just the other week, my father and I were talking about how we started Hagenbuch.org in 2014. He was working on his article the seven year itch, and we were tallying a number of statistics about our efforts to date. These included:
365 articles posted about genealogy, history, culture, and other related topics
Over 400,000 words written (an average of about 1,100 words per article)
5000 family member records entered into Beechroots.com
Our accomplishments can be quantified in other ways too. For instance, when contacted by a relative from Michigan who was looking to trace their Hagenbuch roots, we could quickly place them on our family tree and provide them with specific information about the early migrations of our family from Europe and to America. With this in mind, let us pause to look back at our efforts of the last year.
One of the most interesting stories I worked on recently was sharing the life and Civil War letters of Benjamin "Ben" Del Fel Hagenbuch (b. 1833). My father and I had been aware of Ben's letters at Auburn University for some time. However, it was the active communication from his sibling descendants, Dore and Bob Carl, that kept Ben at the forefront of our minds. Similarly, my father worked with Shaun Creighton to publish an account of the Hagenbuch-Reichard family connections, Karen Courie to examine pictures of her mother Kathleen (Hagenbuch) Courie, and Debbie Hagenbuch-Reese to explore a family counterpane. Additionally, I helped Norma Kay Hurter to share the history of her Hagenbuch family, through her great grandfather, Andrew Pierce Hagenbuch (b. 1881).
Culture is a focus of the site too. From holidays like New Years, Easter, and Halloween to Fastnacht Day, birthday celebrations, and even school picture day, we continued to study the important events that generate lasting memories. This past year we also looked at what our ancestors read, and discussed foods such as raisin cake, mangoes, and molasses.
Of course, the majority of the articles on Hagenbuch.org relate to family in one way or another. A number of relatives were featured including John Hagenbuch (b. 1802), siblings Sarah and Rollin Scales, John W. Hagenbuch (b. 1894), Christian Hagenbuch (b. 1770), Ralph D. Hagenbuch (b. 1934), and John H. Hagenbuch (b. 1936). Typing this list of names, I now see that John Hagenbuchs were of a particular interest to us in 2021!
Genealogical research creates opportunities to examine elements of the past that influenced our ancestors' lives, like money and politics. We investigated the hardships our family endured in Europe and the geography of Andreas Hagenbuch's birthplace in Württemberg, Germany. We compared immigrant Caspar Wistar's story to Andreas' and imagined how our relatives perceived the Declaration of Independence in 1776.
Surviving ephemera can tell us a great deal about the lives of family members too. Old photographs are obvious examples of this, and for one article, they enabled us to explore stories related to one-room schoolhouses. Much the same, yearbooks can shed light on relatives that attended school together and knew one another. Newspaper advertisements grow our knowledge of our ancestors' occupations, while boxes of saved papers, postcards, and snapshots can be treasure troves of family history.
One of my favorite aspects of Hagenbuch.org is making an exciting discovery. There were several this year, such as finding what happened to an illegitimate child, Julianna Hagenbuch, and identifying baptism records that revealed the parents of Joseph Hagenbuch (b.1811). A significant amount of research went into a series about a revised birthdate for Henry Hagenbuch (b. 1737) and my father hunted for the names of children in unlabeled photographs.
Genealogy is a process, one that takes countless hours of digging through records and organizing information. All of that happens before we even begin to write the articles for this site. Looking forward to the eighth year of our collaboration, my father and I continue to work towards our goal of documenting all of the descendants of Andreas Hagenbuch (b. 1715). We also hope to see, in person, everyone at the Hagenbuch Family Reunion on Saturday, June 18, 2022.
As always, if you would like to have your family's history and genealogy featured, please contact us using Facebook or our email Contact Us form. Make sure to have images, names, and dates ready to share too.
Thank you for your continued support!
-Andrew M. Hagenbuch & Mark O. Hagenbuch