Three Things: Blessings for the New Year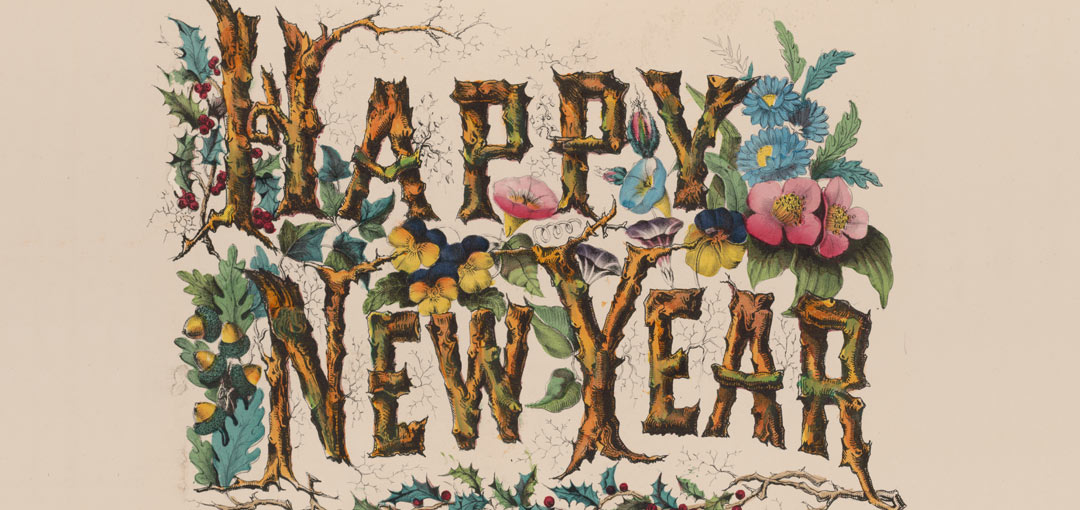 Before I even read Andrew's Christmas article entitled "I'll Be Home For Christmas," I was thinking along the same lines for my New Year's article. With a little help from him, we continue to think about home and the blessings we are given as we stay safe in our own environments.
New Year's resolutions are popular. We often joke about the changes we say we're going to make in our lives for the coming year. "We'll lose weight," "we'll be kinder to one another," and "we'll work harder or more efficiently at our jobs" are all often heard. Instead of resolutions, our early Berks County Hagenbuchs requested certain heavenly blessings. Being strict Christians, they believed in prayer and asked God in many ways to bless them with necessities. It was common for our Pennsylvania German folks to ask for die drei Dinge, three things that would make their continued lives possible in the new year.
In Patrick Donmoyer's book Powwowing in Pennsylvania, he states on pages 264–265:
[It] was common up until fairly recently in Berks County to place "die drei Dinge," or small samples of "three things" on the windowsill on New Year's Eve. The samples represented three substances that would be blessed so that the household would have abundance of these three things and would not run out of them over the course of the next year. Each family had their own way of interpreting this ritual. One family from Bernville, Berks County, placed a coin, a lump of coal, and a small dish of flour so that the family would have sufficient money, fuel, and food in the coming year.
As I thought about this article last night, I looked over at a photo of my parents that I keep in my bedroom. More than anything I believe they cherished their home, not only the physical house, but also their home as a family unit. My thoughts continue on this tack as the new year of 2021 approaches.
My mother, Irene, was a child of the Depression. Born in 1920, she was the eldest child of Odis and Minnie (Hilner) Faus. Grandpa Faus was a carpenter, a farmer, and a jack of all trades. He traveled around with his family, renting his home, and working for others. My mother was sent to live with her grandparents, Samuel and Louisa (Miller) Hilner, at the age of 10. She lived as the "hired girl" for the Keefer family near Washingtonville, Pennsylvania and also for the Eyer family in Turbotville. She probably lived in more than six different houses before she married my father Homer in 1939. My parents first lived on a farm outside Washingtonville, then lived in two different houses in Washingtonville, and then moved to another farm outside Washingtonville—all before 1953. In that year, they rented the farm and home where I grew up near Limestoneville. It was owned by my Hagenbuch grandparents, Clarence and Hannah (Sechler) Hagenbuch.
In 1967, my parents purchased a house and an acre of land near Montandon, Pennsylvania. Dad quit farming for himself, and my parents finally had their own, long-lasting home where they lived for over 45 years. Mom was very proud of this house, which she made into a warm, welcoming home for her children and grandchildren. We all spent many hours there enjoying her love, her joys, her crafts, and her home cooking! Finally, after moving from place to place for almost 50 years, she had found the house that she made a home. For her, it truly embodied the phrase: Home is where the heart is.
A year or so before my parents died (my mother, Irene, in 2011 and my father, Homer, in 2012), I had the difficult task of asking them what they wanted done for their funerals. They were very open about it, giving me some ideas so that their memorials were personal. When I asked Dad if he had any particular song he wanted played or sung at his funeral, he didn't hesitate. "Home Sweet Home," he blurted out with a smile. That answer brought a smile to my face too.
When he passed away, Andrew's wife, Sara—a classically-trained soprano—sang the old favorite at Dad's memorial at Oak Grove Lutheran Church. I am not sure about others, but I choked up and wept uncontrollably, knowing that Dad truly loved the homes he had shared with Mom in Montandon, in Washingtonville, and the farms in Montour County where they had lived. With failing health and his life changed, Dad's thoughts were on the difficult but satisfying life he had led as a farmer for so many, many years.
Recently, I found a tattered news clipping among the other items in "The Box Full of Goodies" I wrote about previously. It is a poem published in a newspaper dated February 9, 1900. The poem is entitled "Dreaming of Home" and was written by Eugene Field, who is best known for writing the children's poem, "Wynken, Blynken and Nod."
---
Dreaming of Home
by Eugene Field
---
It comes to me often in silence, when the firelight sputters low—
When the black, uncertain shadows seem wraiths of long ago;
Always with a throb of heartache that thrills each pulsive vein,
Comes the old, unquiet longing for the peace of home again.
I'm sick of the roar of cities and of faces cold and strange;
I know where there's warmth and welcome and my yearning fancies range,
Back to the dear old homestead with an aching sense of pain;
But there'll be joy in the coming when I go home again.
When I go home again! There's music that never may die away,
And it seems that hands of angels on a mystic harp at play,
Have touched with a yearning sadness on a beautiful broken strain,
To which is my fond heart wording, "When I go home again."
Outside of my darkened window is the great world's crash and din,
And slowly the autumn shadows come drifting, drifting in;
Sobbing the night-wind murmurs to take the splash of the autumn rain;
But I dream of the glorious greeting when I go home again!
---
For 2021, we might want to ask for the blessings of financial stability, food, health, and good weather. But, for our readers I will ask for the three things which I wrote about above. May you all be blessed with my father's desire of a "home sweet home"; of my mother's desire for a long-lasting home filled with love and family; and my desire for a home of peace and joy that is more than a dream. Happy New Year from the Hagenbuchs!