Family Recipes: Raisin Cake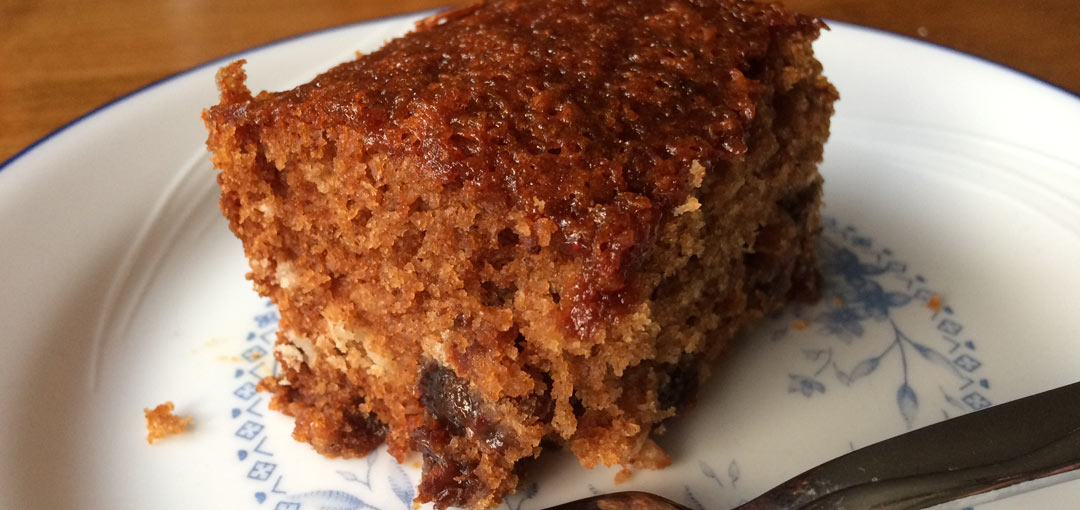 In 2016 during a visit to my great aunt, Gloria (Felix) Faus (b. 1931), I collected some of her family recipes. These included a few handwritten by my great grandmother, Minnie (Hilner) Faus (b. 1897, d. 1992), whom I called Grandma Faus. A few of these recipes have been featured on this site before, such as bean chow-chow and wintergreen cake.
Then a few weeks ago, I received the following message in reply to the wintergreen cake recipe:
Andrew, I have to tell you that Minnie Hilner was my Grandfather's (Luther) older sister and I have enjoyed this precise cake and recipe every year on my birthday for over 45 years. My grandmother, mom, wife and daughter have all made it. Awesome family recipe!

—Scott Hilner
I shared cousin Scott's thoughts with others in our family, and we were all pleased to hear that the recipe was still being enjoyed by the Hilner side. Even so, everyone was in agreement that, while Grandma Faus may have occasionally made wintergreen cake, she was better known for her raisin cake. She would often make it for visitors or when she was a guest staying with family.
In the recipes from Aunt Gloria, there were three recipes for boiled raisin cake—two appearing to be almost identical. One was labeled "Mom's" and the other "Mother Faus." Some of these may have been written and sent to Aunt Gloria by her sister-in-law, my grandmother, Irene (Faus) Hagenbuch (b. 1920, d. 2011). My wife, Sara, used the two, similar recipes to make Grandma Faus' famed raisin cake.
Boiled Raisin Cake
Begin with following ingredients:
2 cups sugar (white)
2 cups water
2 cups raisins
1 tsp salt
2 tsp cinnamon
2 tsp cloves
1 cup lard or butter
Mix these together and boil for 5 minutes. Then cool until lukewarm.
After the mixture is cooled, add:
3 cups flour (or a bit more)
2 level tsp soda (dissolved into a small amount of hot water)
Grease and flour baking pan. Bake 35-40 minutes (or more) at 350° F
A concern we had while preparing the cake was that it would taste too strongly of cinnamon and cloves. This was not the case, however, and we found the flavor pleasantly mild. The cake was also very moist and did not require an icing. Eventually, we did ice a few pieces with an ermine frosting and found these to be enjoyable too.
I don't have many memories of my great grandmother, Minnie (Hilner) Faus. She died just before my 11th birthday in 1992. If I close my eyes, I can still see the apartment she lived in after my great grandfather, Odis Faus (b. 1899, d. 1983), was gone. She kept a small, potted cactus by the window, which I found fascinating as a child. Only recently did I learn this had been a gift to her from her son, Wilson Faus (b. 1927), and his wife, Gloria—my great aunt.
There are many ways we remember those who are gone: photographs and letters, for example. Food is another. Though I have no memory of sitting with Grandma Faus and eating her raisin cake, I can still enjoy this recipe today and allow it to conjure images of her in my mind.