Selecting a Random Page: The McHenry Hagenbuch Family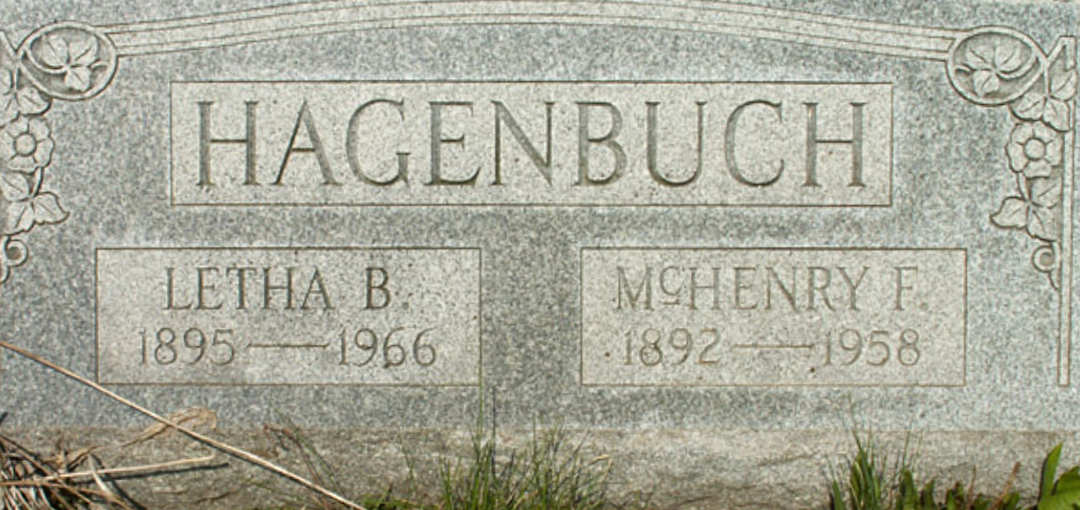 Quite often, we Christians seek an answer to a problem. We randomly open the Bible to any page and find scripture that the Holy Spirit selects for us as guidance. For this article, I did that with my paper archives, as I randomly selected a family page to find a Hagenbuch group that little has been written about. Thanks to the "genealogy spirit" the McHenry Hagenbuch family was selected.
McHenry Hagenbuch (b. 1892, d. 1958) was mentioned in an August 2018 article when I wrote about his son, Frank, completing family information back in 1978. His line is Andreas (b. 1715) > John (b. 1763) > Daniel (b. 1803) > Frederick (b. 1827) > Oscar Daniel (b. 1856) > McHenry (b. 1892) > Franklin Oscar (b. 1916). Frank was married to Elinor Chapin. They had one daughter, Mickey Ann (Hagenbuch) Vickers, who was born in 1950 and lives in Orangeville, Pennsylvania. Mickey and I are sixth cousins, as her fourth great grandfather, John (b. 1763), was a brother to my fourth great grandfather Michael (b. 1746).
As mentioned, McHenry's ancestor was John Hagenbuch, the youngest son of Andreas Hagenbuch. John, whom Andrew and I have written volumes about and whom we call "Runaway John," moved to Columbia County in 1806. When he died he gave farmland to several of his sons, one of them being Daniel (b. 1803)—the great grandfather of McHenry. Daniel was married to Elizabeth Hill and they had nine children, the eldest being Frederick (b. 1827). A quick side note: Daniel and his first cousin Aaron Hagenbuch (b. 1810) were married to sisters, Elizabeth and Rachel Hill.
Frederick Hagenbuch (b. 1827, d. 1904) married Margaret Hidlay in 1853. They had five children: George Montgomery (b. 1853, d. 1940), Oscar Daniel (b. 1854, d. 1943), Ida Eleanor (b. 1857, d. 1934), Clara Elizabeth (b. 1859, d. 1940), and Sarah Margaret (b. 1862, d. 1947). Frederick was listed in the 1870 census as a farmer. He, wife Margaret, and the three children were living near Lightstreet, Columbia County, PA at that time. A large write up about Frederick appears in History of Columbia and Montour Counties, compiled by J.H. Battle and published in 1887:
Frederick lived with his parents until he was twenty-seven years of age, engaged in farming. He then married and rented land from his father-in-law for two years, when he purchased his present home farm in partnership with his father, locating on this place in 1855. He at once began to make improvements on the place, replacing the tumble down buildings with handsome and substantial ones. He also bought the place which he had first rented, and now owns 254 acres of farm land and sixteen acres of timber in Orange Township [Columbia County]. . . .The family are members of the Lutheran Church. Mr. Hagenbuch has held the offices of school director and supervisor in the township. He is a member of the Grange.
Frederick and wife Margaret (b. 1825. d. 1906) are buried at Hidlay Lutheran Church cemetery in Columbia County, PA. Their daughters—Ida, Clara, and Sarah—never married and are also buried at Hidlay Church cemetery. In the census Sarah was listed as being a school teacher, whereas sisters Ida and Clara were listed as doing housework.
The eldest child of Frederick and Margaret is George Montgomery Hagenbuch who married Mary Alice Pursel. According to the United States Census they had five known children: Frederick Daniel (b. 1880, d. 1913, m. Harriet Buckalew), Eli Barton (b. 1882, d. 1930, m. Lillian Eck), Elle Blanche (b. 1885, d. 1972, m. Edward Eastman), Edna May (b. 1888, d. 1910), and Henry Boyd (b. 1890, d. 1954, m. Catherine Woodring).
In the 1910 Census, George Montgomery Hagenbuch was listed as working in a carpet mill, most likely the well-known Magee Carpet Mill near Bloomsburg, PA. George and Mary are buried in the Creveling Cemetery, Almedia, Columbia County, PA.
The second child of Frederick and Margaret (Hidlay) Hagenbuch, Oscar Daniel, married Ella Catherine McHenry. They had three children: M. Geraldine (b. 1886, d. 1946), Lorena (b. 1890, d. 1975, m. Elias Wesley), and McHenry Frederick (b. 1892, d. 1958, m. Letha Richart). In 1900, Oscar, his wife Ella, and their three children were living near Fishing Creek, Columbia County, PA. Oscar was a farmer. Oscar and Ella are buried at the Stillwater Cemetery, Columbia County, PA. Their daughter, Geraldine, never married and had a career as a nurse. She is also buried in the Stillwater Cemetery. Lorena and Elias Wesley lived in Nanticoke, Luzerne County, PA where Elias was an automobile salesman. They had one son, Charles. Elias and Lorena (Hagenbuch) Wesley are buried in the Benton Cemetery, Benton, PA.
McHenry and Letha (Richart) Hagenbuch farmed in the Stillwater area and had three children: Franklin Oscar (b. 1916, d. 1999, m. Elinor Chapin), Eleanor Evelyn (b. 1918, d. 1979, m. James Hess), and Maxine Bertrelle (b. 1920, d. 2010, m. Jack McHenry). Eleanor and James Hess lived in Stillwater, where James had a career in auto sales. Maxine and Jack McHenry lived in the Fishing Creek area, where in 1950 his career was listed as a cattle artificial inseminator for Luco Corporation.
So we come full circle to Franklin Oscar Hagenbuch who contacted me back in 1979. Frank was listed in the 1950 census as a trucker for a local silk mill. He and Elinor were living in Stillwater at that time. In Frank's letter to me he indicated that he had served in World War II from 1942–1945 in the U.S. Army. He was Military Police at several Army headquarters in England, France, and Germany. As mentioned earlier, Frank and Elinor have one daughter, Mickey Ann (b. 1950), who lives in Orangeville, PA. Efforts at contacting her have yielded no response. Frank and Elinor are buried in the Stillwater Cemetery.
By randomly selecting a page in the paper archives, much information about this family has been updated. Readers perusing this article may think, "Well, it's just names, dates, and places". While that's true, we must remember that most of our families were fine, upstanding Americans whose careers were farmers, car salesmen, nurses, teachers, housewives, and the like. Frank, McHenry, Letha, Geraldine, Sarah, and all the others are just as deserving to be remembered as all the other Hagenbuchs we write about who have traveled far from home and who have had unique adventures. Placing their information in Beechroots will guarantee their remembrance.