A Family in Photos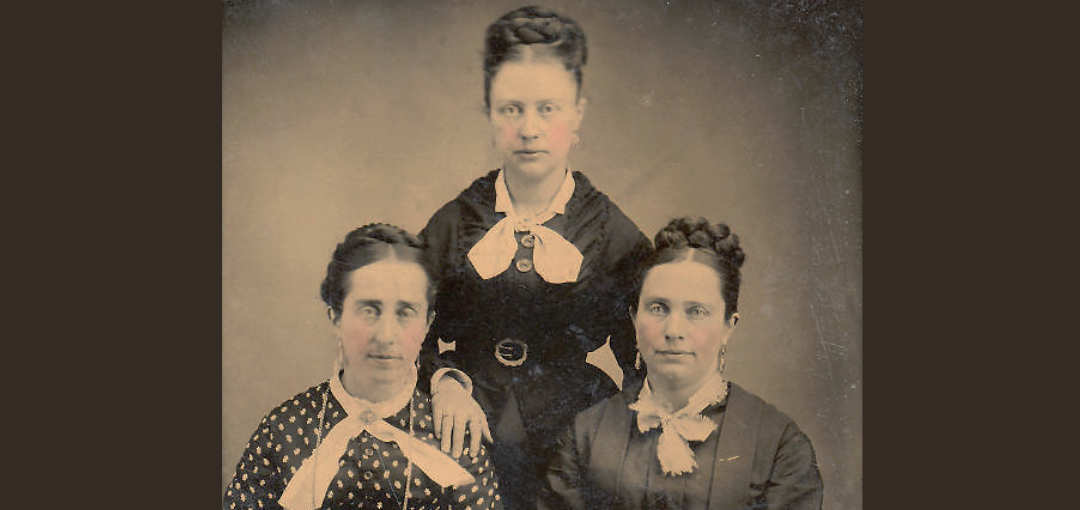 As we head into our eighth year of Hagenbuch family historical articles, I find that Andrew has taken the lead on more and more research and knowledge of the family. Our articles are planned so that we attempt to always have at least one photo or picture attached. At times this can be difficult because we don't have photos for a family we want to write about. For our immediate family clan, we have hundreds of photos in the archives. Fortunately, for a few other clans, we have had photos sent to us so articles on that family are more engaging.
Several weeks ago I asked Andrew (in light of him now knowing more than I do about many of our family groups), "What's next? What family do you want me to write about?" He got back to me with several emails we had received earlier this year from William Kovacs II. William shared some first-rate photos of his Hagenbuch family that we have not yet featured. So, enjoy, because "a picture is worth a thousand words."
John Hagenbuch was born in May 1817 in Northampton County, Pennsylvania—yes, another John! But, he lived much of his life in Greene County, Ohio. John is a great grandson of the patriarch, Andreas, and son of Christian Hagenbuch (b. 1773) who moved to Ohio in the late 1830s. His line is: Andreas (b. 1715) > Henry (b. 1737) > Christian (b. 1773) > John (b. 1817). John married Eliza Zerbe in 1838, and they had three daughters and a son: Elmira (b. 1839), Anna Rebecca (b. 1842), Emma Elizabeth (b. 1847), and John W. (b. 1849, d. 1849).
John is listed in the census as both Hagenbuch and Hagenbaugh. The family gravestone in Fairfield Cemetery, Fairborn, Ohio has the last name inscribed as "Hagenbaugh" and "Hagenbuch" too. John's occupation in the census is listed as farmer. John died in April of 1902; his wife Eliza died in 1900. They are both buried at the Fairfield Cemetery.
Their daughter, Elmira, was born in 1839 and died in 1896. She married Henry Musser in 1857. Henry made his living as a saddler and harness maker. In 1861, Henry enlisted in the 6th U.S. Infantry, while he and Elmira were living in Osborn, Ohio, which is now Fairborn, Ohio. Henry died in 1911. He and Elmira are buried in Fairfield Cemetery in Fairborn, Ohio—the same cemetery as her parents.
Henry and Elmira (Hagenbaugh) Musser had three daughters and a son. A daughter, Annetta, was born around 1859 and is listed in the 1860 census. Nothing else can be found about her, so she may have died in infancy.
The second daughter, Edith, was born in 1863 and was first married to Everett Loring. They had one son, Benjamin, who was born in 1879. Benjamin married Helen Erz in 1904 and was married again after 1941 to Lela Alger. Benjamin Loring died in 1962 and is buried in Lynden, Washington. Most likely Everett Loring died between 1879 and 1890, for in 1891 Edith married Frederick Miller who was born in Germany. They had two children: a son Frederick, Jr. (b. 1900) and a daughter Clara who married Carl Anderson in Los Angeles, California in 1932.
Henry and Elmira's third daughter, Ella, was born in 1866 and married William Zeller in 1890. William died in 1900 and is buried at Harman Cemetery, Gilboa, Ohio. Ella and William had one known daughter, Anne, who was born about 1892. Anne was married to Claude Vandyne. They lived in Montgomery County, Ohio and had three children. As for Ella (Musser) Zeller, she died in 1923 and is buried in Putnam, Ohio.
Henry and Elmira's son was Harry John Musser, who was born in 1872 and died in 1925. He married Mary Luella Woods in 1895. In 1900 they were living in Greenville, Mississippi, and Harry's occupation was a barber. In 1910 they were living in Napoleonville, Alabama, and Harry was working as a carpenter. By 1920, he was a shipping clerk in a jewelry store. No children are listed for the couple in any of the census records. They are buried at Pine Crest Cemetery in Mobile, Alabama.
The second daughter of John and Eliza (Zerbe) Hagenbaugh was Anna Rebecca. She was born in 1842 and was married in 1876 to Amos Z. Thomas, who became a judge after farming for several years. Judge Thomas died in 1896 and Anna died in 1930. Amos and Anna Rebecca (Hagenbaugh) Thomas are buried at Woodland Cemetery and Arboretum in Dayton, Ohio. They seem to have had no children.
The third daughter of John and Eliza (Zerbe) Hagenbaugh was Emma Elizabeth, who was born in 1847 and died in 1913. She married Harry C. Williamson in 1868. They had seven children, but only the two youngest lived to be adults. Their children are: John (b. 1872, d. 1872), Nellie (b. 1875, d. 1883), Bessie (b. 1876, d. 1885), Carrie (b. 1878, d. 1883), Edith (b. 1880, d. 1881), Harry Thomas (b. 1885, d. 1953), and Mary (b. 1888, d. 1967). The first five children who died young are all buried at Woodland Cemetery and Arboretum, Dayton, Ohio. Their mother, Emma Elizabeth (Hagenbaugh) Williamson, died in 1913. She and husband, Harry, are buried at Woodland Cemetery too.
Harry Thomas Williamson married Helen Blessing. They had four children: Donald who was married three times, Mary (b. 1914) who never married, Janet (b. 1917) who married George Dissinger, and Harrietta (b. 1921) who probably did not marry.
Mary Williamson (b. 1888) married Esta Smith in 1913. She died in 1967, and Esta died in 1952. They are buried at Woodland Cemetery. They had five children: Kenneth (b. 1916, d. 1997), Eleanor (b. 1918, d. 1997), Dorothy (b. 1920, d. 1980), Emma (b. 1922, d. 2009), and John (b. 1927, d. 1995). Dorothy married William Kovacs, Sr. in 1943. William died in 1976. They are also buried in Woodland Cemetery and Arboretum in Dayton, Ohio. Their son is William "Bill" Kovacs II, who provided much of the information and all the amazing photos for this article.
Bill Kovacs still lives in the area of Dayton, Ohio where his Hagenbaugh family has resided for generations. Here is what he wrote about his genealogical journey, which reminds us of many of our own experiences as family historians:
I am a retired Electronics Engineer. I was born and grew up in Dayton Ohio. My mother's family and ancestors came from the counties around Dayton. When all the family would gather with my Smith grandparents (Esta and Mary Williamson Smith; Mary's mother was Emma Elizabeth Hagenbaugh), grandma Smith would start talking about her cousins, second cousins, once removed, etc. I was young and was not interested in genealogy at the time. I would leave the room. When my grandmother passed, so did all of her wealth of family stories and information. My mother and my two aunts were the only links to the stories.

Many years later, my mother became ill with a terminal illness. She had always an interest in family history and was really interested in passing her family's information along. Grandma Smith had passed lots of family photos, and I'm sure many more of those old photos were thrown away. My mother and I got a little more serious about writing down the family history as she remembered it. We went through the old photos she had and was able to put names on some of them. When my mother passed about nine months later, we had made a family tree on paper (before internet), and I had caught the genealogy bug. I started going to the genealogy rooms in a couple of local libraries. I was finding bits and pieces during each visit. The some years later (with computers and the internet) I came across FindAGrave. Searches for family names yielded many details and more names to add to our tree. Forty one years after I started, I'm still at it and having fun along the way.
Thanks to Bill Kovacs for his detailed work on his Hagenbuch/Hagenbaugh family. It is rare to see such fine photos that can be attached to ancestors. As Andrew and I have repeated over and over again: learn your family history and preserve all ephemera and photos (with names) so our people will continue to be remembered.