Drawing Lines to Christian Hagenbuch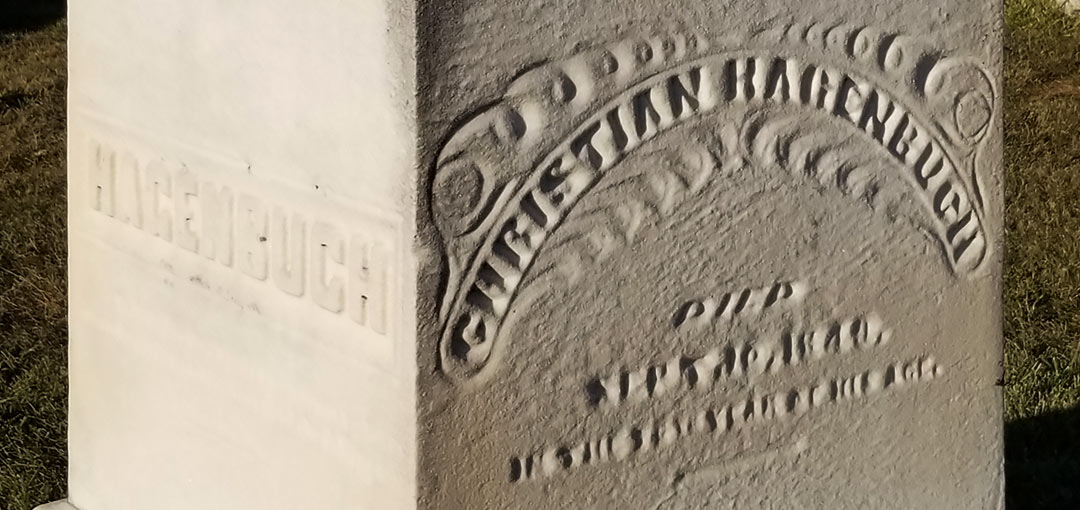 Genealogy can be tough, as we trace family lines from the people of the present to those of the past. And, there is no guarantee of success either. Sometimes documents are missing and information has been lost. These are problems no amount of hard work can fix. Yet, occasionally, we have a breakthrough, making the whole venture fruitful and fulfilling.
One such breakthrough happened earlier this year, thanks to the efforts of Carrie Wick. Back in 2014, soon after my father, Mark, and I began this site, Carrie contacted us. She stated that her husband, John Wick, was related to the Hagenbuch family, through his grandmother, Mary Lenora (Hagenbaugh) Wick. She provided Mary's Hagenbuch line as Andreas (b. 1715) > Michael (b. 1746) > Christian (b. 1770) > Caleb (b. 1810) > Dennis (b. 1851) > Mary L. (b. 1885).

My father replied to Carrie and was a bit stumped. His paper records, having not been updated for several decades, lacked sufficient detail about this Christian and his son, Caleb. Beechroots hadn't been built yet, and to be honest, we were just getting started on our research together. All of this made it difficult to confirm the line Carrie had sent. We fell out of communication.
Five years later, in late 2019, Carrie reached out again. This time we were ready to investigate her husband's line, though sadly he had passed away in 2016. Carrie shared her more recent findings and expressed frustration at the number of Hagenbuchs named Christian. Multiple people named the same thing made it challenging to draw a family line to the correct ancestor! Census records placed Christian and his son, Caleb, in Sharon Township, Medina County, Ohio in 1840. However, by 1850, Christian appeared to have died. There was a gravestone for a Christian Hagenbuch with about the right birth and death years buried in Fairborn, Ohio, over 150 miles away from Sharon Township. Interred near this Christian were some of his children, although their names didn't match those of Caleb's siblings. How was this possible?
By 2019, we had an answer. There were two Christian Hagenbuchs of similar ages living in Ohio at the same time. Both were born in Pennsylvania in the early 1770s and died in the 1840s. Yet, their family lines were different. One was the son of Michael (b. 1746) and the other was the son of Henry (b. 1736). Michael and Henry were brothers, making the two Christians first cousins. They almost certainly named these two sons after their younger brother, Christian (b. 1747).
We knew the Christian Hagenbuch in John Wick's line was born around 1770 in Albany Township, Berks County, Pennsylvania and married Susanna (whose last name is unknown). Susanna's first name is confirmed by the baptism record of her and Christian's son, Reuben, in 1803. Sometime after this but before 1810, Christian moved his family to Bloom Township, Columbia County, Pennsylvania to be with relatives that had relocated there. Between 1830 and 1840 this family moved again—this time to Sharon Township, Medina County, Ohio. Christian's son Caleb (b. 1810) was now old enough to have his own family, and according to census records, he and his wife Phebe lived near his parents. Enoch Hagenbuch's history, written in the 1880s, confirms many of these facts, though with a few minor discrepancies. He writes:
[Michael and Elizabeth (Kunz) Hagenbuch] had four sons and three daughters—Christian, Henry, Andrew, and Jacob. The three first brothers moved to Columbia Co., Pa., in the year 1801. Christian lived there many years, then removed to Lorain Co., Ohio. and died there of extreme old age. He had five boys—Reuben, Joseph, Elias, Caleb, and Michael.
By 1850, Christian Hagenbuch had died, and his widow, Susanna, was recorded as "S. Hagenbaugh" on the census that year. Caleb was still living close by. It was around this time that the family changed the spelling of the name from "Hagenbuch" to "Hagenbaugh." Though Christian's burial location is unknown, it is probable that he was interred somewhere in Sharon Township, Medina County, Ohio where the family resided. Prior to the 1860 census, Susanna died and Caleb Hagenbaugh moved his family to Matteson Township, Branch County, Michigan. His son, Dennis (b. 1851), would become the great grandfather to Carrie Wick's husband, John.
The above research made sense and appeared to be the correct family line. Nevertheless, to ensure it was right, we also needed to identify who the Christian Hagenbuch was that was buried in Fairborn, Ohio. Here, recent research into the family of Henry Hagenbuch (b. 1736) came in handy. Court documents for Henry's estate proved he had a son, Christian. Relative to the birth dates of his older and younger siblings, this Christian was born sometime between 1769 and 1776. Though the gravestone in Fairborn is quite weathered, it appears to show a death date of 1849 and states that the deceased was 76 years old, suggesting a birth date of 1773.
As a result, the Christian buried in Fairborn, Ohio is almost certainly Henry's son. Christian (b. 1773) was married twice—both times to daughters of Revolutionary War colonel, John Siegfried. He married Susanna Siegfried by 1793. After Susanna's death in 1799, he remarried, this time to her younger sister, Elizabeth, who is buried with him in Ohio. They had a number of children who were confirmed at Dryland Reformed Church in Northampton County, PA. Several of the children appear to have gone to Ohio too and are buried in the cemetery in Fairborn, further cementing that this is Henry's son, Christian.
Using this information, my father and I felt confident that Carrie's research into her husband's line was correct and that the Christian Hagenbuch buried in Fairborn, Ohio was not part of it. Nevertheless, our investigation revealed a number of Hagenbuch family lines in Ohio and Michigan that are poorly documented in Beechroots. These include those of Christian (b. 1773) and Caleb (b. 1810). As has happened so many times before, we successfully solved one riddle, only to uncover several more! It is our hope to continue working on these family lines and report our findings in future articles.