Mariah Madden: Nurse and Midwife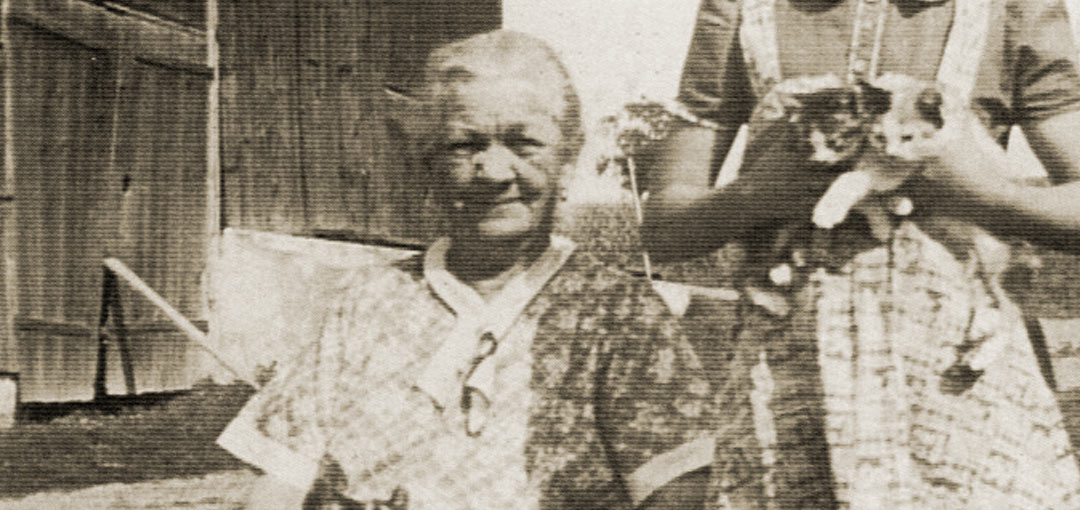 The discovery of a quilt that was given as a gift led to the recent article about Mariah Madden, a nurse and midwife who lived in Montour County, Pennsylvania between 1862 and 1949. Knowing that the articles for Hagenbuch.org are also cultural, it was important for me to not only track down some history about Mariah but to also look into midwifery.
After talking with my cousin Kathleen (Robb) Shuler and finding out that she had a photo of Mariah with our Aunt Mary and a few letters concerning Mariah, Kathleen sent me a packet with the photo and correspondence. One is a postcard written on April 20, 1933 to my grandmother, Hannah (Sechler) Hagenbuch. The writing is juvenile with many misspelled words. Mariah is at someone's house who just had a baby:
[On the] 15. Mrs. [illegible text] was hear [sic] for a few day I came [on the] 18.
The postcard goes onto describe that the parents named the baby "Hanna." Mariah arrived after the birth of the child and was acting as a nurse.
Another letter from Mariah to my grandmother, with an address of Turbotville RD2 (Northumberland County), is not dated. It seems that Mariah was staying at Dick Evans' place and his wife was going to the hospital, possibly to have a baby. However, Dick said he would shoot Doc Foust if she went, so the "squire" put out a warrant for Dick's arrest. There was a hearing and then bail was set at five-hundred dollars. Mariah also mentions that Dick Evans shot Mrs. Smith in the leg last fall, and Mariah didn't know "what the end will be." Mariah goes on to write that she is "hear [sic] for 3 Weak [sic]" and then going to Jim Pfleegor's for a while. Lastly, she states that she dug her potatoes, and they were nice!
The 1930 census lists Richard Evans in Limestone Township, Montour County, and after some research, it was found that his wife was the former Mary Pfleegor. Mary had a brother Jim Pfleegor who lived in nearby Turbot Township, Northumberland County. Both of these families had six very young children—three of them infants—listed in the 1930 census. Draw your own conclusions.
It seems that Mariah was moving from place to place as her services were needed. As a nurse (according to the 1930 census), in addition to delivering babies, she came after the birth to care for mother and baby, or was employed to take care of injured or sick residents. There is one other letter in the group. It is from a Jennie Butler to Mariah dated December 23, 1895, Northumberland County, Pennsylvania. Why my grandmother has this letter is unknown as the name Jennie Butler means nothing to me.
Jennie, in lovely handwriting, writes to Mariah (which she spells Maria) that she is sending her a Christmas gift of a doily made from "Aunt Margaret's linen pillow case." Jennie goes on to write that she has been teaching in the country which agrees with her as she was "pretty well run down." Christmas greetings were being sent to Mariah from her and her "Mama." The 1900 census does list a Jennie Butler, 31 years old, living with May Butler, age 58, probably Jennie's mother.
Census records support the notion that Mariah was probably moving from place to place during her career as a midwife and nurse. She is listed as a "servant" in Liberty Township, Montour County, in the year 1880, at the age of 17. Once again listed as a servant, this time in 1900, Mariah is living with Lydia Kline, aged 72 years old, in Derry Township, Montour County. At the age of 17, she was likely an actual servant. However, by the 1900 census at the age of 37, she was probably more than a servant, perhaps having taken classes to obtain a nursing license. She is caring for the elderly Mrs. Kline as a nurse.
Mariah is listed twice in the 1920 census, maybe because she was moving about as the census takers were traveling from area to area. She is clearly noted as a nurse this time, living with the Seidel family in Derry Township with the head of household, Ralph; his wife, Sue; and their four daughters: Mary, Ruth, Margaret, and Catherine, who is an infant. The second time Mariah is recorded in 1920 is at her own home in Liberty Township. Living with her are Harold Madden, age 13, and Gladdis Murray, age 9. There are certainly some rabbit holes to go down here, as at this time I can find no further information on Harold or Gladdis.
Finally, in 1930, Mariah Madden is listed on the census as living alone on Mexico Road in Liberty Township, owning her own home as a practical nurse, and employed in "private nursing." Although her gravestone notes that she lived until 1949, there is no record for her in the 1940 census. Furthermore, as most genealogists know, the 1890 Pennsylvania census does not exist, having been destroyed in a fire.
But, here is a curious fact. Mariah's death certificate lists her death date as March 20, 1941, not 1949 as inscribed on the gravestone! It is unlikely that the coroner or the doctor attending to her made a mistake. Therefore, it seems that the stone maker got it wrong. Even that seems improbable, especially if the stone was placed sometime after she had died.  We will never know for certain, but the death date of 1941 seems more correct than 1949.
As to her relationship with the Hagenbuch family in Montour County, the question is asked, "Did Mariah deliver my father, Homer Hagenbuch, and his siblings into this world?"
We know that my grandparents, Clarence and Hannah (Sechler) Hagenbuch, lived on a farm east of Milton, PA on Route 254 during the early years of their marriage. Traveling with my father, he would always point out the farm to me and quip, "That's where I was born [in 1916]. I almost beat the doctor!" This always meant to me that a local doctor delivered my father. If that is so, the same doctor may have been present when Dad's oldest brother, Charles, was born in 1915. We know that early in their marriage my grandparents moved around every few years from farm to farm. Soon after my father was born in November of 1916, they moved to another farm southeast of Pottsgrove, Pennsylvania, not too far from the 1916 farm. This was one of the so-called "poor house farms" set up by the government, with low rent for families who could not afford to rent or own their own farms.
We are not sure where the family lived between 1918 and 1925. By the time the three youngest children were born—my aunts Florence (b. 1925), Ellen (b. 1926), and Mary (b. 1928)—my grandparents were living on a farm at the crossroads of what is now Clemens Road and County Line Road in Limestone Township, Montour County. I suspect here is where Mariah Madden may have stayed with my grandparents, helping to deliver my aunts, and even assisting for a few days after each birth.
I did call my first cousin Leon Hagenbuch, whose father was my Uncle Lee (b. 1924). I asked him if Uncle Lee had ever spoken of Mariah Madden and where he thought his father had been born. Leon told me that his father never spoke of his birth, but he thought he was also born on the farm at Clemens Road and County Line Road. As a result, there is certainly a possibility that Mariah was the midwife for my Uncle Lee's birth. Two sons were born between my father Homer in 1916 and my Uncle Lee in 1924: Wilmer in September of 1918 and Lawrence in February of 1921. Lawrence died in December of 1922. Is it possible that Mariah Madden was the midwife for not only the births of my three aunts, but also for the births of my uncles Wilmer, Lawrence, and Lee? My grandparents may have been living in Limestone Township during that time, and this was close to where Mariah practiced her nursing and midwifery skills. And, is it possible that my Uncle Wilmer received the Mariah Madden quilt in 1967 because he was the first of Hannah (Sechler) Hagenbuch's children to have been delivered by Mariah?
Before 1900 more than half of all births in the United States were attended by a midwife, especially for families who could not afford a doctor. The midwife was usually a local woman who had delivered enough children to be as much of an expert as a trained doctor. The midwife might also stay a few days at the newborn's home, as it seems Mariah Madden did. Beginning in the early 1900s, an increasing number of births in the United States were attended by doctors who, by this time, were organized into official medical societies. Midwives, by comparison, were considered to be nonprofessionals. Yet, most births still occurred at home and few—less than 10%—were in hospitals.
By 1915, births at so called "baby clinics" and hospitals were on the rise because of government intervention to investigate and reduce infant mortality. The use of midwives began to decline, and by the early 1920s, almost half of all women gave birth in hospitals. Local midwives, who had been practicing for years, were forced to attend classes to become licensed. This probably happened in Mariah Madden's case, since in 1880 she is listed on the census as a servant, but by 1920 she is recorded as a nurse.
Midwifery continued to decline until, by the 1950s, more than 90% of all births in the United States were in hospitals. However, as early as the 1970s the pendulum began to swing back as various groups encouraged a return to using midwives for the birth of children. By 1982 the Midwives Alliance of North America (MANA) was formed, although insurance (liability) coverage for Certified Nurse Midwives was withdrawn or was very expensive. Since the 1990s, the use of a midwife and home births have continued to rise in the United States. By 2015, approximately 9% of children were born at home assisted by trained and certified midwives.
It's important that in researching family history, the genealogist digs beneath the surface of names, dates, and places. This leads the genealogist to not only a study about their own family, but also about the history, culture, and societal changes that occurred while their ancestors lived. Such is the case of Mariah Madden. Think of it: a gifted quilt of cigar silks from a nurse in rural Pennsylvania has led to research into flags and Montour County families, as well as the discovery of vintage letters, early farm locations, and midwifery. In addition to the many other people this genealogist would have liked to have met, Mariah Madden is now on that list.