Clarence and Hannah Hagenbuch Family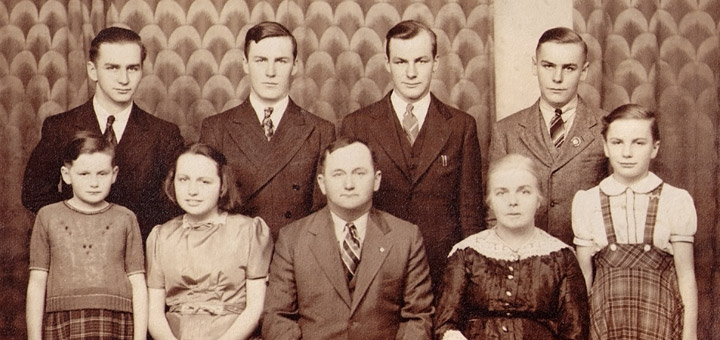 Clarence Hagenbuch was the son of Hiram Hagenbuch (b. 1847) and Mary Ann "Lindner" Hagenbuch (b. 1853); he was a great, great, great grandson of Andreas Hagenbuch. His line is: Andreas (b. 1711), Michael (b. 1746), Henry (b. 1772), William (b. 1807), Hiram (b. 1847), and finally Clarence (b. 1889)
Clarence was born on Sept. 22, 1889 in Milton, PA where his father and mother farmed. Today, their farm is the site of the Wynding Brook Country Club. Clarence was actually born Charles Clarence. However, the story is that he wanted to be called by his middle name, so early in life he asked to be referenced as Clarence Charles.
He had 8 brothers and 3 sisters. On Nov. 25, 1914 he married Hannah Margaret Sechler (b. July 1, 1889). She was the daughter of Samuel Henry Sechler (b. 1855) and Mary C. "Davis" Sechler (b. 1852).
Clarence was a farmer; Hannah a housewife. Over a span of almost 60 years, Clarence rented or owned several farms in Northumberland and Montour Counties. The last was located north of Limestoneville. He owned this one and his son, Homer, farmed it until 1967.
Before being married, Hannah was a teacher at the Oak Grove one room schoolhouse which was located across the road from Oak Grove Lutheran Church – the "Hagenbuch Church". Clarence and Hannah attended church there throughout their married life.
Hannah instilled in her children and grandchildren the love of books and nature.  She was a poetess and her favorite flowers were holly hocks. Because both Clarence and Hannah came from well reputed families of Montour County, Pennsylvania, they were certainly regarded as pillars of the community.
Clarence and Hannah had 8 children:
Charles Clarence Hagenbuch was born in 1915 and died in 2001. He was married in 1943 to Leona Pearl Durant, and they had two children: Gary and Gail.
Homer Sechler Hagenbuch was born in 1916 and died in 2012. He was married in 1939 to Irene Mae Faus, and they had four children: Barbara, Robert, David, and Mark.
Wilmer Henry Hagenbuch was born in 1918 and died in 1969. He was first married in 1941 to Augusta Mae Spangler, and they had one daughter: Nancy. Wilmer married a second time in 1947 to Rebecca Jane Way, and they had four children: Larry, Dan, Lynn, and Alice.
Lawrence Joseph was born in 1921 and died in 1922.
Lee Atwood Hagenbuch was born in 1924 and died in 1985. He was married in 1946 to Lera Jane Laidacher. They had two sons: Lee, Jr. and Leon.
Florence Margaret Hagenbuch was born in 1925 and died in 2002. She was married in 1946 to John Richard Robb, and they had four children: June, Joseph, Kathleen, and Carol.
Ellen Lucille Hagenbuch was born in 1926. She is a resident of Kramm's Senior Care in Milton, Pennsylvania. Ellen has always enjoyed flower gardens, and for 38 years she served as a Licensed Practical Nurse (LPN) in the baby care unit at Evangelical Hospital in Lewisburg, Pennsylvania. She even took care of some of her grand nieces and nephews during the first days after their births.
Mary Kathryn Hagenbuch was born in 1928. She recently died on April 6, 2015 at Kramm's Senior Care. Mary was married in 1964 to Grendon Taylor, and they had two children: Sue and Nevin.
"Aunt Mary" enjoyed visiting friends and relatives. Her infectious laugh was usually preceded by joking and teasing those who were with her. Memories of her include her wearing cowboy boots, listening to country and western music, and even yodeling!
During the 1980s it was common to see Aunt Mary driving around the area in her VW beetle, a car sized just for her. As with her whole family – father, mother, and siblings – she was deeply religious and attended Oak Grove Lutheran church as a child (she was baptized there on Oct. 14, 1932). She and Grendon were married at Oak Grove and attended church there during the early years of their marriage.
As with previous articles, it is important that names, dates and places are recorded on this website. At times a purely genealogical article should be expected, so that readers can have a historical record of different Hagenbuch families.