Beechroots Progress: Discoveries Made, Mysteries Solved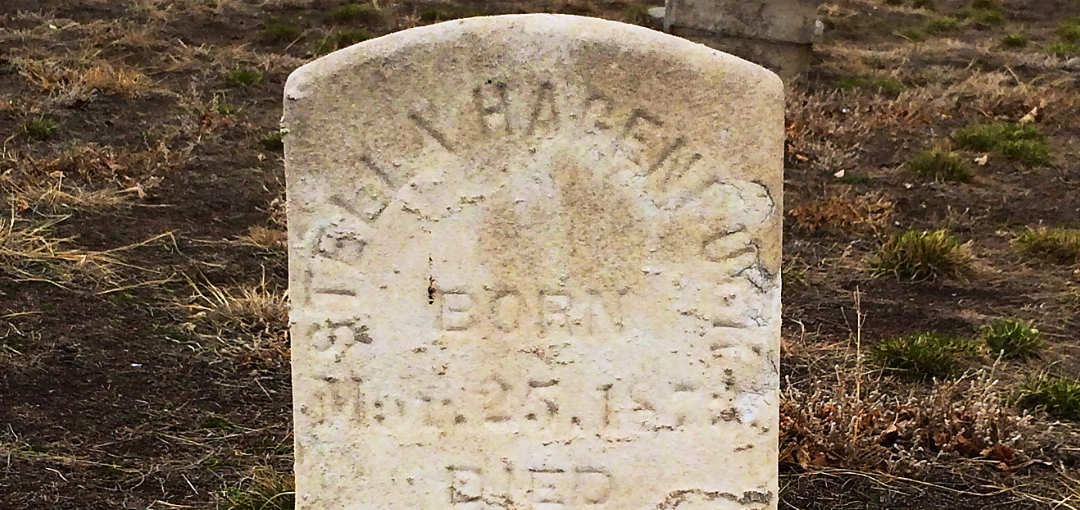 My father, Mark, and I are actively working to document our Hagenbuch family in America—the descendants of Andreas (b. 1715). I once compared this task to the building of the Transcontinental Railroad, each of us moving from different points on the family tree in hopes of meeting one day and driving the golden spike!
Today, we have nearly 4,500 names entered into Beechroots. While my father has been adding people from his paper records, I have been combing through sites like Find-a-Grave to locate missing relatives. This process has led to a number of discoveries. While some have been large enough to warrant complete articles, such as the the story of Julianna Hagenbuch, others are less extensive but just as interesting. Below are just a few of these I have found:
Edward Hagenbuch (b. 1885, d. 1885)
Our Hagenbuch family tree has noticeable gaps. Often, these are from children who died at a young age. Recently, I found one of these on Find-a-Grave: Edward Hagenbuch. Edward was born on January 22, 1885 and died less than three months later on April 6, 1885. He was the son of Daniel S. and Emelina (Ritter) Hagenbuch. Unfortunately, his gravestone is quite worn. Yet, after closely examining a photograph of it, the "E" and "ARD" could be read, enabling us to know his name and place him with his parents. View Edward Hagenbuch in Beechroots.
Estella Hagenbuck (b. 1873, d. 1885)
Estella "Stella" Hagenbuck was born on May 25, 1873. She was the daughter of Henry H. and Isadore (Clark) Hagenbuck. This family changed their last name from "Hagenbuch" to "Hagenbuck" in the early 1800s. Earlier this year, an article about family migrations traced how Henry moved his family from Indiana to Nebraska and then to California. One stop that we missed was when the family lived in Denver, Colorado during the mid-1880s. They appear to have moved here due to Stella's health problems. The following was published in the Weekly Gazette on March 27, 1885:
Little Estella (Stella) Hagenbuck died 26 March at Denver. She and her parents moved from Waterloo to Denver less than 1 year ago for her health. Burial in Riverside Cemetery.
View Stella Hagenbuch in Beechroots.
Francis R. Hagenbuch (b. 1848, d. 1907)
Francis "Frank" R. Hagenbuch was born in 1848 and died on August 2, 1907. His parents were Samuel H. and Susanna (Evans) Hagenbuch. My father's paper records included Frank's name and birth year, but had little else about his life. However, while going through Find-a-Grave, I located his gravestone which helped lead me to his obituary. According to this, he and his business partner, William Morrell, ran a bakery in Atlantic Highlands, New Jersey for many years. They were lifelong bachelors and shared an apartment together. Sadly, Frank suffered from "locomotor ataxia" which left him housebound the last ten years of his life and may have been the result of multiple sclerosis (MS) or amyotrophic lateral sclerosis (ALS). View Frank Hagenbuch in Beechroots.
Anna Mary (Hagenbuch) Overdorf (b. 1842, d. 1911)
Anna "Annie" Mary (Hagenbuch) Overdorf was born on June 4, 1842 and died on December 1, 1911. Her death certificate indicates that her father was George Hagenbuch and her mother was Elizabeth Rinker. For years, this information has presented a problem, since there is no recorded marriage between the couple. Even so, through the process of elimination, there exists another possibility: George and Elizabeth had Annie out of wedlock. The solution makes even more sense when one considers that the only George Hagenbuch old enough to be her father was George M. (b. 1826), and he was just shy of 16 when she was born. Teen pregnancies out of wedlock happened in the 19th century, though as we know from the story of Julianna Hagenbuch, illegitimate children were usually assigned other guardians. These circumstances might explain why it has been so difficult to track down Annie's line. View Annie (Hagenbuch) Overdorf in Beechroots.
Ethel Hagenbuch (b. 1885, d. 1889)
Ethel Hagenbuch was born on September 27, 1885 and died on January 4, 1889. Her parents were Jack A. and Flora (Brooks) Hagenbuch, who were featured in a previous article. At that time, we knew Ethel had died young, though it was unclear exactly when and where this had occurred. A recently discovered record in Find-a-Grave suggests that she died in Fresno, California in 1889. This is supported by the fact that her father was registered to vote there in the 1880s and reveals that the whole family must have relocated to California from British Columbia, Canada. View Ethel Hagenbuch in Beechroots.
These Hagenbuchs are only a few of the many family members we are finding and adding to our growing tree. Future articles will continue to report on other names and discoveries too. It is my sincere hope that one day my father and I will announce that we have finally driven the golden spike and created a comprehensive picture of Andreas Hagenbuch's many thousands of descendants.