The Tragic Death of Flora Hagenbuch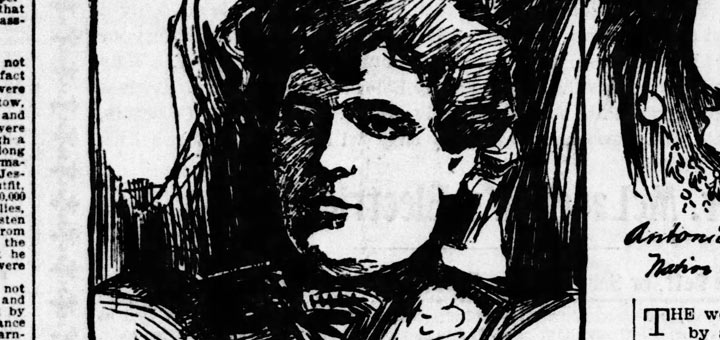 In the first part of the Gold Fever series of articles, we were introduced to Flora Jane Brooks (b. 1867) who married John "Jack" Andrew Hagenbuch (b. 1857). According to their marriage certificate, the two said their vows on December 20, 1884 when Flora was seventeen and Jack was twenty six. The Methodist ceremony took place in Victoria, British Columbia, Canada.
Flora heralded from Davenport, England and was the daughter of William and Emily Brooks. At the time of the wedding, she was living in Victoria. Jack was from Bloomsburg, Pennsylvania, and in 1884 he was living in Nanaimo, British Columbia while working as a sign painter.
During the next twelve years, the couple had six children together: Ethel (b. 1885), Emily Lydia (b. 1887), Helen B. (b. 1889), Robert John (b. 1891), Flora Maud (b. 1892), and Roy Thornton (b. 1896). Though Ethel died young, by all other accounts the family led a happy life—that is until Jack's wife, Flora, met a man named Antonio Sarantis in 1888. The two began an affair which eventually led to Jack and Flora separating in October of that year.
On June 23, 1889 a newspaper article appeared in The Seattle Post-Intelligencer under the headline "Could Not Hide Her Shame: Young Girl Dies as Result of a Criminal Operation." The piece describes how a woman died at a private hospital in Seattle, Washington on June 21st under suspicious circumstances. On her deathbed, the woman gave her name as "Flora Jones" and mentioned that she was an orphan from Victoria. Using this information, the police began to investigate the events surrounding her death and the truth of her story.
This article from June 28, 1899 describes what they found:
---
MORGUE MYSTERY SOLVED
"Flora Jones" was Mrs. John A. Hagenbuch of Victoria, B. C.
HAD DESERTED HER HUSBAND
Infatuation for Antonio Sarantis, a Greek Fruit Stand Keeper, Led Her to Abandon Family of Five Children and Ended in Disgrace and Death—Widower's Sad Story—Paramour May Be Arrested.
---
The mystery surrounding the death of "Flora Jones" at a private hospital in this city last Wednesday night has been solved. The unfortunate victim of a criminal operation was Mrs. Flora Hagenbuch, the erring wife of John A. Hagenbuch, a Victoria sign painter.
She had abandoned her husband and five children and was living on terms of intimacy with Antonio Sarantis, a Greek, who keeps a fruit stand in Victoria. The evidence is strong that the guilty couple came to Seattle together for the purpose of having the operation performed. Sarantis returned to Victoria after the woman's death. The police of that city, under instructions from Chief Reed, of the Seattle police, have him under surveillance. News of this arrest is expected at any moment. Chief Reed believes that the name of the physician who is responsible for Mrs. Hagenbuch's death will then be divulged by Sarantis.
Early yesterday morning a careworn, middle-aged man walked into the office of Bonney & Stewart's undertaking establishment, in which is located the morgue, and accosting Bert Noyes, who is employed there, asked him whether he could identify the dead woman, "Flora Jones," by her photograph. Noyes said that he could, and the man produced a small photograph which Noyes without hesitancy pronounced a likeness of "Flora Jones." In order to assure himself, however, he called in two other employees, who also identified the photograph.
The Husband's Sad Story.
The stranger then stated the picture was that of his wife, and told in a voice choked with emotion the sad story of his married life. From this story it seems that Hagenbuch and his wife were married in Victoria fourteen years ago. The wife came of a good Victoria family, who still live in that city. Six children were born of the union, five of whom are now living. The Hagenbuchs were as happy as most married people until less than a year ago, when Sarantis came on the scene.
Sarantis is handsome young fellow, and is said to have been the junior of Mrs. Hagenbuch, who was in her early thirties. He is a Greek and was born in Sparta. Possibly to this fact it is due that he has won considerable renown in British Columbia as an amateur athlete, especially as a sprinter.
Before the husband was aware of the danger, the younger athlete had won Mrs. Hagenbuch's affections. They were often seen together under circumstances that could not be misconstrued, and after several bitter scenes husband and wife separated last October.
After a time, Mrs. Hagenbuch went to live with a woman named Theresa Jones in Victoria. The husband says, however, that she still kept up her intimacy with Sarantis.
About two weeks ago Mrs. Hagenbuch left Victoria on a steamboat excursion, it was supposed, for Seattle. She was never again seen in Victoria. Last Thursday afternoon when her dead body was brought into the morgue from Mrs. Marie Bradbury's private maternity hospital on Thirty-first avenue, near Yesler way, and her scanty effects turned over to the coroner, in her pocket was found the return trip coupon of an excursion ticket from Victoria to Seattle.
A Blank in the Narrative.
At about the same time, Sarantis was missed from the fruit stand in Victoria. There is little doubt that he came to Seattle with Mrs. Hagenbuch. At this point there is a blank in the narrative which only Sarantis can fill. Sufficient it is to say that between the date of her arrival in Seattle and the date of her death, a criminal operation was performed on Mrs. Hagenbuch and that from unskillful surgery at that time and probably from her own misguided efforts to assist herself afterwards, Mrs. Hagenbuch died after hours of terrible suffering.
Strangers were with her in her last moments and to them she sealed her lips regarding her identity, determined evidently that the secret of her shame and crime should die with her. If Sarantis did come to Seattle with her, he deserted her in her extremity, and she did not, it appears, ever breathe his name.
But here again the testimony of the brokenhearted husband comes in. At the morgue he described minutely the personal appearance of Sarantis, and produced a splendid photograph of the young athlete dressed in his running costume, arms and legs bare and chest covered with medals. Noyes at once recalled the fact that at the coroner's inquest Dr. Marietta Marsh had testified that on the Monday evening before the unknown woman's death she had seen her in close conversation with a dark-haired young man in front of Lee's pharmacy on Second avenue and Columbia street; and also that on the day of "Flora Jones'" burial a young man of the same description had come to the morgue, gazed on the dead woman's body and explained: "God, she looks horrible," then hastily departed.
Employees at the morgue believed that the photograph produced by Hagenbuch was that of the strange young man, and later in the day, when Hagenbuch and Detective Cudihee called upon her, Dr. Marsh positively identified Sarantis.
The Wedding Ring.
But before that, Hagenbuch removed the last doubt regarding the identity of "Flora Jones" by positively identifying her clothing as his wife's. Noyes produced the articles one by one. When he produced the hat, Hagenbuch's face turned ashen. "My God!" he cried, "It is Flora's." He also identified the jacket.
Then came the most dramatic scene of all.
"Pardon me," said Hagenbuch, "but my wife had a ring. Now, I haven't seen it, but I am a draftsman, and I will draw it for you."
Suiting the action to the words, he hastily sketched a ring. It was an exact drawing of the ring found in "Flora Jones'" pocketbook—a tiny gold affair, set with a diamond chip. "It is the wedding ring I gave my wife fourteen years ago," said Hagenbuch, simply.
Hagenbuch went on to say that after missing his wife from Victoria, his attention was called to the stories published in the Seattle papers, from which he was led to conclude that his wife and the mysterious "Flora Jones," regarding whom Chief Reed had sent inquiries to Victoria, were the same person. She had evidently taken, he reasoned, the name of Jones from the woman Theresa Jones, with whom she had been living.
Yesterday afternoon Hagenbuch spent a long time in Chief Reed's private office, but the latter was able to elicit but few facts in addition to those already given. He resolved, however, to carry the investigation to its logical conclusion, and wired the Victoria police to take Sarantis into custody in order to question him regarding the party or parties who caused Mrs. Hagenbuch's death.
Sarantis is now in Victoria, or was when Hagenbuch left there Monday. Hagenbuch says that Sarantis returned to Victoria last Friday and denied any knowledge of Mrs. Hagenbuch's whereabouts. Whereupon Hagenbuch says he notified the Victoria police to watch him and left for Seattle.
The police of this city are of the opinion that in order to clear himself of suspicion Sarantis had best make a clear breast of everything that happened during his absence from Victoria.
Yesterday afternoon Hagenbuch went along to Lake View cemetery to visit the grave of his dead wife. He will return to his motherless children in Victoria today. He feels keenly the disgrace that has been brought upon him and them by his wife's death.
[Note: The original article had "Hagenbuch" misspelled as "Hagenbaugh." This was corrected in the above transcription.]
---
Reading this article, one can only begin to wonder about the circumstances that led Flora to seek out the "criminal operation"—a botched abortion—which eventually caused her tragic death. We know that Flora married young and had six children by the time she was 32 years old. Perhaps she felt trapped and longed for a different life? As noted, her relationship with Antonio Sarantis was not the means to this, and later newspaper articles describe how he ultimately eluded the police.
While the press casts a sympathetic eye towards Jack, what he did next calls this into question. Research shows that after Flora's death, Jack had three of the couple's five children sent to an orphanage, while the remaining two children appear to have been cared for by families in Victoria. Jack also never had Flora's gravestone inscribed with her true name. According to Findagrave.com, she remains buried in Lakeview Cemetery, Seattle under a simple marker labeled "Flora Jones: June 21, 1899."
With his wife dead and children in the care of others, Jack left Victoria for a time and returned to the United States, first living in Prescott, Arizona and later Silverton, Colorado. By 1905, as described in J. C. Hagenbuch's journal, Jack spent several months prospecting for gold in northern California. He died in San Francisco in 1923 and likely was buried near there, though the exact location of his grave is unknown.
Family tragedies have a way of echoing down through the generations. After the death of Flora (Brooks) Hagenbuch, her five children and her husband scattered across North America and disconnected from the Hagenbuch family tree. That said, while researching this article, contact was made with a great granddaughter of Jack and Flora who still lives in British Columbia. Through a brief, though pleasant, conversation via Facebook, we were able to reconnect her family's branch and find their place on the larger Hagenbuch family tree.