Family Matriarch: Catherine (Messersmith) Lindner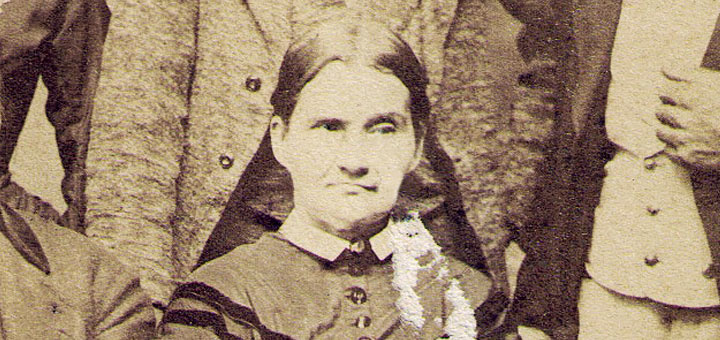 The Hagenbuch archives contain three photographs depicting Catherine (Messersmith/Messerschmidt) Lindner. Catherine was the mother of Mary Ann (Lindner) Hagenbuch who was born in 1853 in Schuylkill County, Pennsylvania. Mary Ann married Hiram Hagenbuch (b. 1847, d.1897) in 1872. Mary Ann died on July 6, 1916 and is buried with Hiram and other family members at Oak Grove Lutheran Church Cemetery in Montour County, PA. Among the adjacent graves are those of her mother, Catherine, and her father, Israel Lindner.
Catherine was born in 1827 and married Israel sometime before 1852. Israel died in 1901 and Catherine lived to the age of 88, dying just twelve days before her daughter Mary Ann on June 25, 1916. The photo of her, Israel, and their four children is the oldest known photo in the archives and probably dates to about 1870.
The photograph hung in the house of Bruice, Andrew, and Julia Hagenbuch in Liberty Township, Montour County, PA. Originally built by William Hagenbuch (b. 1807), the house had been owned by the three siblings' parents, Israel and Minnie (Keefer) Hagenbuch. Israel was a son Hiram and Mary Ann (Lindner) Hagenbuch and was named for his maternal grandfather, Israel Lindner.
Israel and Catherine (Lindner) Hagenbuch's children in the photo are (left to right): Mary Ann (b. 1853, d. 1916),  Sarah Jane (b. 1857, d. 1928), Benjamin (b. 1855, d. 1911), and Francis Walter (b. 1852, d. 1916). A son, Joseph William, was born in 1859 and died young. All the children were born in Schuylkill County, Pennsylvania. Several articles have already been written about Mary Ann (Lindner) Hagenbuch.
Sarah Jane married Frank Coleman and they had three children: Bessie, Bertha, and Merrill. In later years, they lived in the Ashland, Pennsylvania area.
Benjamin married Elizabeth Boyer. He is listed in the 1910 census as the proprietor of an "eating house" in Lewisburg, Pennsylvania. In previous censuses, he is listed as a farmer. Benjamin and Elizabeth (Boyer) Lindner had three children: Harry, Grace, and Carrie. Benjamin's gravesite cannot be found, although his death certificate states that he is buried in Danville, PA. His wife Elizabeth died in 1893 and is buried at Center Lutheran Church in Montour County, PA. Most likely Benjamin is buried there also.
Francis married twice: first to Alice Van Horn and second to Elizabeth Moore. Alice died in 1901 after having seven children with Francis. She is buried at Oak Grove Lutheran Church Cemetery, Montour County, PA. Elizabeth and Benjamin had one son together. Francis and Elizabeth are buried at Harmony Cemetery, Milton, PA
Francis was a businessman of high repute in the Montour and upper Northumberland County areas. He owned a farm implement and mercantile business outside Pottsgrove, Pennsylvania that was often utilized by his nephew, Israel Hagenbuch, and probably others of the Hagenbuch family.  The place of business, now a house, is owned and occupied by Harry Lindner's granddaughter, Charlotte Becker.
The second photo is a four generation depiction probably taken about 1905, since Benjamin died in 1911. Matriarch Catherine is seated along with son Benjamin. Standing are Benjamin's son Henry "Harry" Lindner and Harry's young son, Edwin Riley. Harry was born in 1881 and died in 1961. He and his wife, Minnie (Henry) Lindner are buried at Harmony Cemetery, Milton, PA. Harry was also referred to as "Gov", although the reason for this nickname is unknown. He is listed in various censuses as a farmer and a salesman of farm machinery living in Liberty Township.
Harry and Minnie Lindner had three children: Riley, Desmond, and Elizabeth. That cute boy in the photo married Miriam Wertman. Riley was born in 1902 and died in 1962. He and Miriam are buried at Washingtonville Lutheran Church Cemetery, Montour County, PA. Riley is listed in the census as a farmer and salesman living in Liberty Township.
The third photo is a curiosity as it seems to depict a reunion, though something else may be going on as the two young girls in the front are holding flowers. It is not a wedding reception since there is no bride or groom (unless they had already left on their honeymoon when the photo was taken). Matriarch Catherine Lindner is sitting near the center of the photograph and seated to her left is Sarah Jane (Lindner) Coleman. Sarah's husband, Frank Coleman, is sitting on the far left in the image. There is a possibility that the young man standing behind Frank Coleman is Riley Lindner. Behind Frank is another man with a mustache, which certainly looks like Harry "Gov" Lindner.
The remainder of the people cannot be identified, although a few seem familiar. There are no Hagenbuchs in the photo so this must have been a Coleman or Lindner gathering of some sort. If it is a Lindner reunion, it is curious that Mary Ann (Lindner) Hagenbuch is not present since Catherine lived with her towards the end of her life. The 1910 census lists Catherine, Mary Ann, and Mary Ann's son Luther Hagenbuch living together on Leidy Road, Montour County. This is the location of the William Hagenbuch (b. 1807, d. 1879) homestead. (William was Mary Ann's father-in-law.) Benjamin Lindner died in 1911 and Francis Lindner died in April of 1916. If it is a Lindner gathering, it is either after 1911 and Francis did not attend or it is in the three month span after Francis died and before Catherine died. If it is only a Coleman reunion, then Riley and Harry probably would not be present. But, then again, it is only supposition that those two people are Riley and Harry.
Once again, here we have a wonderful photo, yet we know little about the people in it and the circumstances surrounding why it was taken. The image needs more research but because there is no identification written on the back, this may not be possible—so sad! Even so, we are fortunate to have these photographs depicting Catherine (Messersmith) Lindner and other family members. Like all our ancestors in the Hagenbuch family, her life and contributions are worth remembering.