Planning the 2020 Hagenbuch Reunion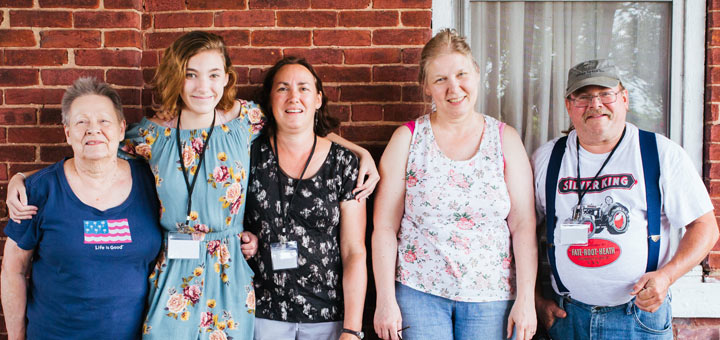 Several readers have written asking for information about the next Hagenbuch Family Reunion, since one was not planned for 2019. Currently, a date and a location have been set for a family reunion in 2020. These are as follows:
What: Hagenbuch Family Reunion
When: Saturday, June 20, 2020
Where: St. John's Lutheran Church, 6590 Musser Lane, Watsontown, PA 17777, Map
There are two big changes for the 2020 reunion. First, it will be held on a Saturday. This will enable more people to attend and will also prevent conflicts with Father's Day.
Second, the reunion venue has been changed to St. John's Lutheran Church, also known as Delaware Run Lutheran Church and the River Church. Founded in 1816, some of the earliest members of the church were Hagenbuchs and many are buried in the cemetery. Notable examples are: Conrad (b. 1790) and Mary (b. 1790), Henry W. (b. 1834) and Mary (b. 1854), and Solomon (b. 1838). St. John's was featured in Part 4 of the historical fiction series "The Book".
Reunion day events will include:
A brief service in the sanctuary—done in German—as our ancestors would have experienced in the 19th century
Cemetery walk and discussion of the family members buried there
Lunch and socializing
Presentation of Hagenbuch family history and new discoveries
The Hagenbuch Family Reunion in 2018 had over 80 people in attendance, and our goal for 2020 is to see more than 100 there. In addition, we want to get a picture including relatives from all four of Andreas Hagenbuch's sons: Henry (b. 1736), Michael (b. 1746), Christian (b. 1747), and John (b. 1763). Many of us trace our ancestry through Michael, so if you are from Henry, Christian, or John we would be especially excited for you to attend!
Finally, we still have Hagenbuch family crest patches available. These make a great gift, and you can see a number of images of them here. To purchase Hagenbuch patches, send a check or money order made out to:
Mark O. Hagenbuch
821 W. Siddonsburg Rd.
Dillsburg, PA 17019.
The patches are $5 each, which includes postage.
We look forward to having all of our readers join us for the 2020 Hagenbuch Family Reunion! If you have any questions, feel free to contact us on Facebook or by using the Contact Us page on Hagenbuch.org.