Last Reminder: 75th Hagenbuch Reunion on Saturday, June 18, 2022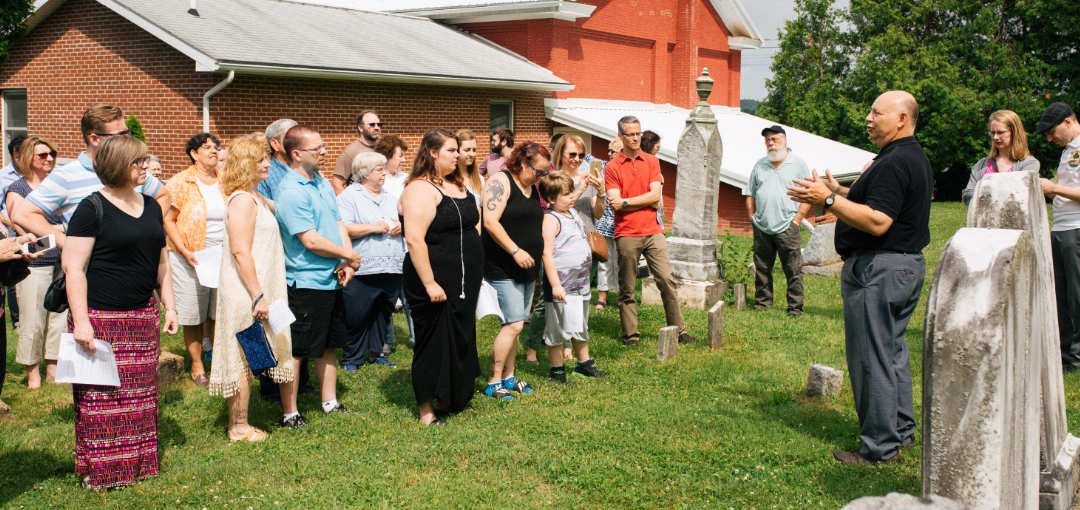 The first Hagenbuch family reunion in the central Pennsylvania area was held in 1938 at Sunnybrook Park near Danville, PA. During World War II, it was cancelled for three years but restarted after the war. For several decades the reunion was held not only at Sunnybrook Park, but also at Montour Preserve and Oak Grove Lutheran Church, both in the Danville area. It was cancelled again from 2014 to 2017 due to waning interest, then successfully restarted in 2018 with strong attendance. Unfortunately, the pandemic caused it to pause once again. However, this year the reunion is back!
The 75th Hagenbuch Family Reunion will be held on Saturday, June 18, 2022 at a new venue—St. John's Lutheran Church (Delaware Run)—located at 6590 Musser Ln., Watsontown, PA just north of Dewart. There are only five more days until this gathering of Hagenbuchs and related families occurs. Please plan to attend!
We have attendees coming from a number of branches of Andreas Hagenbuch's (b. 1715) family. However, due to some cancellations, we have yet to confirm that descendants of Henry's (b. 1737) and Christian's (b. 1747) lines will be there. If you are descended from their lines and able to attend, please let us know.
Below is the final schedule of events for the day:
Along with the New Bethel Lutheran Church in Berks County, Kreidersville Lutheran Church in Northampton County, Hidlay Lutheran Church in Columbia County, and Oak Grove Lutheran Church in Montour County, St. John's Lutheran Church of Northumberland County is also a "Hagenbuch Church." This is not only because some of its earliest members were Hagenbuchs, but also because the minister at St. John's from 1969 to 1985 was my father-in-law!
Rev. Roy Gutshall married his daughter, Linda Faye, to me in 1974. Subsequently, our son Andrew and our daughter Katie were baptized at St. John's by their grandfather in 1981 and 1983, respectively. Our youngest child, Julie, was baptized by her grandfather at the Lutheran church in Lewisburg, PA as he had retired from St. John's by the time she was born in 1986. Linda and I often attended church together at St. John's while we were courting and sometimes even after we were married. My father-in-law, Rev. Gutshall, was an old-timey minister who delivered Gospel-driven sermons and successfully built St. John's into a thriving, active congregation.
The reunion event begins at 11 AM with a German church service in the sanctuary. St. John's Lutheran Church was founded in 1816, and the Hagenbuchs began attending there as early as the 1830s. The church service will mirror a small part of what the early Hagenbuchs attending St. John's would have experienced. Part of the service will be in the German language. I, Mark, will preside over the service with prayers, scripture readings, a short homily, and the singing of two hymns. Music will be provided by Karen (Beaver) Richie, who is part of our Hagenbuch family and the music director at Oak Grove Lutheran Church.
The church service will be followed by a cemetery tour at 11:30 AM. My son, Andrew, and I will introduce those attending to the two Hagenbuch brothers who first attended at St. John's: Conrad (b. 1790) and Charles (b. 1811). In addition, you will "meet" descendants of Conrad and Charles!
At 12:30 PM, attendees will be asked to complete a name tag and identify their Hagenbuch ancestor. (Andrew and I will help with this, if needed.) While the food for the potluck lunch is set out, folks will have time for a quick visit with those from other clans. Homemade barbecued hamburger and rolls will be provided. Please remember to bring different foods that you want to share and your own table service and drink (lemonade, iced tea, etc.).
At 1 PM, there will be a "welcome to all" and a blessing of the food. A sharing of yummy delectables will commence! After the breaking of bread, there will be a few games, several prizes, and some announcements.  A donation will be collected for the church, which has graciously hosted our reunion.
Finally, at 2 PM a visual presentation titled "One Family Together' will be given by Andrew. This will be filled with genealogy, stories, and other family details. Those attending will be wowed by our family's history and proud of what all of us share as documented by the 400 articles that have been posted to Hagenbuch.org.
Our Hagenbuch family is one of the most united of all families. Although we live in many places, states, and even countries, we pride ourselves in knowing our common history, traditions, and culture. The next reunion hasn't been planned yet, so let's come together now and make this a gathering of fellowship!