Join Us! Hagenbuch Reunion: June 18, 2022 – Info & Schedule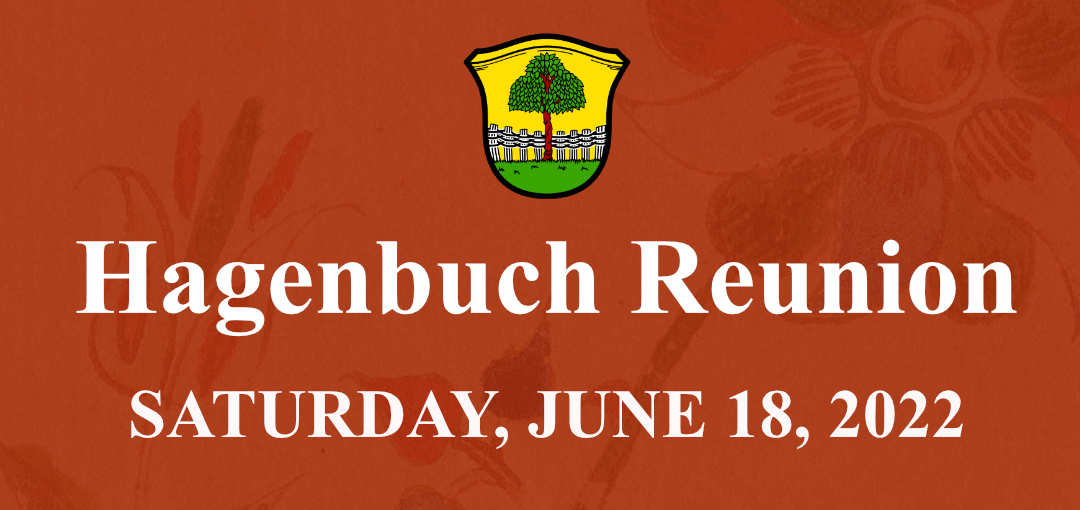 This year's Hagenbuch Reunion will be held on Saturday, June 18, 2022. Below is the schedule of events for the day along with a few reminders. Feel free to attend some or all of the day's events.
When: Saturday, June 18, 2022: 11 AM German church service, 11:30 AM graveyard tour, 1 PM potluck lunch and genealogy
Where: St. John's Lutheran Church, 6590 Musser Lane, Watsontown, PA 17777 View Map
Reminders:

Masks are welcome though not required.

Lunch will be held indoors with limited seating outside.

If you are feeling under the weather, we kindly ask that you stay home, and we will catch up next time.

We hope to make the day safe and enjoyable for family!
---
– Calling all descendants of Andreas Hagenbuch  –

We plan to take a family photograph of attendees related to Andreas Hagenbuch (b. 1715). There will be a special photograph of just the descendants of his sons: Henry (b. 1737), Michael (b. 1746), Christian (b. 1747), and John (b. 1763). Presently, we have guests confirmed from all but Henry's and Christian's lines. If you are descended from their lines, please let us know you plan to attend.
---
Reunion Schedule
---
11:00 AM – A brief German church service, led by Mark Hagenbuch, will be held at St. John's Lutheran Church, Delaware Run (address and map above). This is one of several churches where our family comprised some of the earliest members of the congregation. Founded in 1816 as a log building, the church was originally known as the "River Church." In the 1830s, Johann "Conrad" Hagenbuch (b. 1790) moved his family to the area from Columbia County and joined the church. He was followed in the mid-1840s by his youngest brother, Charles (b. 1811), who also became a member. Conrad and Charles were the sons of John Hagenbuch (b. 1763) and grandsons of Andreas Hagenbuch (b. 1715).
11:30 AM – At the conclusion of the service, attendees will be encouraged to look around the sanctuary and then step outside. At 11:30 AM, Mark and Andrew Hagenbuch will conduct a tour of the cemetery which includes numerous family graves. These include: Charles and Elizabeth (Hess) Hagenbuch, Conrad and Mary (Ruckle) Hagenbuch, Henry W. Hagenbuch, Emma (Hagenbuch) Troxell, Solomon D. Hagenbuch, William C. Hagenbuch, Esther (Hagenbuch) Moyer, Rosetta (Hagenbuch) Mackey, Rebecca (Hagenbuch) Heiny, and Matilda (Hagenbuch) Scales. A complete list of family burials in the cemetery can be found here. Even if you are not a descendant of these Hagenbuchs, you will enjoy hearing their stories.
12:30 PM – Registration will begin. People attending the reunion will receive a name tag and genealogical handout so they can trace their lineage from Andreas Hagenbuch and make connections to other family members. Attendees will be encouraged to write on their name tags which of Andreas' children they are descended from.
1:00 PM – A potluck lunch will be served. Please bring your own table service (plates, utensils, and cups), as well as foods to share. This will be typical family reunion fare. Barbecued hamburger and rolls will be provided. Local folks can prepare their favorite picnic foods, and travelers can stop at the deli or bring a bucket of chicken, chips, or bakery sweets. Plan to bring a thermos of iced tea, lemonade, or something else to drink.
After our bellies are filled, there will be games, a quick business meeting, and a genealogical presentation led by Andrew Hagenbuch. This will feature interesting people, facts, and stories about our Hagenbuch family. Iron-on patches will be sold for $5 each. The patches feature the beech tree and enclosure of the Hagenbuch coat of arms. Stay as long as you like and continue to learn more about our family or sit and talk to your cousins.
If you know of someone who is not a reader of Hagenbuch.org and needs a personal invitation or if you have any questions, please contact us here.
To receive notifications about the reunion and other family news, please subscribe to the Hagenbuch family email newsletter below:
---
Please note: Your email address will not be shared with third-parties.