Andreas Sails Aboard the Charming Nancy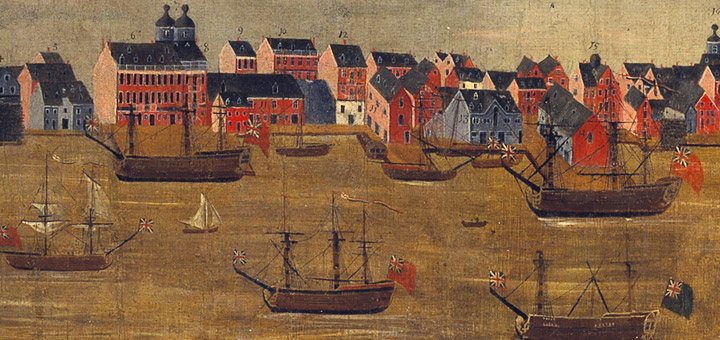 1737 is an important year for the Hagenbuch family. It was the year Andreas Hagenbuch, his wife Maria Magdalena, and their one child landed in Philadelphia to begin a new life in the Americas.
Andreas was 22 years old the year he journeyed with his family across the Atlantic. He was likely living in Grossgartach or Lomersheim. These towns were located in the Duchy of Wurttemberg near the Electorate of the Palatinate. Both were part of the Holy Roman Empire.
Today, this region is in modern day Germany. It can be found between Stuttgart and Heidelberg, not far from the Rhine River.
The Palatinate and nearby areas had been repeatedly invaded by the French, leading to devastation and famine for the people living there. There was also the threat of religious persecution. The Hagenbuchs were Lutherans, while the French were Catholics.
Andreas had recently married his first wife, Maria Magdalena Schmutz. She was pregnant with their first child together, Henry.
In the spring of 1737 as the weather warmed, the couple traveled to Rotterdam in then what was called the Dutch Republic. Today, we know it simply as the Netherlands. The fastest route would have been to float down the Rhine River from Heidelberg to Rotterdam. Though, this might still take a few weeks.
Once in Rotterdam, the Hagenbuch family boarded a ship named the Charming Nancy. Passage for an adult ranged from five to ten pounds Sterling. Children were less.
The Charming Nancy had been built in Philadelphia, Pennsylvania, which was then part of Great Britain's colonies in North America. It was 115 tons and was launched on November 18, 1736. It was registered to John Stedman, Alexander Andrew, and George Catanach. All three men were from London. John's brother, Charles Stedman, would captain the ship on its voyage.
Andreas and his family set sail aboard the Charming Nancy on June 29, 1737. They arrived in Plymouth, England on July 8th. There they spent nine days, loading additional supplies and passengers.
On July 17, 1737 the Charming Nancy left port and began its long journey to America. Traveling by sea in the 1700s was a cramped, unpleasant, and often deadly ordeal.
We are lucky enough to have one account of the journey from Rotterdam to Philadelphia. This was written by Bishop Hans Jacob Kauffman on an old Swiss calendar, which was later discovered in a bible.
The 28th of June while in Rotterdam getting ready to start, my Zernbli died and was buried in Rotterdam. The 29th we got under sail and enjoyed only 1-1/2 days of favorable wind. The 7th day of July, early in the morning, died Hans Zimmerman's son-in-law. We landed in England the 8th of July, remaining nine days in port during which five children died.

Went under sail the 17th of July. The 21st of July my own Lisbetli died. Seven days before Michael's Georgli had died. On the 29th of July three children died. On the 1st of August my Hansli died and Tuesday previous five children died. On the 3rd of August contrary winds beset the vessel from the first to the 7th of the month, three more children died. On the 8th of August Shambien's Lizzie died and on the 9th died Hans Zimmerman's Jacobi. On the 19th Christian Burgli's child died. Passed a ship on the 21st. A favorable wind sprang up. On the 28th Hans Gasi's wife died.

Passed a ship 13th of September. Landed in Philadelphia on the 18th, and my wife and I left the ship on the 19th. A child was born to us on the 20th – died – wife recovered. A voyage of 83 days.
From Kauffman's account, the suffering aboard the Charming Nancy is evident. Many people died, especially children. Their bodies would have been buried at sea. After two months on the Atlantic, sighting Philadelphia must have been cause for jubilant celebration.
Upon arriving in Pennsylvania, all men 16 and older were required to sign the Oath of Allegiance to the King and the Oath of Abjuration, where they renounced previous loyalties. This occurred on October 8, 1737.
Thanks to the Pennsylvania Archives, we are able to see Andreas Hagenbuch's signature. Though, it's important to note that this is not an original copy of the signature. Rather, it is a tracing done later in an effort to preserve information found on deteriorating documents.
It's interesting to see that Andreas was able to sign his full name to the oath. This indicates he had some education and was able to write as well as probably read too. While this might not seem impressive today, in 1737 this put him above many other immigrants.
Notice the curved character Andreas has placed above the "u" in Hagenbuch. This is not an umlaut or other diacritical mark. Instead, it is a way of designating the character as a "u" in Old German, where the "u" could be confused with an "n" or "m".
One can only imagine the hopes, dreams, and fears Andreas and Maria Magdalena (Schmutz) Hagenbuch had upon arriving in this foreign place. They were recently married, and would soon have the new born Henry to care for.
They would need to work to acquire farming land in order to generate a secure income. All the while, they spoke only German and would have to adjust to the English culture of the colonies.
In Pennsylvania, the Hagenbuchs had no immediate family to support them. And, if things didn't go well, there was no turning back. They would never return to see their former home in Germany again.
Sailing aboard the Charming Nancy was only the first of many hardships Andreas Hagenbuch and his family endured on the path to build a life in Pennsylvania. In future articles, we will continue to follow the Hagenbuchs as they seek opportunity in a new and wild land.
This article was updated in 2020 to reflect that Andreas Hagenbuch is now believed to have been born on March 15, 1715. More about his birthdate can be read here. Also the child, Anna Barbara, was removed as she is now believed to have been born later to his second wife.
In 2021, this article was updated again to remove Andreas' first wife, Catherine, because there is no evidence to show that she existed. This means the Henry Hagenbuch was born to Maria Magdalena after arriving in America. More about this research can be found here.