Update on Anna Elizabeth Hagenbuch's Fraktur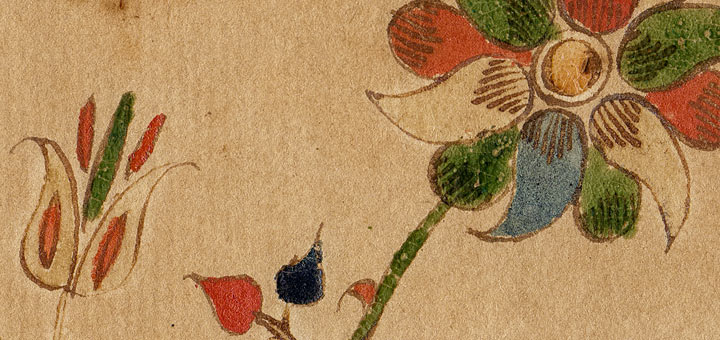 It's been over four months since we announced the discovery of Anna Elizabeth Hagenbuch's birth and baptismal Fraktur. What began as a serendipitous find on eBay, has since yielded important information – as well as questions – about the Hagenbuchs living in Berks County, Pennsylvania during the 18th century.
Over the last four months, the Fraktur, which is more accurately termed a Taufschein, was researched, cleaned, and preserved by a document conservator. At over 200 years old, it was desperately in need of some attention. For example, acidic mounting materials and creases from folding had all damaged the fragile paper.
Nevertheless, the Taufschein is amazingly intact. The document's colorful illustrations are clear and vibrant, while its ornate calligraphy is easily readable. Thanks to the professional work of the conservator, it is now possible to share this unique piece of history with the entire family.
Anna Elizabeth Hagenbuch was born on April 27, 1754 at the family homestead in Albany Township, Berks County, PA. Her parents were Andreas (b. 1711, d. 1785) and Maria Margaretha "Friedler" Hagenbuch. Elizabeth was mentioned in Andreas's 1785 will and testament. Around 1774, she married John Adam Reichelderfer (b. 1741, d. 1810), and the family relocated to Salt Creek, Pickaway County, Ohio in 1806. Anna Elizabeth died on August 24, 1825 and is buried in Stumpf Cemetery, Pickaway County, OH.
Below is a transcription of the German text on Anna Elizabeth's Taufschein, along with a translation of this into English. Future articles will continue to explore the details of the document and attempt to reveal more of its story.
---
Original Text in German
Elisabeth Hagenb(u)chin hat das Licht dieser Welt erblicket in Albany Taunschip Berks County in Staat Pensylvanien in dem Jahr des Herrn 1754 den 27 Abril des Kindes Vatter is der ehrengnachte Andreas Hagenbuch und die Mutter Margreda eine geborne _____________  die Taufzeigen sind gewessen Hans Mardin Romig und Ehefrau Elizabeth; Gott gebe gesundheit, glück, und segen in das dir wandeln nagst auf Gottes reinen wegen so wird Gott viel gnad und heil bescheren.
Hiob 19:25
Gestorben 24 August
---
English Translation
Elizabeth Hagenbuch has seen the Light of this World in Albany Township, Berks County in the state of Pennsylvania in the Year of Our Lord 1754 the 27th April. The child's Father is the honorable Andreas Hagenbuch and the Mother Margaretha, born _____________, the witnesses were Hans Martin Romig and wife, Elizabeth; May God grant you health, fortune, and blessings, as you travel on the pure path of God, so God may give you abundant grace and salvation.
Job 19:25
Died August 24th
---