Last Reminder: Hagenbuch Reunion on Sunday, June 24, 2018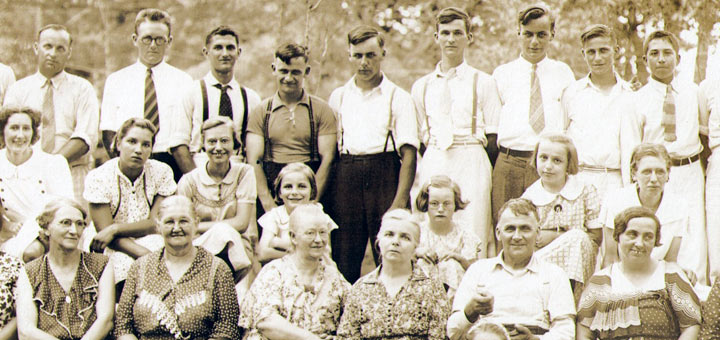 There are only five more days until the great gathering of Hagenbuchs and related families. Please plan to attend!
Below is the final schedule of events for the day. We are hoping for 100 or more to attend the reunion which might not occur again for a few years. Time and interest will tell.
The church service at Oak Grove Lutheran Church will begin at 9 AM. Pastor Gretchen Johanson has been very gracious to give me—Mark Hagenbuch—the opportunity to preach the sermon during the service. My message will be based on the scriptures of the day which highlight the act of anointment.
It is entitled "Anointed by the Holy Spirit" and will reference how the history of the Hagenbuch family intertwines with the history of Oak Grove. Pastor Gretchen has also allowed me to work with organist Karen (Beaver) Ritchie to select appropriate hymns. Karen's great grandfather was Percy Hagenbuch (b. 1880), son of Hiram (b. 1847) and Mary Ann (Lindner) Hagenbuch.
The cemetery tour will begin promptly at 10:30 AM. Due to the time needed for folks to complete information on a family form and to provide name tags, we need to conclude the tour no later than 11:30 AM. Therefore, if you want to participate in the cemetery tour without attending the church service, you should arrive at the church no later than 10:00 AM.
As soon as the cemetery tour is concluded, we will begin gathering information through a registration process that includes completing a simple family form and a name tag. The registration will take place at the old schoolhouse pavilion (catty-cornered from the church) where the reunion and picnic lunch will be held too.
The picnic lunch to begin at 12:30 PM. As discussed in the May 8 article, please provide your own table service and foods to share. Barbecued hamburger and rolls will be provided because some folks will be traveling a distance.
This is to be the usual "family reunion" potluck fare. Local folks can prepare their favorite picnic foods and travelers can stop at the deli or bring a bucket of chicken, chips, and bakery sweets. Plan to bring a thermos of iced tea or lemonade. We will provide some to share also.
After lunch, Andrew Hagenbuch will tell the story of our earliest Hagenbuch ancestors and how they came to settle in America. Following that there will be games, the sale of the Hagenbuch iron-on patches ($5 each), and a raffle ($1 per ticket). Bring some cash in small bills in order to purchase these items.
The money from the raffle to be donated to Oak Grove Church as a thank you for the use of the grounds for our family gathering. The raffle will include a handmade lap afghan, two Hagenbuch iron-on patches, and a coffee mug from the 1991 Hagenbuch reunion emblazoned with the beech tree symbol. The afghan was made by Melissa Berkheimer, whose great grandfather was Hiram Hagenbuch, Jr. (b.1886)—a son of Hiram and Mary Ann (Lindner) Hagenbuch).
This is your reunion! But, Andrew and I also have much to tell you about our fascinating family and the intriguing information we continue to discover about the Hagenbuchs and related families. We hope you come with questions and information about your own Hagenbuch "clans." If we don't know the answer, we'll be sure research and write about what we find.
Lastly, please contact all of your Hagenbuch related family (brothers, sisters, cousins, aunts, uncles, children, grandchildren, etc) and ask them to attend a day of remembrance, history, family fellowship. See you in a few days, and contact us if you have any questions!