The Three Children of Mystery Pete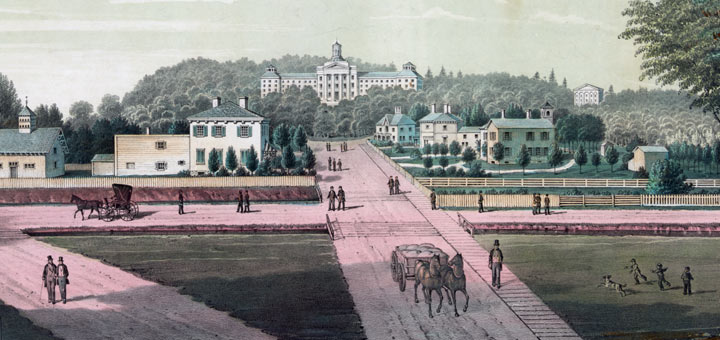 Since Andrew and I have been diligently researching our Hagenbuch family over the past several years, we have nicknamed several of our ancestors. The reason is that there are double, triple, and sometimes even more of the same first names for our relatives. With several Johns, Andrews, Marys, Jacobs, and others, we come up with pseudonyms that describe the person so we can instantly know which Hagenbuch we are discussing. These include, "Our Michael," "Michael's Jacob," "William the Cop," and the descriptive "Runaway John" who was Andreas' youngest son born in 1763. Keeping with this trend, I have dubbed Peter Hagenbuch (b. 1819, d. 1875) "Mystery Pete." This alleviates any confusion with Peter F. Hagenbuch of Nazareth, Pennsylvania, Peter Franklin Hagenbuch from Michigan, or Peter L. Hagenbuch who married Issabillia Lapp. Names are curious and wonderful things!
In the previous article on Mystery Pete, the information about his lack of a Civil War record was discussed along with the discovery of three children listed with him and his wife, Julia, in the 1870 census. Although one may think this lessens the mystery, it actually adds to it as we know little about these children.
Furthermore, the mystery grows as we look into Peter's business relationship with his first cousin once removed, Hiram Hagenbuch (b. 1847). We are not sure how much these two cousins personally knew about each other; although, we are sure that Hiram's daughter, Julia, was named after Peter's wife. We believe that research into Peter's will and other documents at the Union County, PA courthouse will reveal additional information.
So, what about Peter and Julia's three children? According to the census records of 1870 the ages of the three children were: Emma A., 18; Henry "Harry" Clay, 10; and Isabella, 8. If the ages listed for the three children are correct, they were all born after 1850—the year that Peter and Julia were married. This would make sense if the children were biologically theirs. It must be pointed out, though, that the ages listed for Peter and Julia in 1870 (45 and 44 respectively) are incorrect. In 1870 (according to their gravestones), Peter (b. 1819) was 51 years old and Julia (b. 1815) was 55 years old. The information on Julia is almost confirmed by her obituary, but more on that later.
Returning to Julia's age, she would have been 37 years old when Emma was born, 45 when Harry was born, and 47 when Isabella was born. This seems rather late for having children, especially in those days. With this information, Andrew and I began to suspect that some, if not all, of the children were adopted.
Confirmation of this theory came when we discovered a newspaper article mentioning that Emma was the "adopted daughter of Peter Hagenbuch." The same article revealed that she eloped with Henry Llewellyn in September of 1873 and that he was a minister at a Baptist church in Deerfield, New Jersey. Research to find information about Rev. Llewellyn and Emma (census, death, and grave records) has presently reached a dead end. However, being a minister, we can assume that he and Emma may have moved from church to church during his career, meaning they could be buried just about anywhere.
The youngest child, Isabella, was married to George Correy or Carrey. She died in 1924 and is buried at Harmony Cemetery in Milton, PA. They had a daughter, Julia, who was born in 1878. This information is from Isabella's death certificate. Another mystery: the informant for the death certificate was Isabella's husband who listed her parents as "unknown"! Yet, according to the 1880 Pennsylvania census, George and Isabella (Hagenbuch) Carrey lived in Kelly Township, Union County, PA with a one year old child, Julia, and Julia A. Hagenbuch—Peter's widow. This begs the question: How could George Carrey not have known Isabella's parents when he had lived with his mother-in-law? The only logical conclusion is that Isabella, like her sister Emma, was adopted and did not know her biological mother's name.
A few more notes about Isabella (Hagenbuch) Correy/Carrey: At this time nothing else can be found about the daughter, Julia, who is listed in the 1880 census as being one year old. Curiously, there is a George Correy, Jr. (b. 1889, d. 1943) buried at Harmony Cemetery in Milton, PA. This could be a son of George and Isabella. The 1880 census record lists their name as "Carrey". However, the last name on the death certificate for Isabella could be read as "Correy," and her gravestone at Harmony Cemetery supposedly reads "Correy" too. (It was not found when Andrew and I searched for it several months ago.) Unfortunately, at this time nothing more can be found about the Correy/Carrey family. More mysteries!
We finally come to the most compelling mystery of all—that of the son, Henry "Harry" Clay Hagenbuch. A legal summary of Peter's will has been found which appears to mention that Harry received part of Peter's estate in 1875. The next reference of him is his enrollment at Bucknell University in 1878. Harry would have been 17 or 18 years old at the time. However, it appears that he did not continue as a student. An alumni publication of Bucknell University from the early 1900s states that Harry's last known address was West Milton, which is the same area (and perhaps the same house) where Peter's wife Julia was living when she died in 1908.
Yet, nothing else is definitively known about Harry, including if he was adopted. Andrew and I have searched local cemetery records, census records, and even records where Harry may have moved to be with other relatives. (Peter's brother, Aaron, moved to Michigan and established a large Hagenbuch clan there.) There is one curious entry in the 1930 census which shows a Harry Hagenbuch living on Hepburn Street in Milton, PA. He is listed as a boarder and as working in a creamery. But, his age is recorded as "unknown". If the age were listed, we could surely identify if this is our Harry or not. While there were a few other Harry Hagenbuchs in the Milton area in 1930, none of them fit the profile of Henry "Harry" Clay Hagenbuch.
There is one more mystery to add here. In Julia Hagenbuch's obituary from 1908 (which is pasted in the school book of my Aunt Katie), there are no relatives listed. Granted, we have no idea where Emma (Hagenbuch) Llewellyn was living at the time. But, we know that Harry and Isabella were probably still living nearby. Why would they not be included in Julia's newspaper obituary? Furthermore, we do have a copy of Julia's death certificate which does not list any of the children as informants. Instead, Mystery Pete's nephew, Thomas W. Hagenbuch from Espy in Columbia County, Pennsylvania provided the information on the certificate.
Mystery Pete and his family are leading us on quite a chase. Were the children siblings or from separate parents? Were they from a Hagenbuch parent who either could not raise them or died? There is hope that we will find more information on Emma (Hagenbuch) Llewellyn and Isabella (Hagenbuch) Correy/Carrey. However, other than the curious 1930 census we seem to have come to a dead end with Harry.
If Harry was still with Julia when she died in 1908, he would have been about 48 years old. Who received Julia's estate upon her death: the three grown children, just Harry, or just Isabella? With the elopement of Emma to a Baptist minister, there is a good chance that she may have been disowned by Peter and Julia altogether.
Along with the questions about these children, the most absorbing question for me is: What happened to Henry "Harry" Clay Hagenbuch? In our information age, there are certainly records which should lead us to find an account of him someplace. We cannot find Harry buried in any local cemeteries, keeping in mind that some graves in cemeteries have never been recorded. Nor have we found him mentioned in local newspapers or other similar sources. The only lead is, as mentioned previously, the unidentified Harry Hagenbuch living in Milton in 1930.
Maybe he headed out west like other Hagenbuchs. If Peter and Julia's estate was left to him, and it was substantial, maybe he went to Europe and never returned? He would have been too old to join the military so a soldier's death can probably be ruled out. Laughingly, I told Andrew the other day, "Maybe Harry went to Africa, South America, or Indonesia and was eaten by cannibals!" Whatever his story, we will continue to search high and low for him. The genealogical mind begins to conjure up all sorts of possibilities.
Finally, a bit of tongue in cheek humor. As his father is now known as "Mystery Pete," I will always think of this disappearing Hagenbuch as "Vanishing Harry"!