Exploring Hagenbuch Country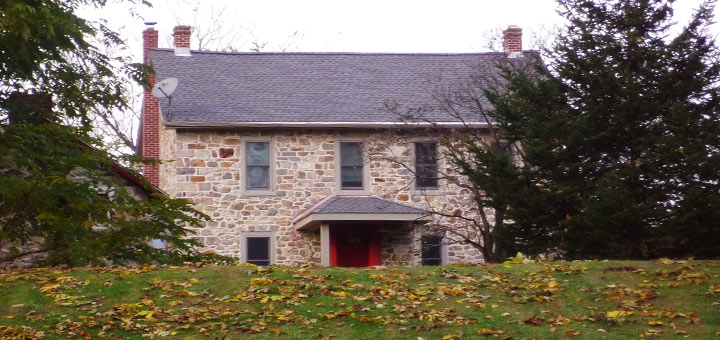 Over a year ago, my Aunt Barb—Barbara (Hagenbuch) Huffman—and I were chatting on the phone about the Hagenbuch homestead in Albany Township, Berks County, Pennsylvania. Being an avid birder, she mentioned how wonderful it would be to visit Hawk Mountain Sanctuary, which is located only a few miles from the homestead. I was still living in California at the time, so we agreed to make of day of it at some point in the future.
That day finally arrived on November 4, 2017. In the morning, my wife Sara and I met my parents, Mark and Linda Hagenbuch, as well as Aunt Barb in the small town of Lenhartsville, PA. From there, we traveled together along the country roads that lead past Schambacher's Tavern to Hawk Mountain Sanctuary.
Much to our surprise, the parking lot at the sanctuary was overflowing with cars! Indeed, Hawk Mountain is quite popular at this time of year, since many types of birds are migrating through the area. After exploring the visitor's center and enjoying a packed lunch, we walked a short distance to the southern outlook.
Though we didn't see any hawks, we did enjoy a lovely view of the landscape that Andreas Hagenbuch (b. 1711, d. 1785) and his family once called home. Using binoculars, we peered into the valley below and saw the top of the stone farmhouse that Michael Hagenbuch (b. 1805, d. 1855) completed in 1851. I couldn't help but wonder if Andreas had once stood at this same location in order to survey his lands.
Upon leaving Hawk Mountain Sanctuary, we descended into the rural farmland of Albany Township and stopped at the Hagenbuch homestead. There, the five of us walked together through a field until we arrived at the old family cemetery.
As we paid respect to our ancestors, we discussed who might be buried in the plot. Currently, the only one of the weathered stones we can identify is that of Jacob Hagenbuch (b. 1777, d. 1842). Yet, it is almost certain that Andreas, his two wives, and at least one of his children, Michael (b. 1746, d. 1809), are buried at this location.
After exploring the cemetery, we examined the stone farmhouse that Michael built. Then, we walked down the road a few hundred feet to the site where Andreas Hagenbuch is believed to have built his home. Glancing towards the Blue Mountains, we talked about those first generations of the family in America.
By early afternoon, we left Berks County and headed to the east across Lehigh County. The rolling farmland here was beautiful, and having lived for nearly a decade in California, I couldn't help but gaze at the colorful fall foliage.
Before reaching the Lehigh River we passed through the small town of Egypt, where some Hagenbuchs are known to have attended church in the early 1800s. Then, we crossed the river on Siegfried's Bridge, named for Colonel John Siegfried (b. 1745, d. 1793) who had multiple children marry into the family of Henry Hagenbuch (b. 1736, d. 1803).
Entering Northampton County, we began to look for stone houses that might match the home Christian Hagenbuch (b. 1747, d. 1812) built in 1783. We traveled through towns like Howertown and Kreidersville and saw many stone houses. Some were well-maintained while others were falling into disrepair. None appeared to match Christian's though.
In Weaversville, we did find another home we had also been looking for. This sits on a property purchased by Christian Hagenbuch in 1803. Eventually it passed to his daughter and son-in-law, Jacob and Elizabeth (Hagenbuch) Deshler. Confirming this, we found the house marked with the initials "J • D" and the date 1815.
While traveling in Allen Township, we saw several historic markers discussing the infamous Walking Purchase of 1737. As mentioned in an earlier article, this unfortunate chapter in Pennsylvania history soured relations between settlers and the local American Indians.
As the sun began to set, we drove along a gravel road and visited a covered bridge not far from the church where Christian was buried. Though we were unable to locate his house, we do believe that future research into land grants and deeds will bring us closer to an answer.
After a long day of exploring Hagenbuch country, we returned to Lenhartsville. Our plan was to have dinner at the Deitsch Eck, a local restaurant that serves old time favorites such as scrapple, fritters, and homemade pies. Unfortunately, the wait to get a table was over an hour, so we settled for another establishment nearby.
While the five of us enjoyed dinner, we discussed the many places we had seen in Berks, Lehigh, and Northampton Counties.  At one point my father even mentioned the significance of the day's date—November 4th. This would have been my grandfather, Homer Hagenbuch's, 101st birthday!
Looking back on that day, I realize that exploring history isn't just a means for connecting with one's ancestors. It is also an important way to bring together families and foster relationships with those we care about.