A Box Full of Goodies, Part 1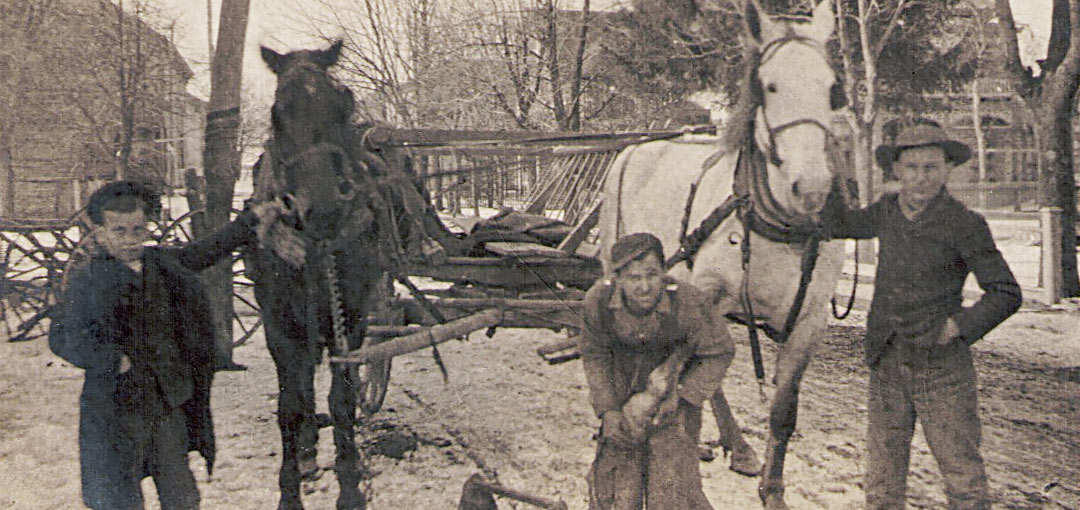 Several weeks ago my first cousin Kathleen (Robb) Shuler and her husband Gerald "Butch" Shuler were in the area so they stopped over to see Linda and me. It was a beautiful day so we could sit outside on the patio, social distance, and have an enjoyable visit.
Kathleen gave me a cardboard box, about 12 inches by 10 inches and 4 inches deep, filled with family memorabilia which had been in our Aunt Ellen Hagenbuch's effects. I opened it up and inside were two smaller boxes, the type that once held stationery and some loose papers. Kathleen said that she had glanced through the items and did notice that there was a letter to our Aunt Ellen from Mariah Madden about whom I had just written an article. Knowing how Andrew and I collect everything related to the family, she wanted me to have all the material for preservation.
I waited a few days and then began to look through the items. A quick glance got me excited, as only a genealogist can get excited! There were photos I had never seen, postcards and greeting cards, some poems in Grandma Hagenbuch's (Hannah [Sechler] Hagenbuch [b. 1889]) handwriting, and many letters. I am sure that most people looking through this ephemera would have little interest but as the phrase goes, "what is one man's trash is another man's treasure!"
The following is a list of the items, organized as best as possible.
Twenty-eight were post cards: twenty-two greeting cards for Christmas, Thanksgiving, birthday, and "best wishes" from friends and six of them with photos of Gettysburg College, Hazleton, Altoona, Columbia University in New York, Salt Lake City, and Great Britain. Twenty-two of them were sent to my grandmother spanning the years 1910 to about 1919 (some of the postmarks are difficult to read). Five of them were sent to my grandmother's mother, Mary (Davis) Sechler (b. 1852) with only one date legible, 1912. And, one real treasure is a Christmas greeting postcard sent to "Baby Lawrence" from "Myron" in 1921. Lawrence was the son of my grandparents, Clarence and Hannah (Sechler) Hagenbuch. Lawrence was born February 1921 and died December 1922. Myron Cromis was the son of my great Uncle Frank and Aunt Grace (Sechler) Cromis, sister to my grandmother, Hannah.
There are five photos. Three of these have identifiable people, while the other two do not. One of the three is addressed to Master Luther Hagenbuch, April 1908. The inscription is "your loving brother C.C. Hagenbuch." C.C. is my grandfather Clarence Charles (b. 1889) and Luther (b. 1896) is his youngest brother. The photo is taken, I believe, in Limestoneville beside a blacksmith shop. My grandfather is on the right and Luther may be the young man on the left of a team of horses. The blacksmith is shoeing one of the horses and the team is hitched to a hay wagon.
There is a booklet that belonged to my grandmother, Hannah, called Day Book for the Practical Exercises of Bryan and Stratton's Bookkeeping. Inside are lists of goods from, most likely, fictional businesses with prices and totals, all written in my grandmother's beautiful handwriting. She would have used the booklet as a student to copy information down from a textbook to practice bookkeeping.
Grandma Hagenbuch dabbled in writing poetry and short stories. In the box in her handwriting are three short stories and four poems. I can't be sure if she was the sole author of these writings or if she copied them from another source. I expect at least one of the stories is her creation.
There are 44 get well cards including a few letters sent to my Aunt Ellen when she was recuperating from illnesses in 1937 and 1952. The cards and letters are from various friends and relatives. What a treasure that Aunt Ellen saved these!
There is a packet of letters from my Uncle Charles, eldest child of Clarence and Hannah Hagenbuch. He was the brother to my father, Homer, and Aunt Ellen. Uncle Charles Hagenbuch (b. 1915) lived in Worcester, Massachusetts. Aunt Ellen was in correspondence with Uncle Charles between 1999 and 2001, when he died in August of that year. Along with the letters is Uncle Charles' obituary.
There are 9 letters all in one envelope dated as early as 1884 and as late as 1913. These will take time to read through and decipher. They include letters of my grandmother Hannah, her mother Mary (Davis) Sechler (b. 1852), Mary's mother Hannah (McWilliams) Davis (b. 1827), and Mary's father William Davis (b. 1826) who last lived in Iowa. I am looking forward to reading all of these, especially the ones from William who was possibly estranged from the family.
Finally, there were two more surprises. One is another letter from Mariah Madden, the local nurse who was also a family friend. She wrote to Aunt Ellen when Ellen was in Lewisburg hospital in 1937. Not only is Mariah's writing difficult to read, but the misspelled words and lack of punctuation will keep me busy when deciphering it. It is interesting that the postmark on the envelope is September 14, 1937, but Mariah dated the letter September 14, 1936! The other surprise is an envelope filled with scraps of dark maroon and black fabric. It is marked "Wedding Dress Material." These are from the wedding dress of Hannah (McWilliams) Davis that was also worn by her daughter Mary (Davis) Sechler. It was later worn by her daughter Hannah (Sechler) Hagenbuch and by her daughter Florence (Hagenbuch) Robb (b. 1925).
Over one hundred treasures in a single, small box. Now, a detailed look of each piece will take place. There are exciting elements to relish in this box of goodies! Thanks to cousin Kathleen for preserving these pieces of our family history by donating them to the Hagenbuch archives.