A Box Full of Goodies, Part 2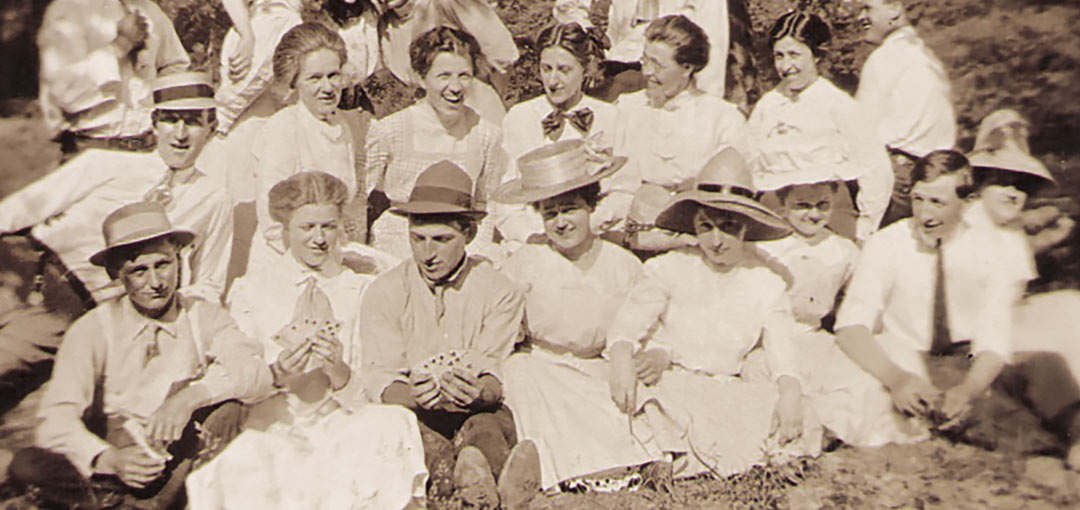 Readers may notice that Andrew and I attempt to write meaningful articles. It would be easy to scan a few photos or letters, describe them, and leave it at that. Instead, we strive to research the background of the material, make observations, and pull it all together in an article with conclusions. All of this takes time.
In part one in this series, I outline items found in a box once owned by my Aunt Ellen Hagenbuch. Now, in part two, I will dig deeper and explore several additional items found within the box.
Not so long ago people wrote letters —snail mail—and printed photographs on paper. In the past few decades, we have moved to email, Facebook, and cell phone texts and photos. I'm not sure these items will last long term for future genealogists to learn from and enjoy. Of course, there is a danger in saving some ephemera, especially opinionated and personal script, such as love letters of a more explicit nature. It's probably best that these items are never shared and should be destroyed. Sometimes, what happened in the past should stay in the past!
However, most items that have become part of the Hagenbuch archives can be shared to further our knowledge about our ancestors. The box of goodies gives us a look into the past and provides us a lot of enjoyment and information. The postcards are especially delightful. Perhaps more of these can be shared in future articles.
Of all the 28 postcards my favorite is one that was sent on July 31, 1914 to my grandmother, Hannah (Sechler) Hagenbuch, before she was married to my grandfather, Clarence Charles Hagenbuch on November 25th of the same year. The colorful card depicts a man and woman surrounded by hearts with the title "Sweet Loves Token." The accompanying verse speaks to the importance of a ring, simple yet important, as a token of love. The sender wrote to my future grandmother: "Don't forget to show this to C. when he comes. Guess Who."
"C," of course, is my grandfather, Clarence. I have no idea who was nudging Hannah to press Clarence on a proposal. Although, it must have worked, since they were married less than four months later! My first thought as to who wrote the postcard was her older sister Grace (Sechler) Cromis. I am not a handwriting expert, but after looking at my great Aunt Grace's handwriting written in 1920, I can see some similarities in the letter formation. This is the fun of genealogy and the "weeds" that obsess family historians. I spent a good amount of time looking through family letters to determine who "Guess Who" might have been! Yet, only the handwritten word can lead us down this path, certainly nothing typed in emails or texts!
A timely postcard in the box was sent to my great grandmother Mary (Davis) Sechler (b. 1852) on Nov. 27, 1912 from Elizabeth S. Allen. It is one of Thanksgiving greetings, but the message is very difficult to read. The gist of it is that Elizabeth is thanking her friend, Mary, for "the beautiful flowers" that were sent to her. Upon further research, Elizabeth lived in Milton, PA, was born in 1864, and never married. It's satisfying to be able to hold in my hands a handwritten Thanksgiving card of almost 110 years old that was shared between friends.
Along with the 1884 letter referenced in the first article, I selected another written on Dec. 29, 1908 to my grandmother Hannah Sechler before she married Clarence Hagenbuch in 1914. The letter is from Helen (Caton) Boardman, who at the time was living in Hartsville, Bucks County, PA. Helen was born in 1840 and was married to Presbyterian minister Simeon Boardman. I have no idea how they were acquainted—possibly through Hannah's mother, Mary Davis, or possibly through a mutual younger acquaintance. Helen does mention "Grace" who is probably Hannah's older sister. Here are the pertinent parts of the letter:
Dear Hannah. In a postal I mailed to Grace this morning I told her you owe me a letter or something to that effect. In the next mail your letter came, is before me and I feel I must answer it right away. It is so good of you to tell things just as they are. Mr. Boardman and I are very much pleased that you plan to take a three month course at the Normal School. We both think you would make a kind, conscientious teacher and we hope you will find a good school where you can run home easily. I guess you are a good deal of a mother's girl. Are you not? . . . I understand my niece Gertrude Caton is engaged to be married. She has had three proposals and has been a very popular girl. She too has fitted herself for teaching . . . Beulah goes to school but forgets so that it scarcely seems worthwhile to let her waste her time in going to school. With love to all. Very cordially. Helen Boardman.
My grandmother did indeed go on to Bloomsburg Normal School and became a teacher. It is heartwarming to know of Mrs. Boardman's opinion of her future qualities as a teacher. And, it's amusing to read about the niece, Gertrude, who was so popular with the young men! I expect that Beulah was another niece as the Boardmans had no children. One hopes that Beulah was successful in life despite Helen's misgivings about her school work.
Of the prose and poems mentioned in part one I am almost certain now that they are all creations of my grandmother. Two of the poems are timely because they are about Thanksgiving and one of the prose pieces is quite humorous: "How a Married Man Sews on a Button!" The prose piece will be saved for a future article as it is quite lengthy. A combination of the Thanksgiving Day poems appears above in my grandmother's beautiful handwriting. The two seem to go together as one long poem but with part of one missing. We can catch the nostalgic flavor that Grandma wanted to convey—something that most of us will miss this year with Covid in the air. The end of the poem reads:
We thank Thee for the golden sun, the cooling dews and rain
That opens up the lovely flowers and ripens all the grain.
For all Thy love and tender care we thank Thee once again
And keep us all close by Thy side forever, Lord, Amen.
Finally, along with the photo described in part one, the photo postcard included here must be discussed. It is not postmarked, but it was sent to Mrs. Hannah Sechler and the message written on the back is: "Wednesday morning. I will go tonight if it does not storm. C.C.H." So it was sent to Grandma from my grandfather, Clarence Charles Hagenbuch. My grandfather is in the lower left corner. And, in the upper left hand corner standing may be his older brother, Percy (my great Uncle Perce).
After sharing this with my cousin, Joe Robb, and with Andrew, we have possibly identified the the two women seated in the front row, fifth and fourth from the right, as Kathryn (Hagenbuch) Roat and her sister, Julia Hagenbuch (with the pointed hat). Both were sisters of Percy and Clarence. Others in the photo may look more familiar as we continue to scrutinize it. There is a lot going on in this photo. For instance, the two people beside Clarence are holding playing cards, amusingly turned towards the camera!
In conclusion, this box of goodies is filled with precious memories and new discoveries. I can't help but think how wonderful it was for my Grandma Hagenbuch to save everything in it and pass it on to my Aunt Ellen who preserved the contents. Finally, it is greatly appreciated that my cousin Kathleen passed it on to me for archiving. If these items were texts, emails, or cell phone photos, we would not be able to enjoy them in the manner laid out in this article and in so many other articles on this site featuring vintage ephemera. It's a lesson to be learned. Save only those items you want to pass on to future generations and, as always, remember to label them to make it easier for our future family historians.