Five Years On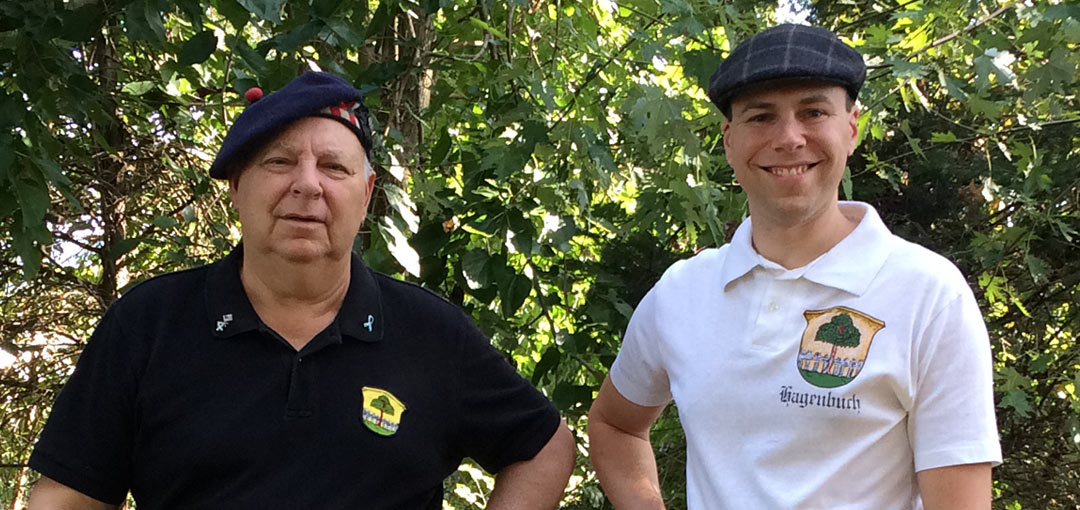 Earlier this year, I was telling someone about a few of the articles that had been published on Hagenbuch.org. Their response: How much can you write about one family? Well, according to our most recent tally, it's at least 260 articles and well over 250,000 words!
Five years ago in October of 2014, I encouraged my father, Mark Hagenbuch, to revisit the work he had done in the 1980s and 1990s on the Beech Grove family newsletter. This sparked a collaboration between us that has yielded Hagenbuch.org, where each week we publish an article about our family, and Beechroots.com, where we catalog names and information in an online family tree.
This year has been a productive one and began with an exciting discovery at the Hagenbuch Homestead in Berks County, Pennsylvania. There we found the second of two gravestones that were long thought to be missing. We also reminisced about the value of picnics in the cemetery and recounted our yearly cleanup of the family plot.
Hagenbaughs (who are Hagenbuchs) were featured in a number of articles. It all began with the acquisition of a photograph depicting LAPD officer, William Raymond Hagenbaugh, alongside a hospitalized robber. We published the photograph on the site, which led Carol Pilch of California to contact us. She is descended from this family group. Subsequent articles investigated William Allen Hagenbaugh's journey to California, where he established his homestead, and paintings done by his son, William L. Hagenbaugh.
Culture has always been an important part of the site, and this past year included a look at Pennsylvania Deitsch architecture, a book on the folk tradition of powwowing, and how to make homemade ginger beer. Additional thoughts were provided on the topic of trees and how cows have been part of the Hagenbuch family. Also, a series of two articles examined Christmas ornaments and holiday programs staged by children.
Cousins cropped up in a number of articles. One about kissin' cousins looked at family members that married. Another told the story of finding a seventh cousin living nearby, and still another highlighted the discovery of a first cousin just around the corner. A two-part series discussed Hagenbuch siblings and cousins who served in the Civil War.
Several articles about the Charming Nancy brought us closer to understanding the people who sailed with Andreas Hagenbuch to America, as well as its captain, Charles Stedman. A five-part series chronicled the 1905 journey of J. C. Hagenbuch and his uncle, Jack Hagenbuch, down the Klamath River in search of gold. This also led to the discovery of the tragic death of Flora Hagenbuch, Jack's wife, and a branch of the family living in British Columbia, Canada.
Death is just a necessary part of genealogy, and there were other morbid tales told during the year. One article recounted the untimely passing of Hiram Hagenbuch and his son, Henry Bruce, in 1897 of typhoid fever. This was followed by a piece describing some of the happier memories from Hiram's family which were all but forgotten. We were even lucky enough gain access to the home that Hiram built in Milton, PA and share photographs from it.
We enjoyed looking through old family photographs too, like those of Ellen Hagenbuch and two images of Hannah (McWilliams) Davis. Other articles were inspired by specific objects from the Hagenbuch Archives. These included R. D. Hagenbuch's dueling frogs trade card, a glass medicine bottle dug from an old privy, a trade card marked with the name of Charles C. Hagenbuch, and a postcard addressed to Salome Hagenbuch. The diaries of Irene (Faus) Hagenbuch and the scrapbook of Kathryn (Hagenbuch) Roat were featured as well.
Searching through historic newspaper archives uncovered the story of Isaac Hagenbuch's parents "dying of grief" in 1869 because of his imprisonment in Eastern State Penitentiary. We also found a clipping about Christian Hagenbuch's lost cask of goods, a printed image of the Cross Keys Hotel, and mention of Henry Hagenbuch's role in financing the first bridge across the Lehigh River.
However, it was researching our relatives which we often found the most fulfilling. For example, we examined the life of Catherine (Messersmith) Lindner, explored what is known of Peter Hagenbuch and his adopted children, and reconnected the lost family line of William Cephis Hagenbuch.
As we look ahead, my father and I have many more stories about the Hagenbuch family, history, and culture to share with you. We also anxiously await next year's Hagenbuch Reunion on June 20, 2020 and hope that you will be able to join us. Finally, if you would like to have your family's history and genealogy featured, please contact us using Facebook or our email Contact Us form, and make sure to have images, names, and dates ready to share.
Thank you for your continued support!
-Andrew M. Hagenbuch & Mark O. Hagenbuch