Seventh Cousins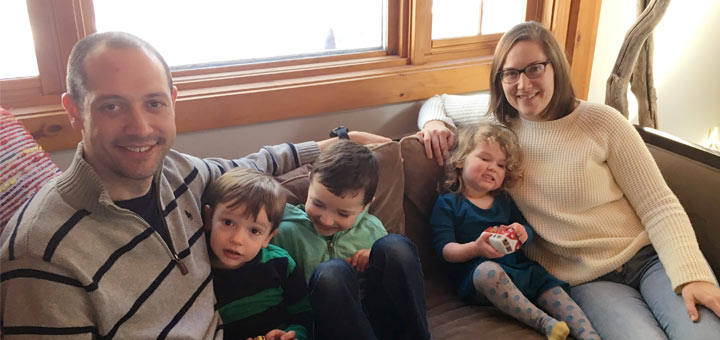 In late December 2017, Linda and I drove to Freeport, Maine to visit with our daughter, Katie (Hagenbuch) Emig, her husband Nelson, and our granddaughter Hadley. North of there—in Bath, Maine—live Jim and Sally (Hagenbuch) DeMartini. Sally's Hagenbuch family was featured in the February 2017 article, Howard and Lucile Hagenbuch Family of Aurora, Ohio.
Before visiting our Maine family, we contacted Sally and Jim. We scheduled a lunch date to meet at a pizza/sub place just outside Freeport. We had not met with Jim and Sally since the 50th Hagenbuch Reunion held in June of 1990 at the Montour Preserve near Washingtonville, PA. Jim and Sally's sons, Peter and Michael, were with them at the reunion, along with several of Sally's siblings, their families, and her parents, Howard and Lucile.
We arrived at about noon at the restaurant: Linda, Katie, Nelson, and me. Our granddaughter Hadley, was across the street at the day care that she attends. Jim and Sally soon showed up and we began a wonderful cousin reunion. We talked about all of us being distant cousins, about the genealogical work I was doing, and Sally told us that their son Peter lived on the other side of Freeport with wife Kelly and their sons Jackson and Logan. None of us had realized that.
At this point, Katie mentioned that Hadley was across the street at the day care that we could see through the restaurant window. Sally and Jim got this incredulous look on their face and told us that their grandsons, Jackson and Logan, were at the same day care. It was then that Katie remembered hearing the name Logan as one of the children at the day care. But, she had no idea that Logan's father was her cousin. Now it was time to figure out how Jackson and Logan were related to Hadley.
Sally's family line is: Andreas (b. 1715) > John (b. 1763) > Michael (b. 1799) > Charles (b. 1844) > Lloyd (b. 1870) > Howard (b. 1919) > Sally (Hagenbuch) DeMartini > Peter DeMartini > Jackson and Logan.
Katie's family line is: Andreas (b. 1715) > Michael (b. 1746) > Henry (b. 1772) > William (b. 1808) > Hiram (b. 1847) > Clarence (b. 1889) > Homer (b. 1916) > Mark (b. 1953) > Katie (Hagenbuch) Emig > Hadley and Ada.
Matching up the generations in both family lines, Michael (b. 1746) and John (b. 1763) were brothers. This makes Henry (b. 1772) and Michael (b. 1799) first cousins which makes myself and Peter DeMartini 6th cousins. Peter and Katie are 6th cousins once removed. Katie is a 7th cousin to Jackson and Logan, making Hadley and Ada 7th cousins once removed to Jackson and Logan. I hope you are following this!
Two weeks ago we traveled to Maine to visit Katie, Nelson, Hadley and Ada, who was born in April of 2018. Sally and Jim were traveling in another state at that time, but Peter and his family were able to come to our daughter's home for a morning visit. We had a great time connecting. The four children had a fun time playing. Peter has read articles on Hagenbuch.org but had never seen Beechroots. I showed him how our Hagenbuch lines converge, our common ancestor going all the way back to the patriarch, Andreas. It was a genealogical treasure to follow the family lines and realize the 6th and 7th cousin relationships.
Think of it! Two hundred and eighty years after Andreas Hagenbuch lands in America, the descendants from two of his sons are living in the same Maine locale. Their children are playing with each other unaware of their cousinship. The discovery of that family relationship is enough to make this genealogist's work very worthwhile!