Howard and Lucile Hagenbuch Family of Aurora, Ohio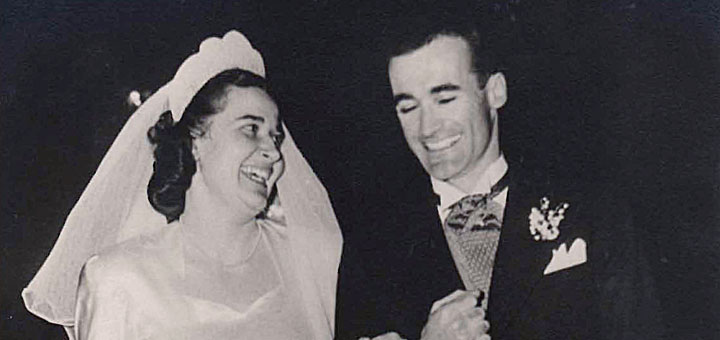 In the summer of 1980, wife Linda, my nephew Tommy Huffman, and my niece Melanie Huffman traveled south from Pennsylvania to visit with my brother David Hagenbuch and his family in Georgia before we headed south to Disney World in Florida.
Tommy decided to stay with his Uncle David to live and work in Georgia for the summer. The rest of us went west to New Orleans, north to Kansas City, Missouri to visit with my brother Bob and his family, east to Illinois to visit with the Charles and Ethel Hagenbuch family, continued on to Indiana where we visited with Don and Inez Hagenbuch, and finally east through Ohio where we visited with the Howard and Lucile Hagenbuch family of Aurora. This was the first time we had met the Hagenbuchs of Illinois, Indiana, and Ohio.  We enjoyed all the visits with these Hagenbuchs, especially with Howard and Lucile.
Howard passed away in 2006. He is a descendant of our immigrant forefather, Andreas Hagenbuch (b. 1711 d. 1785) through Andreas's youngest son, John (b. 1763, d. 1846). John and his wife Maria Magdalene "Dreisbach" Hagenbuch had eight sons. Their son Michael was born in 1799 and died in 1852. He was married to Mary "Hess" Hagenbuch, and they are buried at Hidlay Lutheran Church in Columbia County, PA. Michael and Mary had two daughters and three sons. Their son, Charles Wesley Hagenbuch was born in 1844 and died in 1881. He was married in 1868 to Sarah K. Seybert. Charles and Sarah are buried at Pine Grove Cemetery in Berwick, PA. They had four children.
Their youngest child, Frank Wesley Hagenbuch was born in 1880 and married Ethel Mae Faust. Frank and Ethel's son, Frank Faust Hagenbuch was born in Berwick in 1914 and married Florence Campbell in 1945. Frank and Florence's son, Frank Edmund Hagenbuch, was born in 1952 and is a reader of the Hagenbuch articles.
The other three children of Charles and Sarah "Seybert" Hagenbuch are: Henrietta (b. unknown, d. 1974), Lloyd Gilroy (b. 1870, d. 1947), and Josiah (b. 1876, d. 1968). Lloyd Gilroy was first married to Sarah Hughes in 1893. They had two daughters: Elizabeth (b. 1895, m. George Spencer) and Florence (b. 1900,  d. 1912).
Lloyd Gilroy Hagenbuch and Sarah "Hughes" Hagenbuch divorced in 1911. Lloyd remarried Marie Cody on June 15, 1911. Lloyd and Marie are buried at Ferncliff Cemetery, Hartsdale, NY. They had two sons: Lloyd Gilroy, Jr. (b. 1912, d. 1939, m. Helen Ward with no children) and Howard Vincent (b. July 1, 1919 at Worcester, MA, d. Oct. 5, 2006). On May 24, 1947, Howard married Elizabeth Lucile Carroll (b. March 17, 1922, d. Aug. 11, 2007). Howard and Lucile are buried at Aurora Cemetery in Aurora, OH.
Howard was a professional accountant and financial executive for Eaton Corporation. Lucile worked in advertising in New York City before her marriage to Howard in 1947. Afterwards, she began a career as mother, homemaker, and a "community volunteer extraordinaire." Howard and Lucile were involved in their church in Aurora, Our Lady of Perpetual Help, and in community affairs such as the library board and community theater.
Howard and Lucile raised 9 children in the towns of Larchmont, NY; Jenkintown, PA; and Aurora, OH.
1. Lucy Carroll was born in 1948 and married Forrest Simm in 1973. Forrest passed away in 2004. They have two sons: Stephen Simm (b. 1985, m. Gina Gati) and Andrew Simm (b. 1987). Lucy is a retired school psychologist and resides in Cleveland Heights, OH.
2. Sarah Marie ("Sally") was born in 1949 and married James DeMartini in 1976. They have two sons: Peter DeMartini (b. 1981, m.  Kelly Smith with children Jackson and Logan) and Michael DeMartini (b. 1984, m. Tiffany Yep). Sally is a retired attorney and lives in Bath, Maine.
3. Mary Elizabeth was born in 1951 and married in 1987 to Douglas Johnson. Mary is a retired school teacher and resides in Twinsburg, OH.
4. Patricia Ann was born in 1952 and was married to Bruce Thomas. Their children are: Robin (b. 1979, m. 2002 to Matt Fenton with a son, Ryan), Aaron (b. 1980), Mandy (b. 1984), and Kimberly (b. 1988, m. 2012 to Adam Cooney with a son, Liam). Patricia lives in Downingtown, PA and is an administrative professional.
5. Margaret Cody ("Meg") was born in 1955 and married Edward Smith in 1982. They have three sons: Sean (b. 1986), Cody (b. 1989), and Jeremy (b. 1993). Meg lives in Ardmore, PA and works in the oil business as an accountant.
6. Lloyd William Hagenbuch was born in 1957 and in 2009 he married Ann-Marie Zeoli. From a previous marriage to Cindy Kelleher, Lloyd has two sons: Matthew (b. 1989, m. Lauren Bregar) and Alex (b. 1995). Lloyd is a banker and resides in Aurora, OH.
7. Elizabeth Lucile ("Liz") was born in 1959 and married Paul O'Neil in 1983. They have four children: Katherine (b. 1986, m. Emily Patrick with a daughter Riley), Daniel (b. 1988), Colleen (b. 1989), and Mary Elizabeth (b. 1992). Liz is a homemaker and community volunteer and lives in Chagrin Falls, OH.
8. Katherine Virginia ("Katie") was born in 1960 and married John Monroe in 1985. They have four children: Derek (b. 1986, m. Dianna Grant with a daughter Amelia), Josh (b. 1988, m. Emily Mastella), Drew (b. 1989), and Alison (b. 1992). Katie is a school teacher and swim coach and lives in Aurora, OH.
9. Carolyn Jean ("Lyn") was born in 1964 and in 1998 married Greg Best. They have two sons: Jonathan (b. 2001) and Zachary (b. 2007). Lyn is a nurse and resides in Aurora, OH.
Many thanks to Liz, Sally, and Lloyd for providing the information on their extensive family. As we acquaint ourselves with this Hagenbuch clan, we make connections and find that in our travels around the country we have probably driven through the towns where Howard and Lucile's children and their families reside.
Most of us reading these articles are descendants of Andreas Hagenbuch. Let's connect with our cousins to make genealogy a thing of the present and future, not just the past.