Picnics in the Cemetery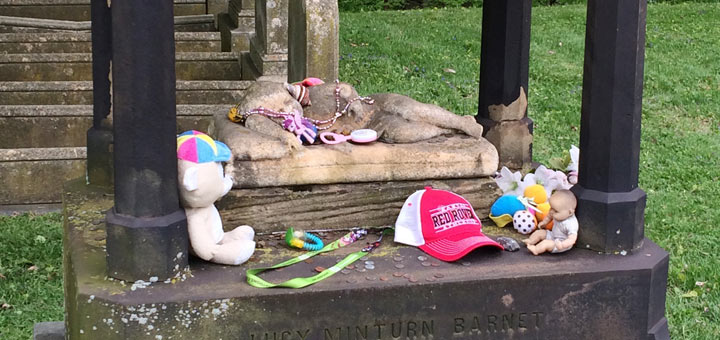 Cemeteries are spooky places, right? After all, during Halloween, people set up plastic gravestones in their front yards to scare the trick-or-treaters.
Shortly after arriving in California in 2008, the friend I was staying with suggested that I might enjoy a picnic lunch in Mountain View Cemetery in Oakland. "The view is great!" he said.
"That's creepy," I thought, and decided not to follow his advice.
Yet, a few months later when my future wife, Sara, visited California, we decided to walk through the cemetery. Sure enough, the view from it—which overlooked the San Francisco Bay—was beautiful.
Mountain View Cemetery is full of history too. It was designed by Frederick Law Olmsted, architect of New York City's Central Park. No Hagenbuchs are buried there, but one can find the graves of several historic figures including Charles Crocker, a financier of the Transcontinental Railroad.
Most cemeteries don't have grand views, impressive mausoleums, or famous people buried there. However, that doesn't make them any less important or beautiful.
The stones in a graveyard can be quite interesting to examine. During the 19th century, those with means often had ornate monuments placed upon their graves. Modern stones frequently have interesting images or quotations engraved into them too.
All cemeteries have stories to tell. Along with the history of the cemetery itself, each person buried within its gates lived a life. Increasingly, their names and histories can be found on sites such as Findagrave.com.
For example, while researching the family of Joseph Hagenbuch (b. 1795, d. 1853) in Easton, Pennsylvania, I noticed an unusual tomb, that of Lucy Minturn Barnet who died at age one. No relation to the Hagenbuch family, her unique monument includes a concrete canopy and a sculpture of a sleeping child. Children's toys adorn her grave, having been left there by visitors.
When traveling, cemeteries can be worthwhile stops. Along with finding the tombs of lost Hagenbuch relatives, I have located the final resting places of notable people too, such as Carl Sagan in Ithaca, New York; Mark Twain in Elmira, New York; and Robert Frost in Bennington, Vermont.
Graveyards can also be full of excitement. My father, Mark Hagenbuch, and I certainly look forward to our visits to the family plot at the Hagenbuch homestead. Each time we go, we discuss the stones and who may or may not be buried there. We clean up the area and poke around to see if any more stones need uncovered.
Yes, they can be spooky to some. But to many others, cemeteries are places full of natural beauty, history, and personal stories.
You might be wondering if I ever ended up having that picnic in Mountain View Cemetery. Indeed, Sara and I returned to the cemetery many times over the years and once brought a picnic lunch, which we enjoyed amongst the graves. It's a scene that we've repeated in a number of different cemeteries since then. While I found this a bit odd at first, I now see our graveyard picnics as a way to remember and spend time with the departed.
As we approach All Hallows' Eve, consider visiting a cemetery and paying your respects to those who are no longer with us. You might even pack a lunch.