The John "Bert" Hagenbuch Family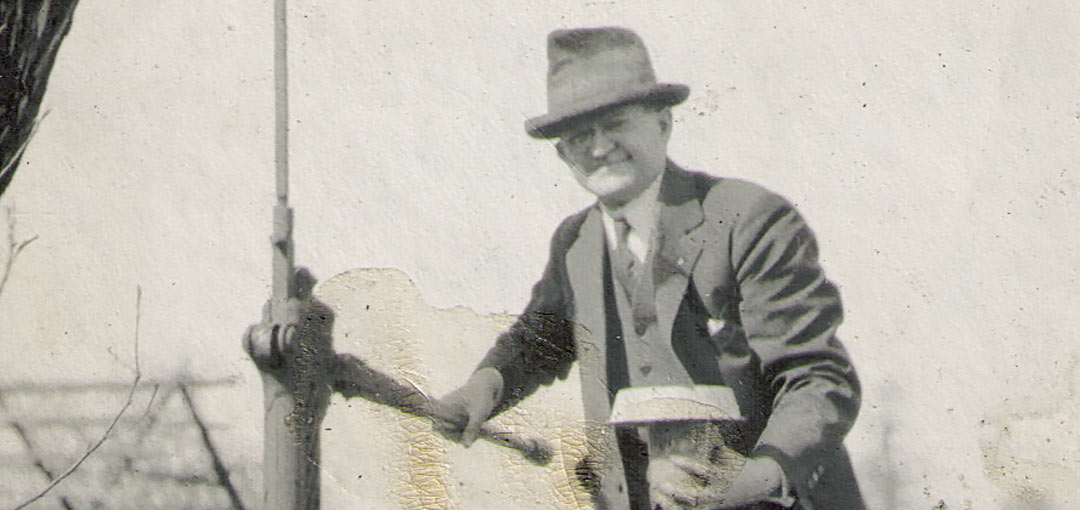 Genealogy is a busy business! Andrew and I get caught up in so many aspects: research, writing articles, scanning photos, tracing family lines, updating family trees, and talking with each other about families and interesting details. Sometimes family lines are put on a waiting list to work on when time allows. Such is the case with the John "Bert" Hagenbuch family, many of whom are located near me in the Carlisle, PA area.
Although not an excuse, I have left this family sit at the side for several years because I always knew they were just down the road. People would call me and ask if I knew about them and they would come up in conversations I had with Andrew. But, we remained out of contact until recently.
In the 1980s, I first spoke with Rev. Alan Hagenbuch, a Presbyterian minister. I met with him at his church in Duncannon, PA. At that time, I wasn't exactly sure of his lineage, so he put me in contact with his mother, Louise (Jeffers) Hagenbuch. When our family moved to the Dillsburg area in 1989, I met with Louise and compiled much of this family's information from that visit. That was also about the time I stopped working on genealogy altogether. It wasn't until Andrew got me "back in the saddle" five years ago, that I realized I needed to reconnect with this neighboring Hagenbuch family.
A few weeks ago, we received a message from Megan Kretzing, the daughter-in-law of Jean (Hagenbuch) Kretzing who lives in Carlisle. Jean's mother was Louise (Jeffers) Hagenbuch, who I met back in 1989. It seems that Jean was clearing out some papers when she came across some issues of the Beech Grove that I had published many years ago. She decided to contact me and called the Chamber of Commerce in Selinsgrove, PA where I once lived. They had her contact a lady in Danville, Pennsylvania since many of us Hagenbuchs once lived in that area. While the Danville lady knew of our family, she did not know me. It was then that Megan Kretzing Googled "Hagenbuch," found Hagenbuch.org and contacted us.
I decided I was long overdue in visiting Jean. After having a wonderful phone conversation, I drove the few miles to Carlisle and met with her. To my great delight, she had also invited her brother, Paul, and his wife, Kimberly, to stop over and discuss the family. It was not only an informative visit, but also a family bonding time—as if we had known each other all our lives. Jean and Paul are my sixth cousins, and maybe there is something to the idea that blood is thicker than water!
Jean, Paul, and Kimberly were extremely interested in our family history and the work that Andrew and I have accomplished over the past five years. With the help of some photos that Jean shared and the numerous questions discussed, we were able to add new information to their family line. A previous article about this family was written by Andrew in October of 2018.
To review, their family line is: Andreas (b. 1715) > Christian (b. 1747) > John (b. 1785) > Robert (b. 1808) > Charles (b. 1835) > John "Bert" Bertram (b. 1871). Dr. John "Bert" Hagenbuch married Maude I. Shipman. He attended the Pennsylvania Medical College of Philadelphia and was a druggist in Mahanoy City, Pennsylvania following in the footsteps of his father, Charles. John died in 1936 and Maude died in 1958. They are buried in the German Protestant Cemetery in Mahanoy City.
The couple had one son John Bertram Hagenbuch, Jr. who was born in 1900 in Philadelphia and died in 1981. John was called Jack. Jack was a veterinarian and worked at the Walker-Gordon Lab in New Jersey and had a private practice in Princeton. In 1930 he married Louise Jeffers, who I spoke to in 1989. They had 5 children: John Bertram III (b. 1932, died in infancy), Alan J. (b. 1933, d. 2000),  Jean H. (b. 1936), William S. (b. 1939, d. 1999), and Paul N. (b. 1948).
Alan was married three times, died in 2000, and is buried in Enterprise, Alabama. With his first wife, Virginia (Quinn) Hagenbuch, Alan had three children: Deborah, Alan, Jr., and John.
Jean was born in 1936 and married Harold Kretzing in 1958. Harold was a medical doctor and died this year in 2019. Harold was a charitable man and was interested in furthering medical science. Upon his death, he donated his body for research, and eventually he will be cremated and buried at the Meeting House Cemetery outside Carlisle, PA. Harold and Jean have six children: Carol, George, Dale, John, Craig, and Steven.
William "Butch" was born in 1939 and married Dorothy Batz in 1958. He was a forester, raising Christmas trees in Kingsley, Pennsylvania. In 1999, Butch was chain sawing some wood on the property when he had a heart attack and died on the spot. He was cremated, and his ashes were scattered near where he died. A beautiful monument marks that spot. Butch and Dorothy have three children: Donna, William, and Robert.
Paul was born in 1948 and married Kimberly Wickard in 1975. Paul was a carpenter and owned his own landscape business. He and Kimberly live just outside Carlisle. Paul and Kimberly have three sons: Joseph, Benjamin, and Mark.
The descendants of John "Bert" Hagenbuch are numerous. We are pleased to add their information to Beechroots and forge a bond with these cousins. Jean, Paul, and others of this Hagenbuch clan are already making plans to attend the June 2020 reunion to be held at St. John's Church near Dewart, Pennsylvania.