Thoughts on Michael Hagenbuch's Estate Inventory: Part 1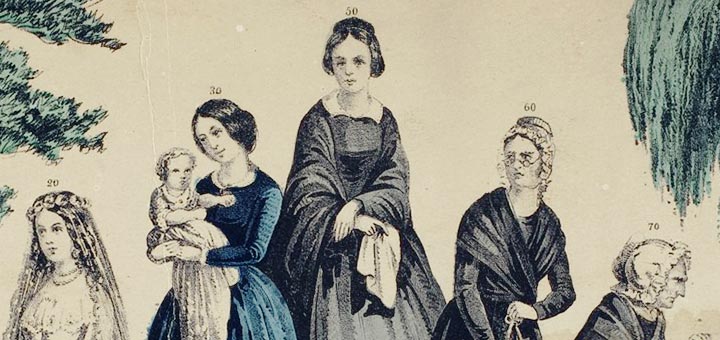 On a cold February day in 1856, three men arrived at the Hagenbuch homestead in Albany Township, Berks County, Pennsylvania. Their names were Ben Lenhart, Jesse Zahner, and Adam Henry, and they had been appointed by a local judge to go through the entire estate and appraise its contents.
A few months earlier, Michael Hagenbuch (b. 1805, d. 1855) had died at the age of 49. The minister at the funeral noted the cause of death as "wasting," which could have resulted from any number of diseases including cancer or tuberculosis.
Michael was the last family owner of the Hagenbuch homestead, and his estate inventory tells us a great deal about how the family was living in the mid-1800s, just before the beginning of the American Civil War. This two part article will examine some of the items in the inventory and explore what can be learned from them.
Estate Value
The appraisers determined the total value of Michael Hagenbuch's estate inventory to be $1959.80. A few months later, another $369.68 was added to this to account for additional income derived from farm products being sold. As a result, the total value of the estate (not including any land) was determined to be $2329.48. When adjusted for inflation, this is around $66,000 today.
Compared to previous generations of Hagenbuchs, Michael's estate inventory was higher than his father Jacob's (b. 1777, d. 1842) at $46,000 and his grandfather Michael's (b. 1746, d. 1809) at $60,000. In fact, it was second only to his great grandfather Andreas's (b. 1711, d. 1785) which weighed in at nearly $200,000.
What this reveals is that the homestead, as managed by Michael Hagenbuch, was likely in one of its most economically fruitful periods since being established by Andreas in 1741. Knowing that Michael had recently built a new stone house, summer kitchen, and barn shows the family was financially secure and planning for a prosperous future.
That said, it is worth asking why Andreas's homestead inventory had so much more value than the subsequent generations, especially when the his estate held significantly fewer goods. Indeed, much of his inventory was comprised of the basic household items used by an older man and his wife. All of his land and much of his farm inventory had been deeded to his sons Michael and Christian several years earlier.
So what was it that made Andreas so wealthy? Investments. Much of his wealth was tied up in bonds lent to family and neighbors. Interest on these was noted too, showing that he did profit from some, if not all, of these loans. Andreas appears to have been a shrewd businessman, and as he grew older he shifted away from the life of laborer to one of a financier.
It was a skill that was most notably inherited by his son, Henry, who established the profitable Cross Keys Tavern in Allentown, Pennsylvania. His son Michael, though, remained at the homestead and focused on the agricultural industry there. Michael's son Jacob and grandson Michael would follow similar career paths.
It should be noted that land was a valuable asset not counted in Michael Hagenbuch's inventory. When sold at auction, his real estate holdings brought in an additional $7460.86 or about $213,000 today. Together with the inventory, Michael's full estate totaled $279,000. Had he lived another 20 years, he may have accumulated enough wealth to rival even that of his great grandfather Andreas.
Widow's Rights
When Michael Hagenbuch died, his wife Abigail "Abia" (Stapleton) Hagenbuch (b. 1811, d. 1883) had good reason to be worried. Besides having seven children who were minors (at that time, this was anyone under the age of 21), she was afforded few property rights by the law. In other words, though she had been married to Michael, she had little claim on the Hagenbuch homestead, its land, or its contents.
However, by the mid-1800s, attitudes towards women's rights were beginning to change in the United States. This fact can be seen within the inventory document. Unlike previous inventories, Michael's is split into two parts. The first is full of items relating to the industry of the homestead, while the second contains many household items.
It is the latter part which deserves particular attention, as it is prefaced with the following text:
… [R]etained by Abia Hagenbuch, widow, of the said deceased for the use of the said widow etc according to an act of Assembly passed the 14th day of April A.D. 1851 …
Thanks to a Pennsylvania state law passed only a few years prior, Abigail was now entitled to receive a portion of her late husband's estate. This amount was capped at $300, and not surprisingly, when the items retained by Abigail are totaled their value is around $300 (about $8600 today).
As mentioned, many of the items kept by Abigail are related to the home. These include chairs, cookware, a Bible, and cloth. There are also several farm items necessary for maintaining a livelihood such as garden tools, corn, pigs, and cows. Though a small step forward, the document demonstrates progress in providing for the rightful heirs to a deceased loved one's estate.
The next part in this series will continue to examine the contents of Michael Hagenbuch's inventory document and explore the life of the last family owner of the homestead.