The Beech Grove: September 1982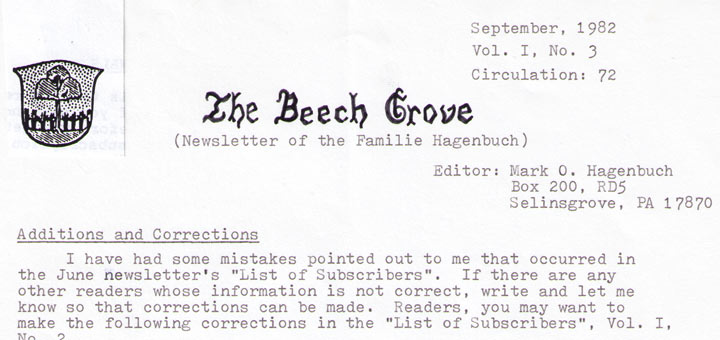 In a December 2014 article, The Beech Grove newsletter was described. The newsletter was my first effort to communicate with the hundreds, even thousands, of descendants of Andreas Hagenbuch. Over the years that it was published, its look and articles changed. However, there were certain articles that reoccurred in each quarterly publication. Here is a look at the articles and some of the information that appeared in the September 1982 newsletter almost 35 years ago.
The September 1982 The Beech Grove was Volume 1 Number 3, had 16 pages, and a circulation of 72 subscribers. Most of the newsletters started out with an "additions and corrections" section. After reading a newsletter some folks would write or call me to add more information concerning an article I had written. For example, in Volume 1 Number 2, I had misspelled some subscribers' names and so in Number 3, I wrote of those corrections.
Every newsletter usually featured an article entitled "Editor's Notes." In Number 3, I listed a breakdown of where subscribers were located. For example: Arizona – 2, California – 3, Illinois – 4, Pennsylvania – 34, Virginia – 3, Belgium – 1, and England – 1. Of course, Pennsylvania had the largest number due to my immediate family having the most subscribers.
Also, in the Number 3 "Notes," I wrote about Ethel Bibby whom I was visiting in a local nursing home. Ethel had a large number of family photos in which people were not identified. When I visited her we spent time cataloging the names of her relatives. She would also tell me stories about the people in the photos, all of which were noted. In addition to the Ethel Bibby visit, I wrote about a visit to the family graveyard in Berks County accompanied by my father, my brother David, and his wife Niki. We had gone to the Kutztown Folk Festival in July and stopped at the graveyard on the way home.
Finally in this section, I asked people to send me all the family information they could so that I could record it in my genealogical books. I ended this section with:
I hope that all readers will continue to send me information about families, not only for my records but also for the newsletter. Your contributions are needed to keep our family history growing and interesting.
Thirty-five years later this is still important. Andrew and I need family information not only to update the written records that are very out of date, but also to have more "grist for the mill" (information for future hagenbuch.org articles).
A very important section of the Volume 1 Number 3 was "Beech Grove T-Shirts." The emblem of the town of Hagenbuch was printed on t-shirts of various colors. A description of the shirt and sizes available with an order form was included in this newsletter. I don't know the exact number sold, but I would guess between 50 and 75. I know that some of these shirts are still in existence.
One of the reoccurring articles was "People in the News." As subscribers would send me information, I would include it in the newsletters. For example:
August 4, 1982. A daughter was born to Mr. and Mrs. Robert Berns of RD2, Danville, PA. Mrs. Berns is the former Kathy Ann Hagenbuch. Kathy's father is Stanley Hagenbuch and a descendant of Henry Hagenbuch, born 1772.
Or this one:
Shirley Hagenbuch of Bethel, Minnesota sent some interesting information. The president of the St. Bernard (dog) Club of Switzerland is Mr. B. Hagenbuch, 8911 Oberlunkhofen, Switzerland. If any of you have a St. Bernard, I'm sure you may be interested in writing to Mr. B. Hagenbuch.
Deaths were often reported in the "People in the News" section.
Paul F. Hagenbuch of RD1, Watsontown, PA died July 7, 1982. He was present at the Hagenbuch Reunion held on June 20th. Below is his obituary which gives his family information. Accompanying it is a photo taken in 1942. I have no recent photo of Paul. Along with other activities, Paul engaged in the art of water divining. His interesting business card is also included below. Paul was a descendant of Henry Hagenbuch born 1772.
Crosswords and word finds were often included in The Beech Grove. These were created using an early computer program and the puzzle would be hand drawn. The clues were all geared to our family history.
Another feature was the "Interesting Photo." There has always been a huge collection of photos in the "Hagenbuch Archives." The Volume 1 Number 3 edition featured a photo of brothers Franklin Walter and Clarence Charles Hagenbuch taken about 1900. This was before the time of scanners so if a subscriber wanted me to feature a family photo they needed to mail it to me through the post.
Another regular feature was a list of new subscribers with their addresses and the Hagenbuch ancestor they descended from. Seventeen new subscribers were listed in Number 3 including one from Henry b. 1772, two from Jacob b. 1777, three from Benjamin b. 1818, five from John b. 1785, and two from Jacob b. 1765.
Most of the The Beech Groves had a feature article, strictly historical and sometimes not having anything specifically to do with the family, but providing interesting information about geography or culture. Number 3 had a two page article entitled: Pennsylvania Indians: Part 1 – The Tribes. I don't think there was ever a Part 2. But, this article, accompanied by a map and referencing two books: the first written by Lucille Wallower, the second by Arthur Graeff, described the American Indians living in Pennsylvania during the time of Andreas Hagenbuch's settlement years.
One of the best features of this newsletter of 35 years ago is a description of Hagenbuch family recipes. Three subscribers sent recipes which I included in the newsletter. The most detailed recipe and the family story behind it came from Frances Engelsen from Centre County, PA, a descendant of Michael Hagenbuch b. 1746. Her recipe was "Schnitz und Knepp" which in Pennsylvania Deitsch translates to "apples and dumplings" cooked with ham. Some of Frances's story reads:
To make really good Schnitz und Knepp, one must have dried sweet apples. Our farm had a bountiful orchard with all imaginable varieties of apples. In the summer my mother dried, in our Dutch oven outdoors, both sweet and sour slices of apples (now known in stores as evaporated). The sweet schnitz were just for Schnitz und Knepp and the sour ones for Schnitz Pie, so good in April and May when our fresh apples would be exhausted.
In most newsletters I would conclude with some comical story, witty saying, or cartoon. The September 1982 newsletter concluded with the following "Genealogist's Disease." Notice there are no references to computer technology in genealogical research.
Genealogy Pox! Symptoms: Continual complaint as to need for names, dates, and places. Patient has a blank expression, sometimes deaf to spouse and children. Has no taste for work of any kind, except feverishly looking through records at libraries and courthouses. Has compulsion to write letters. Swears at the mailman when he doesn't leave mail. Frequents strange places such as cemeteries, ruins, and remote desolate country areas. Makes secret night calls, hides phone bills from spouse and mumbles to self. NO KNOWN CURE.

Treatment: Medication is useless. Disease is not fatal but gets progressively worse. Patient should attend genealogy workshops, subscribe to genealogical magazines, and be given a quiet corner in the house where he or she can be alone.

Remarks: The unusual nature of this disease is – the sicker the patient gets, the more he or she enjoys it!