Andrew Pierce Hagenbuch: Farmer, Milkman, Carpenter & Builder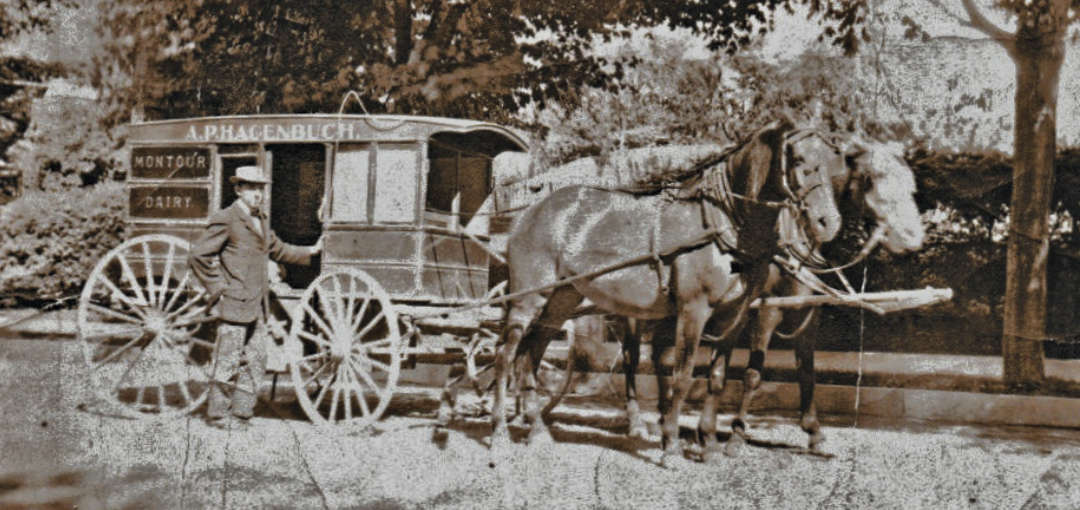 Every branch on our Hagenbuch family tree has a story, and one of the goals of this site is to share as many of these stories as possible. Several weeks ago, I heard from Norma Kay Hurter. Norma was looking for some information about the Hagenbuch homestead. We struck up a conversation through email, and I soon learned that Norma's mother, Lillian Annabelle Hagenbuch (b. 1913), was the daughter of Andrew Pierce Hagenbuch (b. 1881).
Andrew Pierce was previously mentioned in the article, Kissin' Cousins. His line is unique, as his parents were both Hagenbuchs by name—3rd cousins. His paternal line is: Andreas (b. 1715) > Michael (b. 1746) > Andrew (b. 1785) > Henry W. (b. 1812) > Andrew Creveling (b. 1837) > Andrew Pierce (b. 1881); and his maternal line is: Andreas (b. 1715) > John (b. 1763) > Jacob (b. 1792) > Jeremiah (b. 1814) > Margaret Alice (b. 1843) > Andrew Pierce (b. 1881).
I asked Norma about her grandfather, Andrew Pierce (who most knew as "Pierce"), and wanted to know if she had any pictures or information about him. What she returned with was a wonderful written history including over 20 photographs.
---
Grampa Hagenbuch: Farmer, Milkman, Carpenter, and Builder
By Granddaughter Norma Kay Hurter
---
My grandfather, Andrew Pierce Hagenbuch was born September 25, 1881 in the rural country of Columbia County, Pennsylvania (near Espy), on farmland owned by my great grandfather, Andrew Creveling Hagenbuch (b. 1837) and Margaret Alice Hagenbuch (b. 1843). Here is where A. Pierce had his first experience with farming, alongside his father and older brothers. The following two photos I believe are the Andrew C. Hagenbuch Farm.
By 1910, Pierce (Andrew Pierce Hagenbuch) was married to Mary Ethel Kirkendall (b. 1884, d. 1968), a school teacher, and the couple had three of their six children.
He was farming on rented land in Centre, not too far from Hidlay Church. It appears on the 1910 U.S. Census that he had a young lad of 16 living with them and helping out on the farm. An additional three children were born by 1917. He was still farming this land, which included some farm animals, in 1920 according to that year's census. Here are some old photos to help tell the story.
Sometime in this period of time, he distributed milk for Montour Dairy. He also built his first home in Centre, Columbia County, PA.
Below are some portraits of Pierce and Mary Hagenbuch's children taken in the 1920s. The final one is a family photo, taken in the 1930s.
In the 1940s, the family moved to Pottstown, Montgomery County, Pennsylvania. This is a photo of the first home Pierce purchased in Pottstown. He and his wife, along with their two daughters and their families lived there for a short period of time. He built the attached home in the rear, which years later my sister and her family purchased.
During the 1940s, he also purchased enough land in Pottstown to build four other homes, plus a small cottage on the back of the property (no photo exists of this).
Pierce built a stone front home for himself and his wife. The brick Cape Cod style house to the left of his home he sold, and the white frame double house he sold to two families, one of which was to his daughter, Kathryn, and her family. Later Kathryn and family moved into a brick Cape Cod style home farther up on the hill which my grandfather built. My mother, Lillian, bought one of the halves of the double home that he built, on the side next to his house. My mother, sister, brother, and I moved into this home after my father, Norman C. Penman, passed away in 1950.
Pierce continued building homes in Pottstown and Clearwater, Florida. They traveled down there during the winter months. He did this well into his 70s.
His son, William "Bill" A. Hagenbuch, (b. 1917, d. 1999) learned this trade from his father and became a very good carpenter. He renovated homes in the Pottstown area and also in Clearwater, Florida. At times, he assisted and worked with his father, as well as independently on many projects. William also assisted in the building homes in Levittown, New Jersey. He made many doors.
Above are two portraits, one of A. Pierce Hagenbuch in the 1950s and also a portrait of him and his wife, Mary E. (Kirkendall) Hagenbuch. The final photo is the Hagenbuch family, celebrating our grandparents 50th Wedding Anniversary in 1955 at the Transfiguration Lutheran Church in Pottstown, Pennsylvania.
---
Norma's story about her grandfather, Andrew Pierce Hagenbuch, mentions a number of familiar names and places. For instance, many Hagenbuchs farmed in Columbia County, PA, and Hidlay Church Cemetery is full of family names. Yet, Norma's recollections also highlight how each branch on our family tree is distinct and worthy of remembering.
Many thanks to Norma Kay Hurter for sharing the above history of her Hagenbuch family. My father, Mark, and I hope that more relatives will contact us to do the same, so we can continue to explore their unique stories.