William S. Hagenbuch Family: Part 2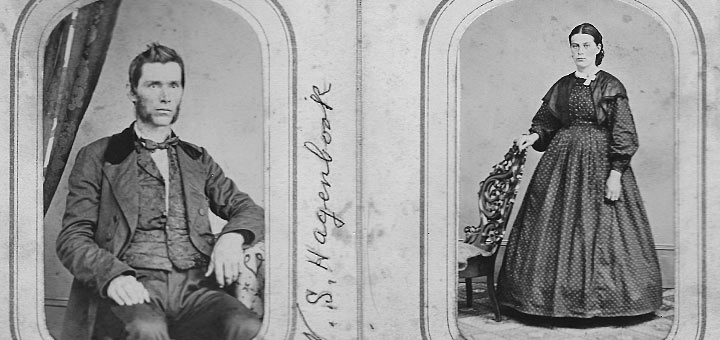 This article was written by guest author William L. Mangold, the great great grandson of William S. Hagenbuch.
Last year, my wife Kathleen gave me a DNA kit for my birthday. The results provided no earth-shattering family history. Relatives that had also taken the test were proven to still be relatives. However, dozens of third and fourth cousins leaped from the woodwork along with enough more distant kin to fill a large lecture hall at Notre Dame.
Unfortunately, the vast number of my DNA matches did not include any genealogical data so seeing how and to whom we were related was impossible. Those that did provide their family information and who were fairly closely related I attempted to contact thinking that, just maybe, there were some genealogical crumbs that they would be willing to share.
Yes, there were crumbs but, in one case, I found a whole cake. We shared a paternal great-grandfather and, after three or four exchanges of information, she wrote that she had some photographs of people named Hagenbook. Would they have been related to my Hagenbuchs? My research had revealed that the Hagenbuchs changed the spelling almost as soon as they left Pennsylvania. And the daughter of my 2X-great grandfather had married into my new friend's family line. I tried to keep my hopes from soaring.
She took photographs of the two carte de visites (CdVs) and emailed them to me.
I was shocked to be looking at images of my great great grandparents, William S. and Lucy Ann (Knepper) Hagenbuch/Hagenbook. The photographs had been taken in Reading, PA and some detective work established a date of about 1865.
When I responded with my profound gratitude for sharing them, she further surprised me by saying that I should have them. A few weeks later, a small package arrived. She had sent me the entire album.
The album was typical for CdVs of the mid-nineteenth century and locked with a metal hasp. It was in very good condition and included 23 images (21 of the 1860s and 2 of the 1870s). Twenty-two were CdVs and one was a tin-type. Five of the photographs were bordered with fine, black, lace-like material, probably indicating that they were deceased. On the page labeled Index was written "Amanda Jackson was a Hagenbook". On the back of some of the photographs were the imprints of the photographers. Two cities were identified—Reading and Hamburg. A third photographer was noted as being a "traveling photographer."
Unfortunately, other than William S. and Lucy, no one was identified. However, I had seen two of the images online before. They were of Amos Hagenbuch (b.1808, d. 1868) and his wife Sarah Anna Bailey/Bohly. Amos's photograph was one of those framed in black, indicating that the album was assembled after his death in 1868.
Just recently, I heard from her again. She had found some additional photographs and asked if I had any Inmans in my lines. While I did not in my direct line, Amanda's sister, Maria Ann (aka Mary, b. 1862), had married Eli W. "Bill" Inman on 9 Feb 1881.
Maria/Mary and Eli "Bill" had four sons: Francis Marion (b. 5 May 1876. d. 21 Jul 1945 ); Charles William Ada (b. 6 Jan 1883, d. 12 Apr 1962); John (b. 15 Feb 1885, d. 22 Mar 1905); and Jesse Frederick "Fred" (b. 21 Apr 1893. d. 26 Jan 1968).
My friend sent three additional photographs in one message and eight photographs and documents in a second. Of particular interest were these two.
These two images were taken in Reading, PA in 1865 matching the estimated date for the photographs of William S. and Lucy. The infant appears to be wearing a christening gown. They fit chronologically with Amanda Jane (b. 1864) and Maria Ann (b. 1862), the daughters of William S. and Lucy.
Additional information has also been uncovered for the family:
William S. died on 24 Feb 1907 in Towner Co., North Dakota, and Lucy (Knepper) Hagenbuch/Hagenbook died 5 Apr. 1906 in Towner Co., North Dakota. Both are buried in the Rolla Cemetery.
Mahlon Thomas Hagenbook (son of William S. and Lucy) died in December 1935 in Rohlin, Manitoba, Canada, and is buried in the local cemetery. He had moved to Canada, crossing the border on 30 May 1919.
Maria Ann (Mary) Hagenbook (daughter of William S. and Lucy, b. 21 Apr 1862, d. unknown ) married Eli William "Bill" Inman (b. 16 Jan 1851, d. 3 Mar 1906) on 9 Feb 1881. They had four sons: Francis (b. 1877, d. unknown); Charles William Ada (b. 1882, d. 12 Apr 1962); John H. (b. Feb 1885, d. 22 Mar 1905), and Jesse Frederick (b. 21 Apr 1893, d. 27 Jan 1968). Ralph Hill married again in June 1920. As this was his fourth marriage, one might surmise that he and Maria/Mary had divorced.