Letters From Nana, Part 1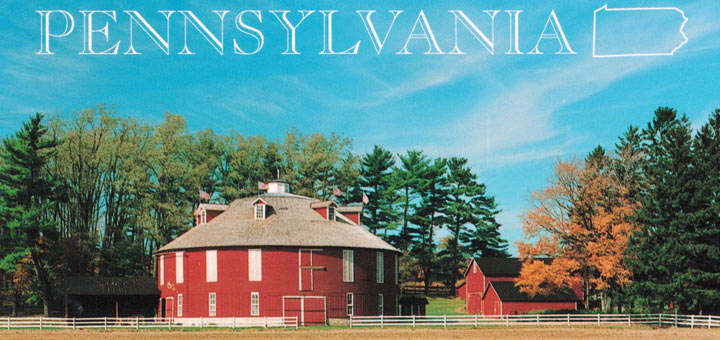 A few months ago while rummaging through a box of old papers, I found a number of letters and postcards sent to me from my grandmother, Irene (Faus) Hagenbuch. "Nana," as she was known to her grandchildren, was born March 15, 1920 and died August 07, 2011.
The first is a letter dated August 23, 1999. It reads:
Dear Andrew,

Just a note to let you know we are thinking of you. We are glad you are getting to go to college and will be learning to do the things you like best.

I forgot to ask how far your (dorm or room) is from your classes. When you get any free time, just drop a picture postcard from the college or a few extra minutes call and reverse it. Don't feel you have to.

We love you,
Pop & Nana

Thanks again for the video. Love it.
Reading this now, I must confess that I did not immediately send a postcard or respond with a phone call. I was a freshmen in my first week at Ithaca College and talking to Nana was not at the top of my list. In contrast, writing to me was at the top of hers.
The video she refers to was one I had created of a family celebration for her and Pop's 60th wedding anniversary in 1999. Irene Mae Faus and Homer Sechler Hagenbuch (b. 1916, d. 2012) were married on March 22, 1939.
Though I didn't reply, Nana wrote me again the following week:
8/30/99
Dear Andrew,

The temp. this a.m. was 48°. How about up there?

I guess we will have U. David take our A.C. out. They will be here Sun. & Mon. We have apples to pick. They are too high for Pop. We have a ladder & a long pole with a picker on the end

How do you like college? Or is it too early to tell? How is the food?

Pop mowed today. 2nd or 3rd time since June. We had three rains.

We love you,
Pop and Nana
Nana and Pop always had housework to do, and from the sound of it, Uncle Dave and Aunt Niki were coming to help them. The summer of 1999 must have been quite dry, as Pop had only mowed two or three times between June and August!
Two weeks later another postcard arrived. The front of it depicted a beautiful autumn scene from Buttonwood, Pennsylvania:
9/15/99
Hello Andrew,

We finally got rain. Too much. The rush in the yard came thru the basement windows and broke them. 4″ in there.

I am making applesauce. 2 trees had a good lot. One tree uprooted in the storm.

Hope college is going O.K.

Love,
Pop and Nana

Thanks for writing.
One of things I enjoy about reading through these letters is the emphasis they place on what would have once seemed humdrum occurrences to me. Along with making applesauce, Nana always kept busy with crafts, like knitting afghans, or fixing family favorites, such as grape-nut ice cream.
I also enjoyed this particular postcard because she thanked me for writing to her—something I don't remember doing!
A month later, Nana wrote again:
10/9/99
Hello Andrew,

Are the leaves turning colors in N.Y.? They are very pretty along 147 this week.

The chestnuts are falling in the backyard & I see the squirrels gathering them & digging holes to bury for winter. Julie and Rachel picked them up & bagged them for Ft. Freeland (28th) & sold them.

I hope we will see you when you are home. We had 30° this a.m.
Nana and Pop had chestnut trees. According to her postcard, my sister, Julie Hagenbuch, and my cousin, Rachel Hagenbuch, collected some of these. They then bagged the chestnuts for sale at the Fort Freeland Heritage Days festival near Turbotville, Pennsylvania.
The next postcard from Nana arrived a month later in November:
Rain today.

11/3/99
Hello Andrew,

We have been thinking of you. Did you receive the box of cookies O.K.? We thought UPS would get them to you before the mail. Hope you are O.K. We are doing better.

Our Love.
Pop & Nana
When I was in college, Nana's care packages filled with cookies were always appreciated. I cannot remember what types of cookies she sent, though they were probably peanut butter or molasses.
In early December of 1999 Nana sent another postcard:
Hello Andrew,

Did you ever see this barn? Pop and I see it when we go to U. David's.

We will soon see you. Your parents asked us for Christmas.

Do you know Robert and Kelly have a son? Hollis Jeffrey.

Love,
Pop and Nana
Here, Nana describes the birth of a new great grandchild, Hollis, to my cousin Robert Hagenbuch and his wife, Kelly. She also wanted to know if I had ever visited the Neff Round Barn in Centre Hall, Pennsylvania, which was on the front of the postcard.
To some, saving old letters and postcards might seem quaint or nostalgic. However, after reading through these, I can honestly say that I am glad I didn't throw them away.
For one thing, I didn't remember Nana to be such a dedicated writer—especially to me. Her correspondence, though full of the mundane, documents past events and reveals key aspects of her life and personality. Most of all, Nana's writing demonstrates her love of family, something that I couldn't fully appreciate in 1999 as a college freshman.
Future articles will continue to share letters and postcards from Nana.