Inventory of Michael Hagenbuch's Estate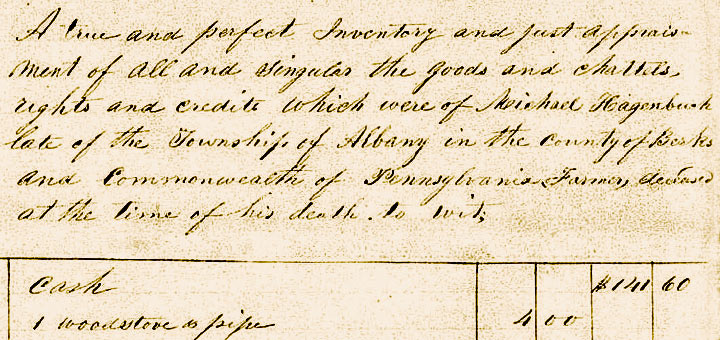 Michael Hagenbuch (b. 1805, d. 1855) was the last family owner of the Hagenbuch homestead in Albany Township, Berks County, Pennsylvania. He had acquired the property from his father, Jacob Hagenbuch (b. 1777, d. 1842), who had received it from his father Michael Hagenbuch (b. 1746, d. 1809), who had inherited it from his father, Andreas Hagenbuch (b. 1711, d. 1785).
Michael died without a will, requiring a judge to order that the estate be inventoried. This list provides a final look at how the Hagenbuchs lived at the homestead just before the Civil War. Future articles will examine and analyze the contents of the inventory document in detail.
---
A true and perfect Inventory and just appraisement of all and singular the goods and chattels, rights and credits which were of Michael Hagenbuch late of the Township of Albany in the County of Berks and Commonwealth of Pennsylvania, Farmer, deceased, at the time of his death to wit:
| Item | $ |
| --- | --- |
| cash | 141.60 |
| 1 woodstove and pipe | 4.00 |
| 2 tables and 2 chairs, 2 baskets | 1.37 1/2 |
| 2 iron kettles and 2 fireholds | 3.00 |
| rye meal | 4.00 |
| 1 lot apple butter | 5.00 |
| 1 brass kettle | .50 |
| 1 lot dry apples | 2.50 |
| 1 shell mill, earthen pots | .40 |
| 2 boxes and earthen pots | 1.00 |
| 1 feet chest and chop | 2.50 |
| 1 meat tub and cupboard | 1.00 |
| 1 lot pickled meat | 110.00 |
| 1 table, 1 sack salt | 2.25 |
| 1 lot barrels and kegs | 2.00 |
| 1 bucking tub, etc | 1.50 |
| 1 lot tallow | 1.50 |
| 1 lot tubs and barrels | 1.50 |
| 2 tubs lard | 6.00 |
| 1 shaving bench, etc | 1.00 |
| 1 lot tubs and buckets | .75 |
| 1 lot sausages | 7.00 |
| 1 lot iron kettles | .75 |
| 1 copper gallon measure | .75 |
| 1 wash sink bucket, etc | .80 |
| 2 shovels, crowbar, and hoes | 2.50 |
| 2 axes and sledges | 2.50 |
| 1 grindstone | .50 |
| 1 corn sheller | 4.00 |
| 1 stove and pipe | 4.00 |
| saws and turning bench | 2.50 |
| splitting tools and 1 gun | 2.25 |
| 1 lot saddler tools | 1.00 |
| 1 lot cooper tools | 8.00 |
| 1 post auger | 1.00 |
| 3 baskets, 1 table, etc | 2.50 |
| 1 gun | 3.00 |
| 1 lead collar chair and 1 rocking chair | 2.75 |
| 1 brass clock, etc | 1.50 |
| 1 lot queens ware and honey | 1.50 |
| 1 looking glass, forks, and knives | 1.50 |
| 1 spittoon and bench | .37 1/2 |
| 1 lot books | 1.00 |
| 1 stand | .75 |
| 1 melodeon | 3.00 |
| 1 looking glass and bandboxes | .50 |
| 1 bag clover seed | 15.00 |
| 3 razors, keg flax seed | 1.15 |
| 3 beds and steads | 18.00 |
| 1 table and chair | 1.50 |
| 3 bedsteads, 1 chest | 2.50 |
| 1 chest and 2 cradles | 5.00 |
| 3 grass scythes | 2.00 |
|  1 lot bottles and pictures | 1.50 |
| 6 chairs and 1 table | 5.00 |
| 2 bread pans and queens ware | 1.00 |
| 1 lot queens ware and dinner bell | 1.75 |
| 1 lot empty bags | .75 |
| 1 cupboard, etc | 1.25 |
| 1 lot set hoops and scythes | 3.00 |
| 1 lot hogsheads, etc | 3.00 |
| 1 lot still kettle and fixture | 8.00 |
| 1 lot still hogsheads | 10.00 |
| 1 lot casting and boards | 1.20 |
| 1 lot old iron funnels | 2.50 |
| 4 plows | 10.00 |
| 4 harrows | 8.00 |
| 1 apple mill and fixture | 5.00 |
| 1 lot blanks and boards | 4.00 |
| 293 bushels corn | 146.50 |
| 1 lot maple planks | 1.50 |
| 1 lot potatoes | 40.00 |
| 1 hay stack | 20.00 |
| 1 lot boards | 1.00 |
| 1 lot hay | 16.00 |
| 1 white cow | 20.00 |
| 1 brown cow | 18.00 |
| 1 brown cow with white face | 16.00 |
| 1 spotted cow | 15.00 |
| 1 black cow | 13.00 |
| 1 bull | 15.00 |
| 9 sheep | 18.00 |
| 7 still hogsheads | 1.00 |
| 13 cow chains | 2.00 |
| 1 ladder and wheelbarrow | 3.00 |
| 2 sledges and box | 4.00 |
| 1 harrow, etc | 4.00 |
| 2 pair hay ladders | .95 |
| 1 wagon | 15.00 |
| 1 wagon | 20.00 |
| 1 wagon with body, etc | 55.00 |
| 1 lot harness | 5.00 |
| 1 strap bells | 1.00 |
| 1 smoke pipe and buck skin | .50 |
| 1 sleigh | 5.00 |
| 1 lot log chains | 8.00 |
| 1 cart whip, bridle, etc | 2.00 |
| 4 hogs | 20.00 |
| 2 hogs | 8.00 |
| 1 spade and 1 log sled | 1.00 |
| 80 bushels oats | 28.00 |
| 13 bushels wheat | 22.75 |
| 153 bushels rye | 153.00 |
| 7 bushels screening rye | 3.85 |
| 1 lot screening and sieves | 1.15 |
| 1 lot rakes, flails, and forks | 1.50 |
| 2 grain shovels | 1.00 |
| 1 fen mill | 11.00 |
| 1 threshing machine and horse power | 4.00 |
| 1 lot hay in the barn | 34.00 |
| 1 lot straw in the barn | 60.00 |
| 1 lot straw in the barn | 1.50 |
| 1 lot straw in the stable | 50.00 |
| 1 cutting box | 4.00 |
| 1 hogshead and chop | 1.00 |
| 1 iron grey mare | 100.00 |
| 1 grey colt | 75.00 |
| 1 black mare | 110.00 |
| 1 bay mare | 95.00 |
| 7 bushels corn | 3.50 |
| 1 bay mare | 115.00 |
| 5 halters and chains | 2.00 |
| 2 tin syringes, etc | .25 |
| 1 lot window curtains, etc | .80 |
| 1 set harness | 8.00 |
| 1 farm book | .12 1/2 |
| 1 lot barrels | 1.00 |
| book account | 72.52 1/2 |
Taken and appraised by us the second day of February A.D. 1856.
Ben Lenhart
Jesse Zahner
Adam Henry
---
A true and perfect Inventory and just appraisement of which forms a part of the Personal Estate of Michael Hagenbuch of late of the Township of Albany in the County of Berks and State of Pennsylvania, Farmer deceased, and retained by Abia Hagenbuch, widow, of the said deceased for the use of the said widow etc according to an act of Assembly passed the 14th day of April A.D. 1851, as follows to wit:
| Item | $ |
| --- | --- |
| 1 bed and stead | 12.00 |
| 1 glass cupboard and contents | 8.00 |
| 1, 4 pieces carpet 17 yards | 3.40 |
| 2 baskets and 1 blow horn | .50 |
| 1 cradle and bedding | .10 |
| 1 bed and stead | 10.00 |
| 1 bureau and contents | 7.00 |
| 1 piece brown linsey | 1.50 |
| 6 yellow and 1 large rocking chair | 7.50 |
| 1 table and oil cloth | 5.00 |
| 1 stove and pipe | 9.00 |
| 1 lot knives and forks | 1.50 |
| 3 pieces carpet and spitting box | 4.50 |
| 1 Bible and other books | 3.00 |
| 1 bed and stead, 1 woolen coverlet | 12.00 |
| 1 chest and linen cloth | 8.00 |
| 1 chest and woolen coverlets | 8.00 |
| 3 pieces flannel and spooned wool | 3.00 |
| 1 children's bed | 2.00 |
| 1 bed and stead | 9.00 |
| 1 kitchen stove and pipe | 5.00 |
| 1 table and tinware etc | 2.00 |
| 1 copper tea kettle, 1 boiler, 1 coffee mill | 2.00 |
| 1 coffee burner | .25 |
| 1 brass clock | 2.00 |
| 4 chairs and 1 rocking chair | 1.25 |
| 1 wash sink, tin dish, and dipper | 1.25 |
|  1 bench and sewing basket | .25 |
| 1 wood chest | .50 |
| 1 dough trough | .75 |
| 10 bake baskets | .75 |
| 1 sausage machine | 3.00 |
| six bags and soap | 1.25 |
| 15 pots apple butter, the choice | 3.00 |
| 1 bag dry peaches, white wash brush | 1.00 |
| 3 cherry dryers | .30 |
| 1 iron kettle and watering pot | 2.50 |
| 5 iron pots and frying pans, 1 bellows | 2.75 |
| 2 fireholds, fire tongs, and shovel | 1.25 |
| 15 patty pans, 5 plates, 1 jug | 1.00 |
| 2 kegs and 2 pots with soap grease | 1.00 |
| 1 wash machine and table | .50 |
| 1 tin and 1 wooden bucket | .75 |
| 3 empty bags | .50 |
| 3 cakes tallow | 1.25 |
| 1 tub lard | 6.00 |
| 2 copper kettles | 8.00 |
| 1 soap tub and 1 lard squeezer | 1.00 |
| 1 cedar tub, 2 barrels | 1.50 |
| 5 cedar tubs | 2.00 |
| 1 butter churn, 7 tubs | 1.50 |
| 3 wooden buckets | 1.50 |
| 1 pair stilyards | 1.00 |
| 1 basket with meat hooks | .15 |
| 2 shoves, 1 garden and 1 grubbing hoe, 3 axes | 1.50 |
| 1 barrel vinegar and half bushel measure | 1.00 |
| 1 lot flax | .12 |
| 1 black cow with bell | 20.00 |
| 1 spotted cow | 15.00 |
| 1 heifer | 14.00 |
| 2 cow chains | .50 |
| 2 sows | 24.00 |
| 3 shoats | 15.00 |
| 2 shoats | 8.00 |
| 1 fire tong and 1 iron | .75 |
| 1 silver watch | 3.00 |
| 1 telescope, 2 pocket books, 1 knife | .75 |
| 1 box, 1 bag, feathers, flax, 2 [illegible], 2 [illegible] | 3.68 |
| 40 bushels corn | 20.00 |
Taken and appraised by use the 2nd day of February A.D. 1856.
Ben Lenhart
Jesse Zahner
Adam Henry