Tax Collector, Andreas Hagenbuch, Appointed By Abraham Lincoln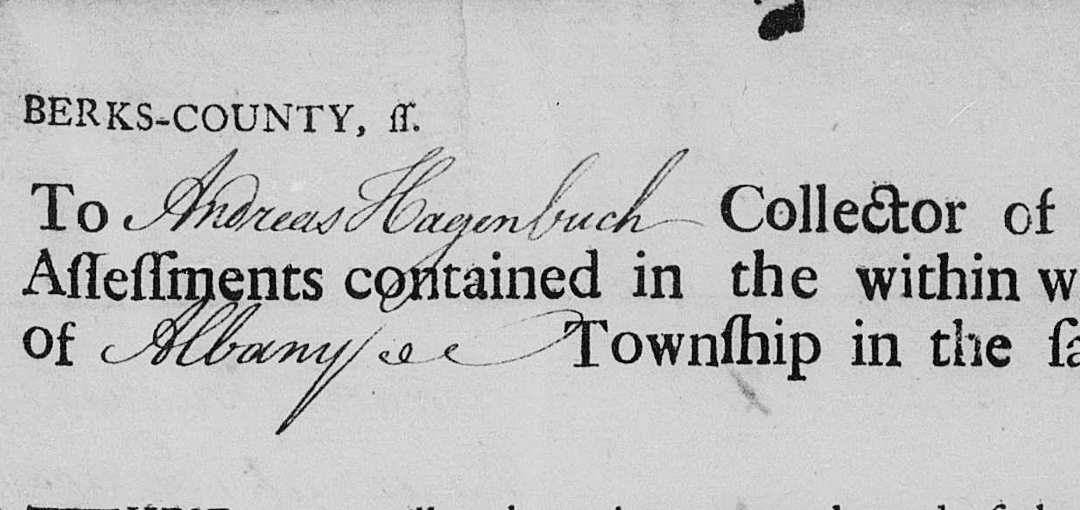 If you are reading the title of this article and feeling a bit confused—good! That means you have realized Andreas Hagenbuch (b. 1715, d. 1785) could never have known, let alone been appointed as tax collector by President Abraham Lincoln (b. 1809, d. 1865). But, make no mistake, the title of this article is accurate.
I had initially planned to write this week about the economics of the Hagenbuch Homestead, detailing how our earliest ancestors made a living in 18th-century colonial America. I still plan to write a series on the topic. Nevertheless, while digging through early Pennsylvania tax records, I made a discovery: Andreas Hagenbuch had served as the tax collector for Albany Township, Berks County, PA in 1773. This realization hijacked the original purpose of my research and unearthed additional surprises.
By the middle of the 1700s, Pennsylvania had taken steps toward a more democratic system of government, especially when it came to the management of its counties. In the paper, "The Pennsylvania County Commission System, 1712 to 1740", historian Clair W. Keller describes how Pennsylvania evolved from a colony where county commissioners were selected by the Provincial Assembly to enforce policies and collect taxes to one where commissioners were elected representatives capable of governing and assessing taxes on the local level. Now it was up to the commissioners to choose local officials, including tax collectors for each of the townships.
In 1773 at the age of 58, Andreas Hagenbuch was appointed by the Berks County commissioners to collect the taxes levied on the citizens of Albany Township. Landholding men were taxed one shilling and six pence per pound of assessed property while men without property were to pay a flat rate of 15 shillings. According to the notice sent to Andreas and signed by three commissioners, the money was to go into a fund for the "King's use" in paying down debts. In order to fulfill his duties, Andreas would have needed to meet each man in the township, either by visiting their homes or having them stop by the Hagenbuch Homestead. He would have collected their money and, once finished, taken it to the county seat, Reading.
Andreas Hagenbuch's role as tax collector reveals several interesting details about him. First, he was well connected. To attain the position of tax collector, Andreas must have been in good standing with the commissioners of Berks County and been trusted by them to hold large sums of money. Second, he was well known to the people of Albany Township. This fact has been suspected for some time, noting the number of families who intermarried with Andreas' children and his other business dealings.
I might have ended the article here and stated that Andreas' position as a tax collector further cements his reputation as a notable person within the community. However, something at the bottom of the commissioners' notice caught my eye. It was the signature of Abraham Lincoln! How could that possibly be?
Research showed that this Abraham Lincoln (b. 1736, d. 1806) was the great great uncle of President Abraham Lincoln. To be clearer, he was the half brother of President Lincoln's great grandfather, John (b. 1716, d. 1788). Their father, Mordecai II (b. 1686, d. 1736) moved his family to Exeter Township (then part of Amity Township), Berks County, PA in 1728. There he built a home in 1733. Mordecai died in 1736 just before his youngest son, Abraham, was born. While John moved his family south to Virginia in 1765, his brother Abraham stayed in Berks County.
He would go on to hold a number of important positions. From 1772 to 1778, Abraham served as a county commissioner, signing the document that ordered Andreas Hagenbuch to collect taxes in 1773. After that, he was elected to the Pennsylvania Assembly from 1782 to 1786. In 1781, he served as a delegate to the Pennsylvania Convention for ratifying the Articles of Confederation, as well as a member of the Constitutional Convention that created the Pennsylvania Constitution between 1789 and 1790. Even before one of their own became president in 1861, the Lincolns of Berks County were making their mark in politics.

Working on an article like this one demonstrates why, after eight years, I keep writing for Hagenbuch.org. An investigation of tax records revealed new information about one of our most important ancestors, Andreas Hagenbuch, and also uncovered an interesting connection to the family of one of our greatest presidents, Abraham Lincoln. Neat.