Alphabet Soup: Abreu to Zisch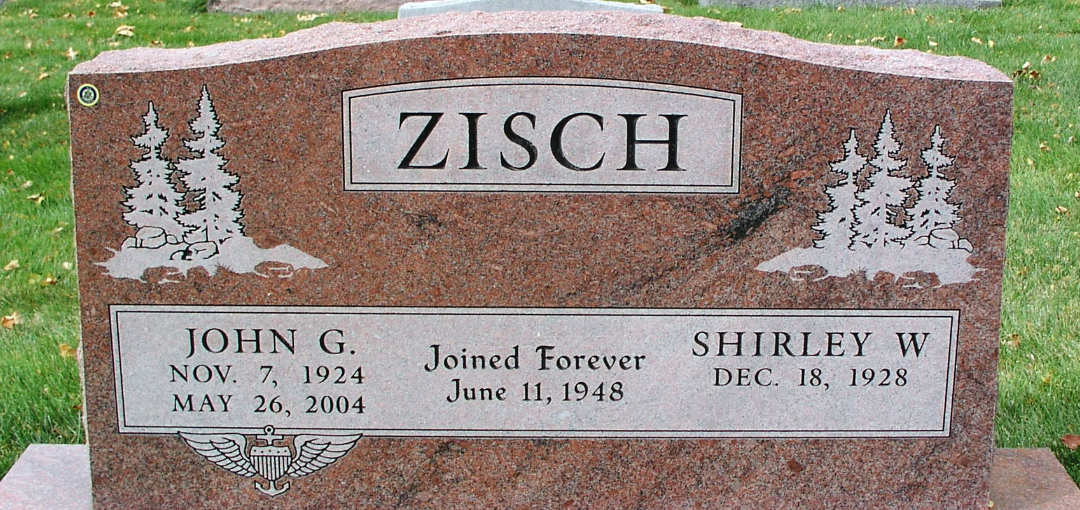 If you have been reading the articles that Andrew and I have written over the past eight years, you know that I often reference my "paper records", as I call them. I wrote about the creation of these in an article about my journey to become a genealogist in March of 2015. My paper records are the long-form genealogical records used by the Church of Latter Day Saints for family history which I have organized alphabetically. Even though Andrew and I now use Beechroots to keep records on our relatives, I still refer back to those hundreds of forms filled with thousands of bits of information.
I don't update the paper records anymore because of new technology, but they are still useful. The bulk of these are kept in binders but some of them are loose and they get quite out of order many times as I look through them for some reference I made back in the day, when it was the only way to keep all our families straight. Remember, that Andrew and I don't just research Hagenbuchs, but also all the allied families that are produced when female Hagenbuchs marry and their surname is changed to their husbands'. As a result, I have hundreds of Hagenbuchs recorded on paper with hundreds more of other surnames that married into our family.
The other day, as I was putting the loose long paper forms back in alphabetical order, I came across the final one, John Zisch. Although Andrew and I are well versed in more than our Hagenbuchs and can spout out many of their statistics by memory, with so many other surnames it makes sense that we sometimes forget how someone, especially with the last name of Zisch, is related. While I pondered this name, it came to me that I also don't know information about the very first alphabetical surname in my paper records. That surname is Abreu. Who are these people named Abreu and Zisch that are related to us?
On the very last page of my paper records there is the name of John Zisch, his wife Shirley (née Wolfe), and their five children. Shirley's father is listed as Howard Wolfe and her mother as Dorothy Hall—but with no accompanying birthdates, gravesites, etc. Howard Wolfe's father is listed as Harvey Lloyd Wolfe (b. 1869), and his mother is Minnie Kinney. Going back one more generation, this Wolfe family is well documented as Harvey's parents were Stephen Henry Wolfe and Maria Hagenbuch (b. 1830). Ahh, now I was getting somewhere! All this information was from a book I ran across back in the 1980s: The Wolfe Family History written by Rev. Carl Rutherford. But, as is seen by the information above, there are a lot of holes to be filled in with our Wolfe and Zisch connections.
Using Ancestry.com and Findagrave.com, I began to research these individuals. John Zisch was born in 1924 in Nebraska. His wife, Shirley Mae (Wolfe), was born in 1928 in Missouri. Her line from Andreas Hagenbuch is: Andreas (b. 1715) > John (b. 1763) > John Jr. (b. 1791) > Maria (b. 1830, m. Stephen Wolfe) > Harvey Lloyd Wolfe (b. 1868) > Howard Herbert Wolfe (b. 1903) > Shirley Mae Wolfe (b. 1928, m. John Zisch in 1948). The information in my paper records (from the Wolfe history book) lists John's and Shirley's children as Lynn, Jennifer, J. Howard, William, and Katy. It's reasonable that these Zisch children, all descendants of patriarch Andreas through the large Wolf/Wolfe family, are living today someplace in the United States, all with families of their own. To confirm the Zisch information in my paper records, John's 2004 obituary lists him and wife Shirley as having five children and 14 grandchildren. Shirley Mae (Wolfe) Zisch died in 2008. She and husband John are buried at Johnstown Cemetery, Elwell, Colorado.
Maria (Hagenbuch) Wolfe was the daughter of John Hagenbuch, Jr. (b. 1791) and Christina Hess (b. 1794). John's father, John, Sr. (b. 1763) was the youngest son of Andreas, the one Andrew and I call Runaway John. We have written several articles about this interesting fellow! John Sr., and his wife Maria Magdalene (née Dreisbach) had eight sons. Their son John Jr. (b. 1791) and his wife Christina Hess seems to have had only the one daughter, Maria. Maria (Hagenbuch) Wolfe (b.1830) and her husband, Stephen, had a large family—12 children all born near Mifflinville, Columbia County, PA. They are: Charles (b. 1848), John (b. 1850), Francis (b. 1851), Dorothea (b. 1853), Susan (b. 1855), Adda (b. 1857), Esther (b. 1858), Martha (b. 1860), Izora (b. 1864), William (b. 1866), Harvey (b. 1868), and Frank (b. 1871). Several of these children also had large families and populated this area of Columbia County, the girls marrying into families such as the Maustellers, Crevelings, Fetterolfs, Mausers, and Creasys. These surnames are still very familiar in Columbia County to this day.
However, our subject for this article is the descendants of Harvey Lloyd Wolfe and his wife Minnie Kinney, resulting in the Zisch line. In the 1900 census, Harvey, wife Minnie, and three of their children (Helen, Alta, and Bernard) are living in Nanticoke, Luzerne County, PA. His occupation is listed as a "Liveryman" This coincides with later censuses which list Harvey in the work of "livery" or working with horses in stables. Harvey died in 1950, and his wife Minnie in 1945. They are buried in the Hanover Cemetery, Luzerne County, PA.
The 1910 census lists the youngest child, Howard Herbert Wolfe, who was born in 1903. Howard married Dorothy Hall and in 1940 they were living in Washington D.C. with their only child, Shirley (b. 1928). Soon after, Howard, Dorothy, and Shirley moved to Kansas City, Missouri where Howard worked as an electrician. Howard died in 1952. Although the census lists his birth year as 1903, his gravesite lists it as 1902. Another conundrum is that Dorothy's stone, beside her husband's, displays her last name as Dudrow. So, between Howard's death in 1952 and Dorothy's in 1955 she must have remarried a Mr. Dudrow. The burial place for Howard Wolfe and Dorothy (Hall) Wolfe Dudrow is Valhalla Cemetery, St. Louis County, MO.
Their daughter, Shirley Mae Wolfe (b. 1928), married John Zisch in 1948. John was born in 1924 in Nebraska. He served in the Navy during World War II as an aviator and graduated from the University of Colorado Law School in 1952. At this time, nothing more is known of the Zisch family. Even so, isn't it a genealogist's dream that looking at the last page in the alphabetical listings of thousands of Andreas' descendants can yield so many updates! Of course, all this information needs to be recorded in Beechroots.
Returning to the first page in my paper records yields information about Lawrence Bernal Abreu and his wife Dorothy Louise Hagenbaugh (b. 1913). Whereas the Zisch family required a fair amount of research to update, the Abreu family is mostly finished. Dorothy Louise (Hagenbaugh) Abreu's parents are William Lewis (b. 1878) and Lillian (Norquist) Hagenbaugh. William Lewis/Louis Hagenbaugh was featured in an article from October of 2018. He is famed for the early research he did on our family. In that article only his sons, William Raymond (from his first marriage) and Robert Louis (from his second marriage to Lillian Norquist), were mentioned. William Lewis also had two daughters with Lillian Norquist: Dorothy Louise (b. 1913, m. Lawrence Abreu) and Mildred Lois (b. 1917, m. William McDade).
Dorothy Louise (Hagenbaugh) Abreu's genealogical line is: Andreas (b. 1715) > Michael (b. 1746) > Jacob (b. 1777) > Daniel (b. 1816) > William Allen Hagenbaugh (b. 1855) > William Lewis/Louis Hagenbaugh (b. 1878) >Dorothy Louise (Hagenbaugh) Abreu (b. 1913). Dorothy was born in Los Angeles, California. She married Lawrence Abreu in 1938 and they had no children. In 1940 they were living in Los Angeles and Lawrence was an administrator for the Los Angeles Power Company. Lawrence died in 1967 and is buried at Inglewood Park Cemetery in Los Angeles. Research has not yielded when Dorothy Abreu died, though it is assumed she is buried with Lawrence.
From Abreu to Zisch and thousands of names in between, the bulk of them Hagenbuchs, yet all related to Andreas Hagenbuch, his two wives, and 11 of his children. As usual, we must be proud of not only the folks that have been found to be related to us all, but also the sheer number of folks that are part of our family tree. After 55 years of research that I have done on our family and the last eight years of intense research that Andrew and I have done together, our genealogical records are the most complete, most detailed, and most interesting of nearly any family.