Ghost Stories from Childhood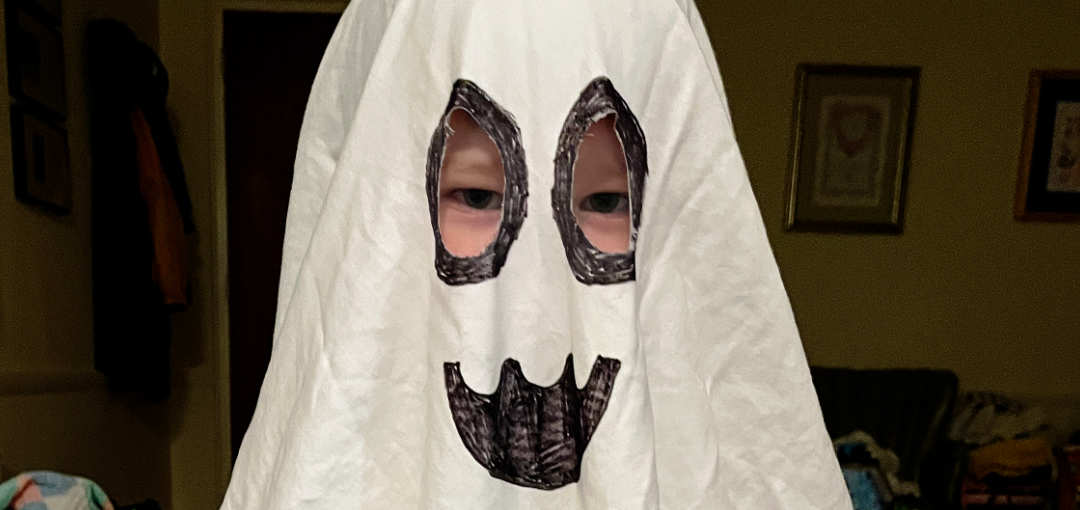 My eldest son, William, is fascinated with ghosts, and not just because of Halloween. His ghoulish obsession actually began last year when he played with some old Ghostbusters toys, and grew after his great aunt Marcia (Monti) Hagenbuch sent him a crocheted ghost as a gift, and crescendoed recently with the arrival of spooky decorations in our neighborhood. Yet, I didn't fully appreciate William's interest until my father, Mark, mentioned that when he was a child he had known a ghost named Harvey. Now I wanted to know more about childhood ghosts.
My investigation began by asking my father about Harvey. He obliged with the following response:
I truly believe that imaginary friends fill a gap when a child does not have many close relationships with children their age. My siblings were all older than me so they didn't really play with me. I played a lot of imaginary games growing up on our farm in Montour County, Pennsylvania. At that time, there was no kindergarten. Yes, my parents had many friends, and we did get together with other farm families; but I don't remember playing with my best friend at that age—Randy Durlin—until I was enrolled in school. So, I was left to my own designs.

I suspect Harvey came about because of the 1950 Jimmy Stewart film, Harvey. In the movie, there is a large white rabbit called a Puka. It is Jimmy's imaginary friend and confidant. While I didn't see the movie until I was a teenager, someone must have talked to me about it when I was 4 or 5 years old and I latched onto the concept to create my oversized, ghost friend. I also believe that the cartoons Caspar  the Friendly Ghost had something to do with Harvey's regular appearance in my imagination.

Either way, Harvey was a big ghost—a happy, tall fellow in a white sheet whom I remember talking to, even out loud. My parents never said anything about me having him, though my sister Barb remembers him. I even knew where he lived. On the way into Milton on Route 254 there was an old, dilapidated house near present day 2330 Broadway Road. Here is where I said Harvey lived. It looked like a haunted house!
In the Washington Post article "Why do so many kids 'see ghosts'?", Rosemary Counter suggests that a vivid imagination resulting from a rapidly growing brain helps to explain why children perceive ghosts more than adults. Their visions, once seen as cause for concern, are now considered a milestone in healthy development. After interviewing several psychologists, Counter argues that children commonly blur fantasy and reality through imaginary friends and ghoulish encounters—something my father experienced firsthand with Harvey.
To better understand William and his ghosts, I asked him a few questions over breakfast:
Me: Are ghosts real?
William: Yes, they're real, a little bit real.
Me: Have you ever seen a ghost?
William: Yes. A ghost baby. But it isn't out.
Me: Where do ghosts live?
William: In a haunted house.
Me: What do ghosts look like?
William: Ooooo. Boo!
Me: What color is a ghost?
William: White.
Me: Do you like ghosts?
William: Ghosts are so spooky, but they are not mean. Ghosts are very different.
His responses certainly bring a smile to my face, especially when I see the child-like wisdom of his thoughts. Compared to my father's imaginary friend, many of William's ghosts are based upon specific decorations or toys. For example, the "ghost baby" he mentions is a real item in front of a nearby house. Each October, the spooky doll is placed in a bush near the sidewalk, but at this time "isn't out" as he states.
William has also imagined a few ghosts of his own. As part of an outdoor game, he would run to a tree and ask if there was a ghost in the branches. If I replied "yes," he would hoist a stick upward and, in his own words, "help the ghost come down." Not surprisingly, William is also interested in firemen, police, doctors, and other public servants!
The final ghost story is one of my own. I remember, when I was about five years old, stepping into the room I shared with my sister, Katie, and hearing a voice call my name. I stopped dead in my tracks. "Who was that?" I wondered. It could only have been my mother, I reasoned, as my father was at work. I ran downstairs to see what she wanted.
When I walked into the kitchen, I asked my mother, Linda, why she had called my name. She said that she hadn't. But I insisted that she, or someone else, had. What happened next really stuck with me. My recollection is that she calmly suggested the unseen voice may have been God trying to speak with me—about my behavior! I was terrified.
At almost three years old, William is beginning to appreciate holidays in a way he could not when he was an infant or a toddler. Halloween is his current obsession, permitting my wife, Sara, and I to experience its traditions from a fresh perspective. Case in point, William has made his own paper ghosts to add to our usual array of decorations and, as a family, we have been listening to classic Halloween tunes, such as the 1956 song, The Rockin' Ghost. Most importantly, this marks the first year William has picked his own costume. No surprises here. William is going to be a ghost!