Mother's Day: May 10, 2020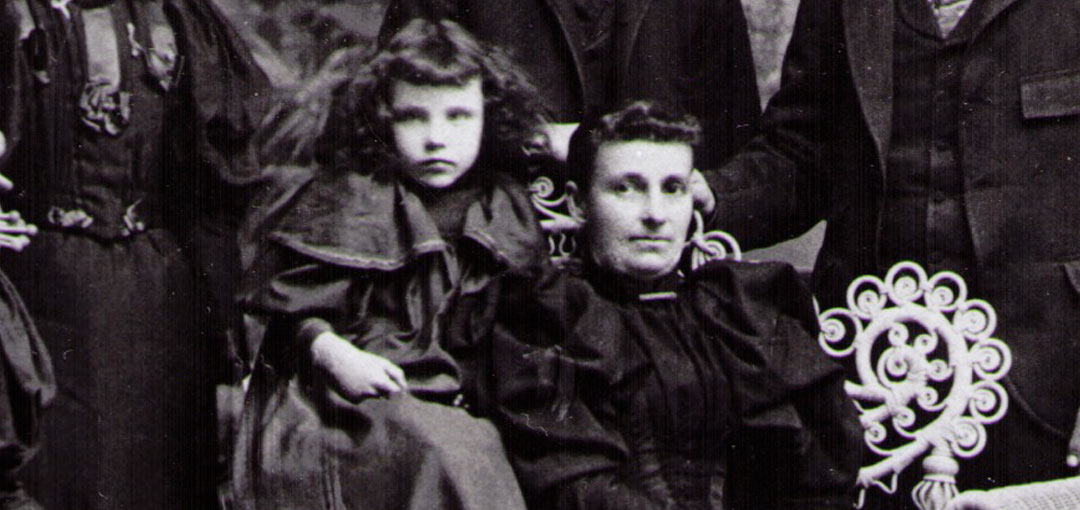 The first Mother's Day was celebrated in 1908. It was initiated by Anna Jarvis as a memorial to her mother in Grafton, West Virginia at St. Andrew's Methodist Church. A campaign was started to make it a national holiday but Congress was not keen on it stating that they would then have to proclaim a "Mother's-in-Law Day!" However by 1911 all states were observing the holiday. So, in 1914, President Woodrow Wilson signed the proclamation which designated Mother's Day as a national holiday to be held the second Sunday of May.
On Mother's Day we honor our mothers with flowers, greeting cards, special visits, and taking Mom out to eat so she doesn't have to cook! Churches, patriotic organizations, communities, and clubs hold special ceremonies to honor mothers. But, in a greater sense, the day isn't just about mothers. It's about the families that mothers have created and nurtured. Therefore, instead of posting photos of only mothers, the following includes photos from the Hagenbuch archives of mothers and their families.
Lydia Hagenbuch was born in 1851 in Columbia County, Pennsylvania. She was the daughter of Samuel and Susannah (Hess) Hagenbuch. Samuel was a great grandson of patriarch, Andreas. Lydia married William Stahl, and they had seven children. A daughter, Mary, who died as an infant is not pictured in this photo. William and Lydia lived in Columbia County all their life and farmed in the same area that her parents had. This is a wonderful eye-appealing family photo with children Susan, Anna, Elsie, Edward, Myron "Earl", and Harrison. The photo was taken about 1895 as Elsie seems to be about six years old, and she was born in 1890. Elsie unfortunately died in 1907. This family is a testament to the joys and hardships of motherhood as Lydia (Hagenbuch) Stahl grieved over the loss of an infant and also a teenaged daughter. But, she raised a family, many of whom stayed in the Columbia County area and raised families of their own. Lydia died in 1908 and William in 1915. They are both buried at Hidlay Church Cemetery near Lightstreet, Pennsylvania.
Sarah Jane Lindner was born in 1857 in Schuylkill County, Pennsylvania. She was sister to Mary Ann Lindner, who was married to Hiram Hagenbuch (b. 1847). Hiram was a great great grandson of Andreas, and a first cousin to Lydia (Hagenbuch) Stahl pictured earlier. Sarah Jane (who was always referred to as Aunt Jane by my Hagenbuch clan) was married to Franklin Pierce Coleman. Frank and Jane Coleman had three children: Elizabeth, Merrell, and Bertha. The Coleman family lived in Ashland, Pennsylvania. This is a beautiful photo taken about the year 1905. By 1905 most young girls were dressing in white, as the Victorian age of dark clothes had ended. So, it is possible this photo was taken during the time of a death in the Coleman or Lindner family. Notice that everyone is wearing wire-rimmed glasses except for Merrell. Frank Coleman died in 1913 and Sarah Jane in 1928. They are buried in Milton, Pennsylvania.
Helen Lee Lester was born in 1903 in Benton County, Indiana. She was the daughter of Charles and Rosalie (Edwards) Lester. Helen married Amos Sterling Hagenbuch in 1923, and they farmed in Benton County all their life. Amos was born in 1901 and was a great great great grandson of Andreas. Amos's great grandfather was the well known Hagenbuch genealogist, Enoch Hagenbuch, whom several articles have been written about. Amos and Helen had two children: Donald and Shirlee. Donald was also a farmer in Indiana and first met me in 1980. He and his wife Inez became "visiting cousins" with my parents, Homer and Irene Hagenbuch, during that decade. Helen died in 1955 and Amos died in 1992. They are buried in Wabash County, Indiana.
Mother's Day honors the mothers of our families—mothers who look forward to having their children and grandchildren together for meals, for celebrations, and for timeless photographs. In December of 1983, my mother, Irene (Faus) Hagenbuch, had such a photograph taken to capture a moment in time. Four mothers are present in the photo: Irene (Faus) Hagenbuch—the matriarch, Barbara (Hagenbuch) Huffman—a daughter, Marcia (Monti) Hagenbuch—a daughter-in-law, and Linda (Gutshall) Hagenbuch—another daughter-in-law and my wife. Daughter-in-law Niki (Routzong) Hagenbuch would join this Mothers' Club by adding two more grandchildren to the seven pictured at a future date. Linda would add another child to her two children already pictured, giving Irene and Homer Hagenbuch a total of 10 grandchildren. In the lower right corner is Barbara's daughter, Melanie, who now has two daughters of her own. Linda is holding our daughter, Katie, who also has two daughters—our granddaughters Hadley and Ada. Oh, and that is me in the far right holding the other half of our Hagenbuch genealogy team, Andrew!
The next photo for Mother's Day is mother, Linda Faye (Gutshall) Hagenbuch. Standing with her are myself and our three children, Katie, Julie, and Andrew on the day of Andrew's high school graduation. As I look at this photo, almost 21 years later, I don't think we have changed that much. Through our love and joys, hard work, and life's trials our family has grown to eleven, three of them being grandchildren who represent the continuation of the family.
I cannot end this Mother's Day tribute without mentioning that I had thought about titling this article "My Two Mothers." I was fortunate to not only have a wonderful birth mother, but also a mother-in-law who was very close to me. Ethel Irene (Brandt) Gutshall was married to my father-in-law, Reverend Roy A. Gutshall in 1946. Six children were born to them, one of whom was Linda Faye, my wife. I have such wonderful memories of "Mother," as I called her. I called my own mother "Mom." As with my own mother, Ethel was deeply religious, a wonderful cook and homemaker, and a loving soul. One of my favorite photos depicts my mom Irene with my mother Ethel, and in the same photo are Linda and myself.
We write a lot about the Hagenbuch patriarch, Andreas. But without his three wives: Catherina, Magdalena, and Maria Margaretha—all Hagenbuch matriarchs—our American Hagenbuch family would not exist. Blessings and honors to all the mothers: to Lydia and Aunt Jane; to Helen, Irene, and Ethel; to Barbara, Melanie, Marcia, and Niki; to my wife, Linda Faye, and my daughter, Katie; and to my daughter-in-law Sara, wife of Andrew, who is the mother of our grandson, William. Sincere and humble thanks for all the love and efforts contributed to their families.