Let's Party Like It's January 1, 1897!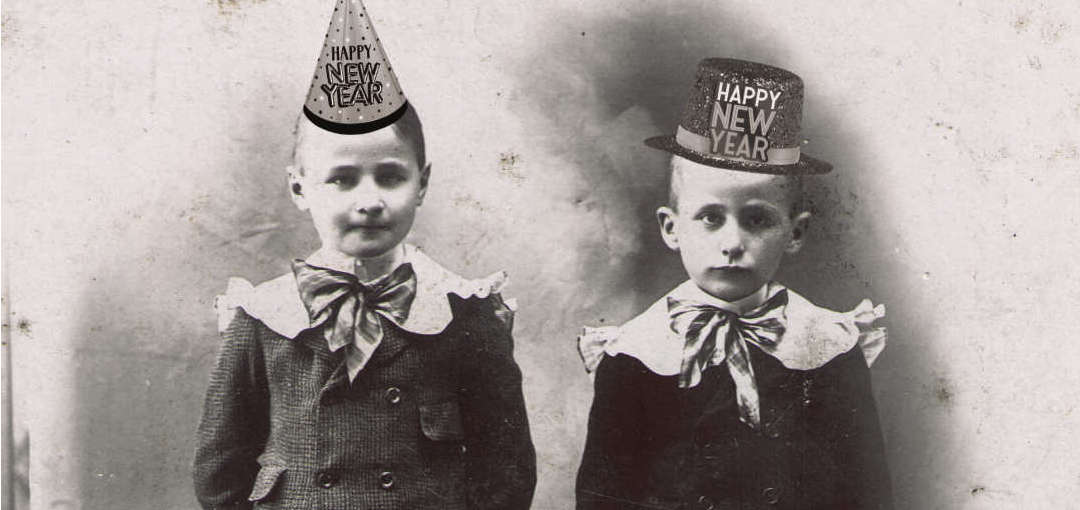 I possess this imagination that can take me back to past times and places and wonder what may have transpired. I am not a science fiction/futurist type of fellow. Since a child I have enjoyed "living" in the past. We 18th century living history enthusiasts of my age attribute this to growing up with Fess Parker portraying both Davy Crockett and Daniel Boone, watching the Disney series Johnny Tremain, and enjoying Gene Autry and Roy Rogers riding the range out West.
So, it's quite often that I can imagine our ancestors' lives, their joys and sorrows, their everyday tasks, their meals and conversations, and how they might have gotten along with each other. If you have been following Hagenbuch.org for any length of time, you will remember articles I have written that touch on the "what ifs" which bring our ancestors to life.
A few weeks ago, I was thinking about my great grandparents, Hiram (b. 1847, d. 1897) and Mary Ann (Lindner) Hagenbuch (b. 1853, d. 1916) and their life together on New Year's Day in 1897 with 10 children. (Hiram and Mary Ann actually had 12 children total, but Joseph William had died in 1880 and little Mary Ann, named for her mother, died the year before in 1896.) Since New Year's Day is approaching, I began to wonder what their celebrations on that day, if any, were like. I tried to imagine a joyful time for them as they settled into their new house just north of Milton, Pennsylvania. Did they stay up the night before—December 31, 1896—and watch fireworks being shot up over the Susquehanna River which they could see from their new house? Did Hiram and Mary Ann, and maybe oldest children Henry Bruce and Francis Eugene, have a wee shot of something after putting the other children to bed? Did they eat the traditional pork and sauerkraut on January 1, 1897? Let's look in on the family about 125 years ago!
---
January 1, 1897
---
Hiram Hagenbuch sat comfortably in the parlor wondering what the new year, 1897, would bring. The new house that he and wife Mary Ann had built was a step up for them. Before this, the house they were living in, which they could see just across the railroad tracks beside the "river road" between their new house and the Susquehanna River, had been smaller and ravaged by flood waters several times. This past year Hiram had been busy with bankers and carpenters so that they could build their dream house, three stories with many rooms, oak woodwork, a huge kitchen, hot water heat radiators, and even a tower. And, although Hiram knew it would be difficult over the coming years to pay off the mortgage of this lovely home, the family was happy. The house was filled with the laughter and growing pains of their eleven children. The eldest, Henry Bruce who was 22 years old, was a man: a serious young fellow who was sparking a few young ladies! The youngest was Luther, just a baby, born last October. Such beautiful children Hiram and Mary Ann were blessed with, even though tragedy had struck last April when their dear little Mary Ann had died.
The night before on December 31, Hiram and Mary Ann had allowed the oldest children to stay up and watch the fireworks put off over the river. They could see them plainly from the upstairs tower window as it was quite cold outside. Henry Bruce, Eugene, Kathryn, Percy, Israel, Julia, and Harry had oooed and ahhed over the colors and glistening star-like explosions reflected in the water. Young Charles and Frank protested about going to bed before the fireworks appeared, but to no avail. Of course, little Luther didn't know the difference. The firewords watchers all had a bite of cake and a drink of cider before going to bed. Now, as Hiram sat musing and warming his feet at the steam radiator, he heard Mary Ann already bustling in the kitchen. It was early, but time to rouse the older children, especially those who had stayed up late, to do chores: Kathryn and Julia would help their mother with the sumptuous noon dinner they were planning. The boys—Henry Bruce, Eugene, Percy and Israel—would head outside with father Hiram to do the barn work before having breakfast.
Because of the large meal being planned for noon, breakfast would be light on this New Year's Day, 1897. Mary Ann had decided not to fry the usual scrapple, bacon, eggs, and potatoes. There would only be leftover bread with butter, jam, and tea with milk and sugar. She had decided to put out a bit of leftover cake as a small treat; and, of course, there was always a large pot of oatmeal.
The family, with the help of some neighbors and relatives, had butchered four hogs a few weeks earlier when it had turned cold. This was the reason they had fresh scrapple, bacon, and pork. Today, there would be the special, traditional foods of a pork roast, homemade sauerkraut, potatoes, and dumplings—all the fixings that the Hagenbuchs had enjoyed for years over several generations. The guests would be welcomed into this new house: Hiram's sister, Mary (Hagenbuch) Foust; Mary's husband, Tillman; the couple's two daughters, Sarah and Lillian; and cousin Julia (Landbach) Hagenbuch whose husband Peter had died 20 years earlier. Hiram and Mary Ann owed a lot to Peter and Julia, since the farm had been passed on to Hiram after Peter's death. Julia lived across the river north of Lewisburg, so she was probably up already readying herself for the carriage ride to Milton. It would be a grand meal with 17 people around the table. Well, it would really be two tables as Mary Ann would need to put the youngest of the children around the kitchen table and baby Luther would be held by someone lucky!
After the meal and cleanup, the youngest would find a spot to play with their new Christmas toys: a jumping jack clown and a wooden elephant pull toy. The middle children could go to the tower room to read together the new books they had received: The American Boy's Handy Book and The Red Fairy. This new house had so many areas for the family to spread out. The youngest ones would not be underfoot as the grownups discussed the weather, local gossip, and last year's presidential election. Henry Bruce and Eugene would be included in this discussion. Republican William McKinley had been elected president, receiving more votes than the family's favorite, Democrat William Jennings Bryan. The Hagenbuchs and Fousts were very upset about this result and could not understand why people would not have voted for Bryan, who was a brilliant orator and supporter of farmers.
Yes, it would be a red letter day as the calendar showed—a New Year's Day that would, hopefully, be repeated over and over in years to come, even as the young ones grew and had families of their own. At times, while Hiram bounced little Luther on his knee, he actually thought ahead to when he might have grandchildren to do the same. But, there was a lot of work to be done before that time. Henry Bruce and Eugene were of marriageable age and Kathryn would also have some interested beaus in the near future. Also, the younger boys needed a lot of discipline! But, God was good and had given the family a new home and a future of a growing family to look forward to.

---
Of course, much of this story is imaginative on my part. My closest family members may wonder who the child named Charles is. We must remember that my grandfather was christened as Charles Clarence Hagenbuch, born in June of 1889. He changed his name when he got older to Clarence Charles. His parents, Hiram and Mary Ann, would have called him Charles. And, Harry, who I knew as my great Uncle Harry, had been christened Hiram, junior. All of the people featured in this story have had articles written about them on Hagenbuch.org.
We don't know if the family had the traditional Pennsylvania Dutch foods that day in their new house, but it is likely. Also, we don't know if they would have invited the Foust family on this day. However, it makes sense that they visited often because they lived just a few blocks away in the main part of Milton and since the Foust children and Hiram's children had a good relationship in later years. Likewise, we don't know if Julia (Landbach) Hagenbuch, wife of deceased cousin Peter, would have been in the house at that time. But, we do know that she was present for Hiram's birthday party in September of 1894.
The children certainly would have had toys to play with and books to read on January 1, 1897, all Christmas presents they had received. The new house on the hill was less than a year old. Andrew, his wife Sara, my cousin Leon, my wife Linda, and I have been in it, and it is spacious and still beautiful to this day; although it is empty and sadly quiet. Hiram was surely a Democrat as attested by my family's politics at that time. The 1896 election ran Republican William McKinley against Democrat William Jennings Bryan. McKinley was supported by businessmen, while Bryan was supported by the agrarian vote. The election results were close but McKinley won to become the 25th president of the United States.
I had to add the last part about Hiram thinking about grandchildren as, sadly, he and his son, Henry Bruce, died in July of 1897 after contracting typhoid fever. Therefore, he never knew any of the large family that continued to grow from his marriage with Mary Ann. The other day I wrote to my first cousin, Leon, wondering what life would have been like for all of us descendants of Hiram and Mary Ann if Hiram had not died in 1897. The house on the hill, new to the family in 1896 and a monumental piece of architecture, would have probably stayed in the family. My father, a few of his siblings, and his first cousins might have gotten to know their grandfather. And, my generation may have had a completely different family history because of a change in our family's location. Instead of my immediate family growing up in the Washingtonville area we may have been Miltonians!
We can only imagine what the lives of many of our ancestors were like. But, we know enough from the traditions and the oral histories passed to us that our ideas are probably truer than not. As with Hiram, Mary Ann, and their children in 1897, may we appreciate the joys of the moment, thank God for our present blessings, and embrace those with whom we share our time.
Happy New Year, 2023!