30 Years Past: The Great Family Trip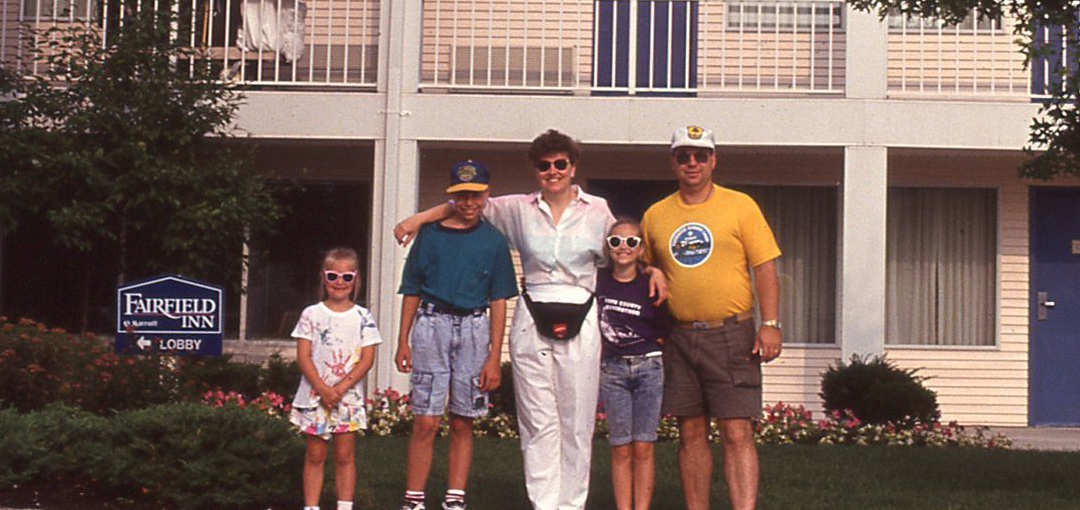 The other day Andrew reminded me that 30 years ago, the summer of 1993, our family had just returned home from our circular trip through the western portion of the United States. Between June 30th and August 5th of that year, we traveled from Dillsburg across Pennsylvania through Ohio, Indiana, Illinois, Missouri, Kansas, Colorado, Utah, Arizona, Nevada, and California to the Pacific Ocean. By July 16th, we had driven over 4,000 miles in the big, blue Chevy truck.
We stayed a few days with my aunt and uncle (my mother's brother) in California, then headed north to Oregon. Next, we traveled east across Idaho, Montana, Wyoming, South Dakota, Nebraska, and Iowa. Finally we drove back home to Pennsylvania, once again driving through Missouri, Illinois, Indiana, and Ohio. We had gone over 9,000 miles in 36 days and, counting Pennsylvania, we had been in 18 states.
This was a real highlight for the children. Andrew, who was almost 12 years old, remembers most of the trip. Katie turned 10 while we were traveling and Julie was 6 1/2 years old. We saw many of the great natural sights of our country and visited historical sites along the way. We stayed with relatives off and on during the trip, slept in a few hotels, and spent many of our nights camping. Although I took photographs and used our newly purchased hand-held video camera (which briefly quit working at Crater Lake in Idaho), we all remember the trip because of "the journal."
Every evening, I would write down the day's activities in a way that was interesting to read. For example on July 9th, I wrote:
As we entered Mesa Verde National Park [Colorado], there were people ahead of us from Carlisle [Pennsylvania]. Mesa Verde was great! Fantastic views and you could see Four Corners and Ship Rock from the one lookout. To me it is indescribable; the Anasazi Indians living so far back in the mountains; walking where the ancients once lived; going up and down ladders and small steps; looking in kivas; and imagining the life style of these first Americans.
Along with the descriptions of our daily activities, the five of us shared our memorable experiences from that day which I wrote down at the end of each day's description. On July 23rd, while we were camping at Crater Lake, ID our experiences were:
Dad: Seeing the eagles; Mom: The blueness of the lake and fantastic views; Katie: Seeing Crater Lake and playing in the snow; Julie: Feeding bread to the chipmunk at our campsite we had to move from; Andrew: Moving the tent to a new location. (We picked it up to move it!)
Each of these memories, when written down, gives us a visual of that day's individual importance. We'll not forget why and how we had to move our tent at the Crater Lake campsite – fully set up!
Also for each day, I wrote down our expenses and the miles we had driven. On July 7th after visiting President Dwight and Mamie Eisenhower's graves in Abilene, Kansas and heading into Colorado, I wrote that we had traveled 466 miles that day. Our expenses were $16.50 for gas, $5.45 for souvenirs at the Eisenhower Historical Site's visitor's center, $6.00 for milkshakes, $41.65 for the Sloan Motel, $15.00 for groceries, and $1.25 for Julie and Katie to ride the old carousel at Kit Carson's Old Town.
The journal is priceless to our family. It is filled with details and experiences we would never have remembered without it. My photos do not do justice to the memories that the journal's words recall to us. In addition to the National Parks we explored and all the natural and human-made beauty we saw, we also visited relatives along the way. We stayed with cousins Will and Kathleen Mangold in Indiana, with my brother Bob and his wife Marcia in Missouri, with my Uncle Wilson and Aunt Gloria in California, with my niece Melanie and her husband Ralph in Iowa, and with cousins Chuck and Ethel Hagenbuch in Illinois. The days we spent with these relatives and their families added an extended family bonding to this trip for us five travelers.
The journal reminds me of our stay with cousins Will and Kathleen, their suggestion we visit Connor Prairie living history site, and the fun time we had eating at the Royal Fork Buffet. We can't forget our stay with my brother Bob and his wife Marcia as we enjoyed one of our favorite pass times—playing cards! Our visit with my Uncle Wilson and Aunt Gloria, my cousins Andrea and Mickey and their families was so very memorable: swimming at Laguna Beach and seeing the movie stars' handprints at Grauman's Chinese Theater. We celebrated Katie's birthday on July 31st with my niece Melanie and her husband Ralph in Fort Dodge, Iowa. And, in Illinois we looked up cousin Charles "Chuck" Hagenbuch and his wife, Ethel, then enjoyed getting to know their family. They were the first cousins I personally connected with who didn't grow up in Pennsylvania.
Of course, the journal has some awkward moments, too. In Utah I attended the Western Rendezvous, a living history camp that occurred there every year. A few years before, Andrew and I had started camping in an early-American style by attending the Eastern Rendezvous. I took some of my early-American longhunter garb along on our trip, so I could enjoy the Western camping experience. Unfortunately, it was not a good day.
On the way up the Uncompahgre Plateau, where the Rendezvous was held, our windshield cracked, the dirt road was more than scary to drive on, and we could not find a parking spot resulting in me paying $20 to park beside a shyster's "tin tipi." (A "tin tipi" is what we called an RV.) Furthermore, our truck lost its muffler as we headed into California from Las Vegas, in Oregon I left my long metal tent stakes on the beach, and (as mentioned before) our video camera quit working at Crater Lake. But, for all the miles we drove, all the campsites we stayed at, and all the wicked winds and rain we drove through at times, we had a God-blessed trip.
So, what's the point for all our readers? Well, there is more than just one point! First, visiting relatives on a trip is important to seal familial bonds. Second, the United States has the most amazing sights and sites. We visited National Parks among which were: Abraham Lincoln's home, Arches, Craters of the Moon, the Grand Canyon, Yellowstone, Bryce, Zion, and Mount Rushmore. Third, everyone should take a family trip that is a learning experience, not just a stay-at-one-place vacation. Linda and I had an itinerary which we followed almost to a tee. We had lots of things we wanted to see and share with the children, requiring us to stick to our schedule.
Fourth, a family trip can be about places you know nothing about, as well locations that you have explored through books, movies, and other media. Take, for example, my early journal entry on July 1st:
We decided to take a side trip south to Hopewell Indian Mounds near Chillicothe [Ohio] which lies beside the Scioto River. I'm reading The Frontiersman by Allan Eckert, the story of Simon Kenton and the Shawnee. The [historically true] book takes place right where we are today. Also, this area was farmed by the daughter of Andreas Hagenbuch, Anna [Elizabeth] Reichelderfer and her husband [John Adam]—Salt Creek, Pickaway County, Ohio.
Lastly, the fifth point and very important: Keep a journal when you travel. Without "the journal" we would not have the joy of being able to relive the details of each day on our trip. This travel journal from 1993 gives us a slice of our family lives when we were all a bit younger. Unlike the photographs that provide snapshots of singular moments, the journal's words encompass all that happened in a day across a broad spectrum of memories.
I ended the 40 page journal with this final note:
For 36 days we were constantly reminded that America is a big country with wonderful people. We should never, ever forget that.
The written word keeps us from forgetting.