The Family Bible: Part 2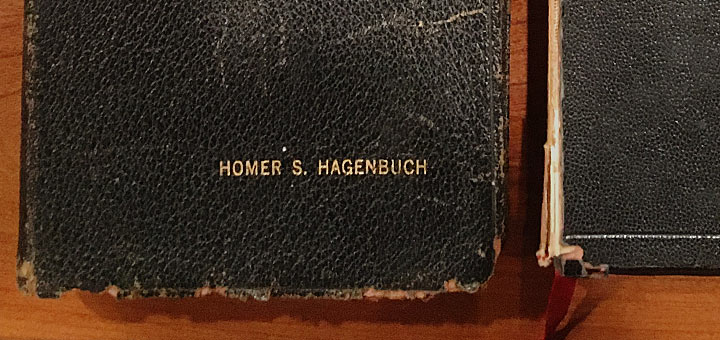 In addition to the Andrew Snyder Bible detailed in part 1 of The Family Bible, I have in my possession eleven other Bibles of which brief descriptions were given previously. All of these are important to me and hopefully, will be preserved and purposefully used.
Bible #1
Before I received my own embossed Holy Bible on Christmas Day, 1964, I used a small Bible that was my father's. As a boy attending the family church, Oak Grove Lutheran, I did not carry a Bible on Sundays. However, for several years I attended the local Mennonite Bible school held in the summers at Beaver Run Church near Limestoneville, PA. This was a spiritually memorable experience, and I remember using this Bible at that time.
The Bible measures 6.5 x 4.5 inches and is illustrated. On the second page my father had written his name "Homer S. Hagenbuch" and the name of the presenter "George Grove Keefer" but no publishing date nor presentation date can be found. I assume this was given to my father when he was confirmed and George Keefer was his Sunday School teacher at Oak Grove, which would date it to about 1930. The front cover is no longer attached.
There was only one piece of memorabilia between the pages: a funeral notice for my mother's Aunt Sallie (Faus) Smith who died in July, 1993. I assume my mother was using this Bible and put the notice in there after Aunt Sallie's funeral. One other note: research was carried out on George Keefer. He was born in 1862 in Chambersburg, PA and died in 1937 after living most of his life in Danville, PA and owning a dry goods store there. It is assumed he was a member of Oak Grove Lutheran church.
Bible #2
The Bible that I now possess with my mother's name embossed on it has no publishing date. The Bible measures 5.5 x 8 inches, is the King James version, and is illustrated. There is a family register located between the Old and New Testaments. Written in my mother's handwriting is my parents' wedding information, the births of their four children, and the marriage information of us four children, including dates and spouses.
My mother placed several pieces of ephemera between the pages: a Christmas present tag which reads "To Mom From Mark, Linda, Andrew, Katie, Julie"; a lovely card with the books of the Bible illustrated in color; a colorful book mark with "PEACE' written on it; several slips of paper with Bible verses written on them; a half sheet of paper where my mother took notes on the "Great Words of our Faith" – Grace, Faith, Justification, Sanctification, The Word, The Sacraments; an undated newspaper clipping with a sermon from Rev. Raymond Shaheen entitled "The Lonely Heart"; and finally a treasure – a small newspaper clipping: "Miss Faus Weds Homer Hagenbuch" with the news of that event on March 22, 1939.
Bible #3
My dad's embossed Bible measures 6 x 8.5 inches. It is a Revised Standard Version with no illustrations and was published in 1952. On the first page in my mother's handwriting is written: "Christmas, '57." There is no family register and the cover, although still all intact, is well worn.
The ephemera is minimal – three pieces of paper. One is a post card addressed to me from the Oak Grove Pastor, Elwood Stahl. He lists the Sunday dates for September 1970 with three hymn numbers for each date. I was Oak Grove Lutheran church organist from 1964 to 1971. Pastor Stahl would send me a post card each month indicating the hymns for Sunday.
The other two pieces are small pages torn from a devotional book such as Our Daily Bread. The page dated March 31 has on one side reflections on Psalm 133 and on the other a reflection on Matthew 21:37. The other page is dated Friday and Saturday, March 19 and 20.
The March 20 side reflects on Thessalonians 5:6; the opposite side reflects on Luke 3:17 and the message struck a nerve with me! It is about parents whose son has come home from college for the holidays. They wonder, "Where did we go wrong?" because the son has long hair and "no-style" clothes. Quick research shows that in 1971, March 19 was on a Friday. I was a senior in High School at that time and was ready to go off to college in the fall. I can imagine my mother tearing this out of her devotional book and handing it to my father to read, as a way to understand my own 1970s appearance at that time.
Bible #4
My father-in-law was a Lutheran minister: Rev. Roy A. Gutshall (b. 1920, d. 2004). He grew up in Mechanicsburg, PA and was a member of Trindle Spring Lutheran Church. His first charges as minister were at Hidlay Lutheran Church and Espy Lutheran Church in 1946, both near Bloomsburg, PA.
Interestingly, Hidlay is a Hagenbuch family church where Andreas's son John attended with his many children. Rev. Gutshall was already familiar with us Hagenbuchs before I became associated with his daughter!
Although my father-in-law was christened Roy Allen Gutshall, Jr., his Bible is embossed with "A. Roy Gutshall". The Bible measures 6 x 8.5 inches and is an illustrated King James version published in 1928. Whereas the cover is worn the inside pages are pristine. There is no ephemera found between the pages and no handwriting noting ownership or in the family register. The unique part of this Bible is that it is a "Marked Bible" with verses highlighted in red for verses referencing salvation, green for the Holy Spirit, orange for temporal blessings, and purple for prophetic subjects. Many Bibles have the New Testament words of Christ colored in red. This Bible goes three steps further to make it an easy reference tool.
Bible #5
My Bible, embossed with "Mark O. Hagenbuch" measures 5.5 x 8 inches. It is a Revised Standard Version with illustrations and has my mother's handwriting throughout. On the presentation page she wrote that it was presented to me on Christmas Day, 1964 by "Mother and Daddy".
She completed the family register which is located at the beginning of the Bible. The register contains the listing of my birth, my brothers' and sister's births, and my parents' marriage information. It also has a family tree going back four generations which my mother completed for me. I have consistently used this Bible since 1964, and it does show wear as the cover of the spine is missing. I never put clippings or paper markers in my Bible; but the attached red cloth ribbon has marked the same chapter since I received the Bible.
In 1963 or 1964 I borrowed a book from the Thomas Beaver Library in Danville, PA. The book (of which I own a copy) is entitled The Bronze Bow. This fictional story of a young Jewish Zealot during Jesus's time revolves around verses 34 and 35 in II Samuel, chapter 22. That children's book made a spiritual impression on me and subsequently, caused me to always have the page marked with the red ribbon. (Here is an interesting note referencing back to Part 1 of this series – the Andrew Snyder Bible also had a marker at II Samuel, chapter 22!)
Part 3 of this series will explore in detail the other six family Bibles I own. If you own one or more Bibles that are important to your spiritual and genealogical journey, please describe them in detail and preserve that information. The possessions, photographs, and ephemera we pass on to our future family historians are just as important as names and dates.