My Uncle Charles: Letters From Home to Chicago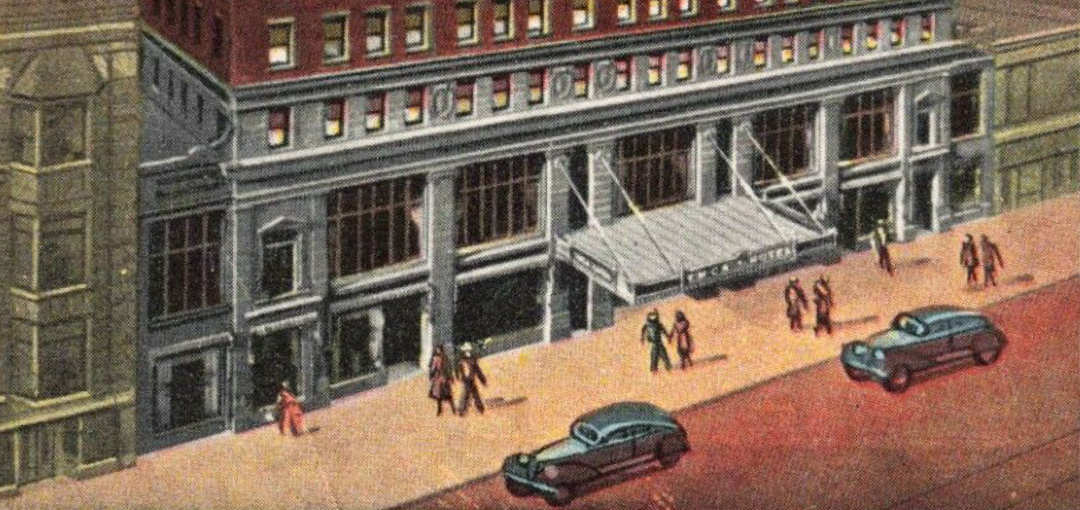 My Uncle Charles was interested in furthering his education. He was not engrossed in farming as many of our Hagenbuch clan in the early 1900s. His story brings to mind the popular World War I lyric: "How you gonna keep 'em down on the farm, once they have seen Paree!" But instead of Paris, it was Chicago that Uncle Charles experienced.
Sifting through the box of materials that are the impetus for this series of articles on Uncle Charles, I found most of the tests which he took for DeForest's Training. The passing of these tests in 1935 led him to be accepted into a two-week course which began for Charles on March 2, 1936 in Chicago, Illinois.
Probably a day or so before DeForest's electronic engineering course was to start, Uncle Charles arrived in Chicago. He had a room at the YMCA located at 1508 Larrabee Street. In the box with all the other papers I found a note which Charles must have written once he arrived at the YMCA, but it was never sent. The note reads: "Dear Father and Mother, I arrived in Chicago at 8:00 O'clock." It is not dated. There is also a Service Guide—a pamphlet from the YMCA which lists information about the services provided such as laundry, meals, and the gymnasium use, as well as the rules and practices of the YMCA.
Charles had a lot of support from his family for his Chicago endeavor. Within the two weeks he was there, he received at least eight letters from home. There is one letter from Aunt Katie (Hagenbuch) Roat and her son, Paul (the first cousin to Charles and my father, Homer); three letters from Aunt Julia Hagenbuch, who was a nurse in Baltimore, Maryland; a letter from Aunt Grace (Sechler) Cromis (Charles' mother's sister), and three letters from Charles' parents (my grandparents, Clarence and Hannah (Sechler) Hagenbuch). Tucked in the envelopes which contain the letters from his parents are also small pieces of papers with notes from his sisters: Florence, Ellen, and Mary.
The letters are written in the polite, formal style of the period and contain news from home, news about the weather, goings-on in the area, and cautions to be careful. The letters from Charles' parents and sisters contain phrases of family love. From his mother:
Did you have enough lunch on the way? . . . When you write tell us how you are getting on at your work and if it is very hard. . . If you run out of white handkerchiefs you will have to buy some more. . . We worried last week that you did not write. Thought maybe you were sick and imagined different things. What might have happened. So write often if it's only a postal.
Instead of news from home, Charles' father was direct in his advice, most likely because he was paying the bills! He writes about payments he is still sending to the Chicago school. He also writes the following which must have meant he had some consternation about the DeForest Training experience:
I don't want to tell you what to do about your school, that is for you to decide. . . I don't see how you can get your money back if you do not finish your course. Then you do what you think is best. . . Be careful with your money when you go away, there often [has] been money taken.
From Aunt Katie (Hagenbuch) Roat is a short, sweet letter with home news and the comment: "How I hope you would be able to find a job, well you may in time." In the same envelope is a longer letter from her son, Paul. It is dated March 10, 1936:
I am very glad to hear you like Chicago. Wish I was there with you. Would be a nice trip home together. . . I went to card party March 4. Three minus scores of 840, 330, 60 and one just 0. The seven good ones were 3400 something but only 2200 left . . . Mildred Umpstead got lady's prize 4900. A Mr. Welliver got gent's prize 4200. There were 23 tables.
It should be noted that the folks at the card party were most likely playing 500. This is not 500 rummy, but an old Pennsylvania Dutch game with bidding, trump, and so on. Twenty-three tables is a huge number and would mean 92 people were participating! I find this difficult to believe.
Paul goes on to write about the weather, the mud, ice jams on the Susquehanna River which closed some bridges, and this: "It is sure nice you have the chance to meet so many nice boys, after all it is the boys from the country that have to work their way through to really amount to something."
The letter from Aunt Grace (Sechler) Cromis is much like the Aunt Katie letter with sweet comments and news. It is a joy to read, and the people she mentions and their activities mean a lot to me since I knew my great Aunt Grace, as I did all the others who wrote to Uncle Charles.
Finally, there are the three letters from Aunt Julia Hagenbuch, Charles' father Clarence's sister along with Katie Roat. Aunt Julia was a nurse who lived in Baltimore, never married, and was familiar with leaving Montour County to make a career for herself. Her letters are wonderful to read, showing that she cared deeply for Charles. They are dated March 3rd, 7th, and 10th. In the first one, she writes that she has sent Charles $2. In the second she sends him stamps so that he can write to her. From what she writes, Charles did correspond with her consistently, probably more to her than anyone else.
To some, the details of these eight letters may seem mundane. To me, however, they are a clear window into the experiences of a young man 85 years ago. I only wish we had the letters which he had written home and especially to his Aunt Julia. The Chicago experience must have not panned out the way Charles wanted. By April, at 20 years old, he is back home in Montour County living on the farm with his parents and siblings. He has written a letter to his first cousin, John Hagenbuch, who is living in Washington D.C. John moved from his family's farm (his father was my great Uncle Percy Hagenbuch, b. 1880) and earned his Business Administration degree at George Washington University. At this time, John was also getting his Master's Degree in accounting. Eventually he would work as a government accountant and live in Annandale, Virginia with his wife, Ola, and their two daughters, Mary Ann and Marjorie.
The letter which John writes to his cousin Charles is lengthy and filled with advice on how to get a higher education and start a career, other than in farming. It is filled with advice and background information which is very interesting to read, considering it is 1936. Most of the letter's contents will be shared in the third part of this series as John tried to help his cousin Charles find his way in the world.